If you're looking for advice on how to buy the best soccer cleats for yourself, then you're definitely in the right place. In this article, you will discover the coolest soccer cleats for your feet to shine out on the field. Also, you'll know the best soccer cleats for strikers, defenders, and for speed. Then the frequently Asked questions about football boots will be answered.
However, before going into details, it is important to mention that the appropriate Soccer Cleat required depends on a lot of variables. One is the type of surface you intend to play on and another variable is the position you play on the field.
Therefore, the goal is not to buy the best Soccer Cleat in the market just because everyone thinks so. What you need to find is the best footwear suitable for you and your soccer needs.
First, let's take a look at some simple tips on how to choose the Coolest Soccer Cleats.
Read Also: Cheap Soccer Jerseys: Everything You Should Know About it
Tips on How to Choose the Best Soccer Cleats
Locate a Good Soccer Store
If you can locate a Soccer store with an attendant who's an experienced footballer and knows his stuff, that will be an added bonus too. It's also best to avoid stores that have limited varieties and a few brands available.
To get the best soccer cleats for strikers, Defenders, or Midfielders, it is important to visit a large store.
Bigger Soccer stores are always a better choice because they have a wide variety of choices. You can also seek advice and ask for help when in doubt.
Read Also: Do Soccer Players Wear New Jerseys Every Game?
Know the brands and models
You need to do some prior research on boot specifications first. There are different brands and of course, they have amazing footballers as their brand ambassadors but don't let the shiny lights fool you.
The pair of boots you choose should be worth every penny of yours. Don't ever buy soccer cleats just because you think they are the coolest or because Cristiano Ronaldo or Lionel Messi endorses them.
Buy them only if you feel comfortable in them. If it feels too tight, try the next pair of boots. Never sacrifice comfort over price or looks.
Read Also: Helpful Tips to Buy Cheap Soccer Jerseys
Getting The Right Size
The best way to wear your boots is to have a ¼ – ½ inch gap between your toes and the top of the boots. In this case, if you have a thumb space between your toes and the top of the boots, they're too big.
The right amount of space to look out for is roughly a pinky (smallest finger) space between your toes and the top of the boots. If your toes are pressing against the upper side of the boots, they're too tight, try a size bigger.
Women's feet are anatomically different from men's, so you should look for a specific women's boot if you are a female, taking your football seriously. Girls can wear the unisex children's and junior boots available from all brands.
Read Also: How To Start A Soccer Jersey Business, Market it & Make Money
Factors To Consider In Order To Buy The Best Soccer Cleats for You
Weight
Is the weight suited to the type of player that I am? For instance, wingers and players relying on pace will want a lighter boot.
You'll get more details about the best soccer cleats for strikers, defenders and midfielders if you continue reading.
Width
Have I got wide, narrow, or standard feet, and therefore do I need a specific football boot tailored to my fit? Most boots will fit standard-width feet. Some are made intentionally for wide or narrow feet.
Your Level of Professionalism
Choosing a pair of soccer boots depends on your level of professionalism. If you're an entry-level player then opting for a scaled-down model at cheaper prices is the best option.
Read Also: How to Be A Professional Soccer Player
If you're playing at higher levels or more often, where performance enhancements & enhanced comfort can make a difference then choosing an elite tier cleat could prove effective.
Playing Style or Position
Everyone has a different position when it comes to football. Knowing your style and the position you like to play will determine the type of boots you should look out for.
They are now designed to better suit playing conditions and position. Whether you're a forward who shoots on sight or a defender who likes to play out from the back.
There are options to keep you lighter on your feet or to sure up that first touch. Soccer Cleat brands have their own specifications for positions. You need to be careful in choosing.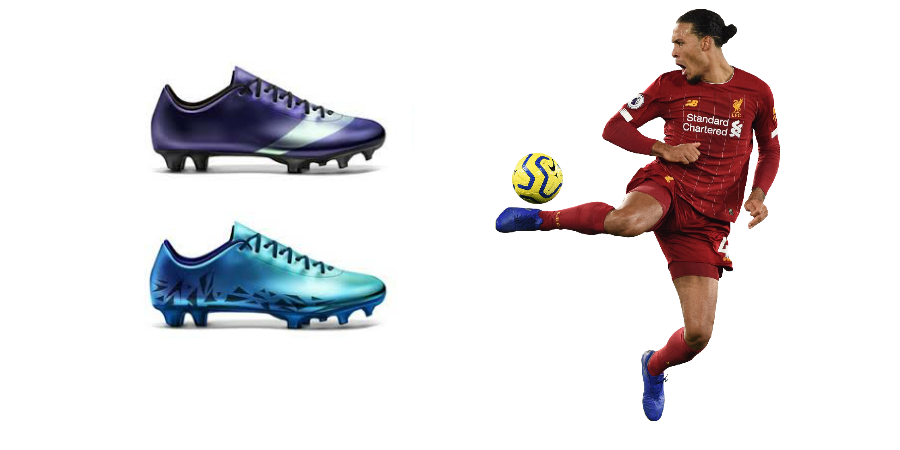 Best Soccer Cleats For Defenders
The Best Soccer Cleats for Defenders are not going fit well for players in other positions. So, it is important to know what makes Soccer Cleats the best for defenders.
The Coolest Soccer Cleats for defenders should be really light so you can quickly run or defend well. We recommend the Puma One 20.1. These aren't just for defenders, as they are an all-rounder boot.
We recommend them because they are light with enough flex to make sure you won't be nutmegged at the first opportunity. The outer foot is nice and stiff and can also be a shield for those hard kicks. The ankle area is also one of the most comfortable boots ever.
To emphasize, the best soccer cleats for defenders are light and well-protected boots like the Puma One 20.1.
Read Also: The Best Female Soccer Referees
Read Also: 11 Highest Goal scoring Defenders in Football History
Best Soccer Cleats For Strikers
The best Soccer Cleats for Strikers should offer a decent amount of power when you kick a ball. The boot should also be light enough to run around. For us, it's the Umbro Medusa 3 Elite.
Umbro is renowned for its football boots being light. It has a mix of high-class leather and meshes on board to give your ball a decent strike.
Just to reiterate, the best soccer cleats for Strikers are Umbro Medusa 3 Elite or similar kinds of boots.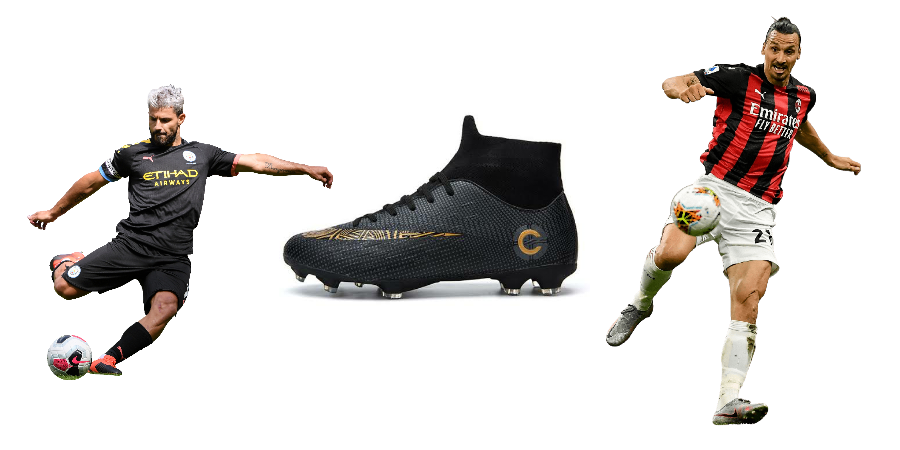 Best Soccer Cleats For Speed
We recommend the Nike Mercurial Vapor 13 Elite FG. It is one of the coolest soccer cleats available. And this is the reason (sorry, but we have to talk about boot tech here). Nike has something called the Aerowtrac zone to the forefoot of the boot and has mixed this with a slightly stiffer chassis.
The reason is that this helps supercharge traction so once you start that run, the boots power you along. Inside there is an insole that uses NikeGrip technology.
This provides maximum interior traction (there's that word again) and a nice bit of cushion, so when you are sprinting, your feet feel like they are in the spa getting all of the treatments.
It's best to just know what Soccer cleats suit your playing type or role as a Strikers, defender or Midfielders:
Strikers/Forwards: Go for a lighter pair of boots to be able to accelerate and change direction quickly
Midfielders: A pair of boots that offers better control and comfort
Defenders: Try a pair of boots that offers slightly more protection and allow for a clean pass on the ball.
Read Also: 5 Soccer Players Who Have Statues Built in Their Honor
The pitch you play on
The first thing to consider when buying new football boots is to pick the footwear best designed for the types of pitch youre going to play on.
In Soccer, boots or cleats are distinguished by their outsoles. They'll give you the right kind of traction underfoot and features tailored to those different surfaces.
The Coolest Soccer Cleats for Different Kinds of Pitches
Firm-ground (FG)
These boots are best suited to natural grass pitches that are generally dry and hard. These are also a good option for 3G pitches, which are made from artificial grass.
These boots feature molded studs, as opposed to metal ones. Studs are primarily metal or plastic points sticking out of the sole of the football boot. They help with traction on playing surfaces, enhancing stability and preventing players from sliding.
The best boot for firm-ground pitches is Adidas Predator.4, Adidas Copa Mundial, Nike Tiempo Legend 8, Nike Mercurial Superfly 7 Elite or Puma Future 5.1 NETFIT
Soft-ground (SG)
If you're going to be playing on muddy grass pitches where you need the extra traction in trickier conditions. These boots will usually feature conical metal studs or a mixture of both molded and metal studs.
These are the most versatile and common kinds of boots used by casual players. The best boots for soft-ground pitches are Umbro Speciali Eternal Pro, Nike Tiempo Legend 8, or Nike Mercurial Superfly 7 Elite.
Read Also: Champions League Winners As Players & Managers
Grass Soccer Cleats
For softer grass or muddy ground, the best kind of boots are the ones with few and spaced-out studs typically made from metal. But be aware, these boots are only good if the pitch is muddy and wet. If you use it on hard ground, you will run a much higher risk of ankle injuries.
Artificial / Astroturf ground boots (AG)
They are designed for the 3G and 4G artificial pitches and use shorter studs to offer enough grip while supporting the ability to move freely across the pitch.
If you spend most of your time on astroturf pitches, look for dedicated astroturf trainers that feature short studs, closer to a normal trainer in feel.
Astroturf boots have many short studs distributed across the whole outsole of the boot. These will be your go-to boots should you play regularly on astroturf ground. The best boots for this pitch are Nike Tiempo Legend 8, Nike Mercurial Superfly 7 Elite, or Puma Future 5.1 NETFIT
Read Also: Unique Soccer Gifts for Fans & Players
Indoor Court Football Boots
These boots will typically feature a gum rubber flat outsole. These are very versatile and can even be used for leisure walking.
However, if you are unsure of where you are going to play football, buy a basic pair of boots for grass with moulded plastic cleats. These are the most versatile boots and they are good on grass, muddy pitches and astroturf alike.
Never try to wear studded boots on indoor or hard surfaces. Apart from easily losing your balance, you will risk injuring your ankle if you attempt to play in them.
Read Also: 7 Singer and Actors Who Played Soccer
Frequently Asked Questions About Soccer Cleats
What material should I choose? Leather or synthetic?
Leather is traditionally considered the best material for uppers because it tends to give you more protection than synthetic boots. They are comfortable, molds to your foot over time, which will aid your ball control.
However, it's absorbent, so unlike synthetic materials, it can get heavier in wet conditions and is harder to clean. They're also a more durable option calf and kangaroo being the most popular options among leather bootmakers.
Synthetic boots are often cheaper and tend to feel lighter too, but might not match the comfort of leather. It holds up better when the rain comes pouring. They don't lose shape to offer a consistent fit, though you do lose some of the added protection a leather football boot offers.
Read Also: How to Become A Football Scout – Full Guide
What material should I choose? Blades or Studs?
Again, this feeds into the types of surfaces you'll be playing on. Boots with the traditional metal studs are more beneficial for playing on the softer ground where they can sink into the ground and offer a better grip on trickier surfaces.
Blades are found on boots designed for playing on the firmer ground where the wider surface of the blades can offer more contact with the ground. Take studded boots onto a hard pitch and you can expect it to feel quite painful underfoot during or after the game.
There are boots that mix things up, offering blades and conical studs with a view to making them more versatile for use on different surfaces, but these tend to still be regarded as best suited for soft-ground pitches.
Read Also: Most Outstanding Female Soccer Teams in History
How Much Do I Have To Spend?
Football boots are available at significantly different prices, ranging from super cheap, to super expensive. You just have to accept the fact that good quality boots cost much and you have to spend a significant amount on them.
Nothing good comes cheap, it's best to buy a boot that costs a little fortune and use it for a long time than buying cheap boots that are not durable. If you want to make playing football more enjoyable, comfortable, and successful you might have to save up.
We don't expect you to get the most expensive boot on the shelf because you should know by now what to get for yourself if you've read this article up to this point.
Consider Reading: History of Football Kits
What Should I DO when buying football boots?
Do get durable shoes
We just can't emphasize this enough. Expensive cleats are not necessarily durable. Just make sure you get one that is durable and will last and serve you well. It is all about research.
DO get boots suited to your position
Like we said the Best Soccer Cleats for strikers might not help you as a defender. You need to determine your position on the team to get the best pair of boots that will help your game.
DO feel confident
If you do not feel like you 100% like the boots you may have chosen, don't get them. Be confident before you make your choice. there's nothing worse than playing and midway through a match realizing that you're not quite feeling these ones anymore.
DO keep the receipt
Just in case you do need to return them, remember to keep the receipt. Most shops should allow you to take them back if they have not been played in. So maybe if you have tried them on a bit and the boots aren't feeling quite right, or you're having second thoughts, just exchange them or get a refund.
DO research about your options
So you finally have a boot you want to buy? Good, great job! But take your time, read a lot of reviews and get as many opinions as you can on your options.
Unless you are rich, you are likely only going to get one pair of football boots a season. If you get that choice wrong, you have made your bed, and you will need to lie in it for a whole season or not if you have express cash.
Read Also: The Evolution of Chelsea Under Abramovic
What Should I NOT do when buying football boots?
DON'T make a decision based on looks
Sure you want to choose a boot based on how they look. A good-looking boot may make you look stylish, or the complete opposite in some cases, but it will not make you play any better.
The coolest soccer cleats for you may not necessarily be the most beautiful. Looks can be deceiving. It should be suitable or effective for your need.
DON'T buy 'Brand Names'
If you buy a pair of Soccer Cleat, but they're not the ones all your mates have or not ones that a big name wears, it does not matter! If you like them and they suit your game, then take no notice of what the footballing world wants you to buy.
DONT skimp out trying to save the Dollars
Obviously, everyone loves a bargain. We are not saying don't buy cheap boots, but just make sure you take the quality of the boot into account when buying.
With football boots, you do generally get what you pay for. Make sure you don't get a cheap deal, but a good deal where you get value for money.
DON'T give up
Everyone has something that's good for them. So don't give up! If you do find the best boots for you then you won't need to go through the hassle anymore. Keep searching, the right boot is out there for you!
Read Also: The 8 Best Football Agents in Soccer
Conclusion
Soccer players use their feet more than any other part of their body to control the ball. So, it is important to get the best and coolest soccer cleats available to get the job done.
Don't forget that the best soccer cleats for Strikers are not necessarily the coolest for defenders.
The thing is that there are A LOT of boots to choose from. Adidas, Puma, Umbro, and Nike are the most popular, but there are countless models among the manufacturers.
Whatever brand you finally buy will not make your Soccer Boots inferior or superior. Who knows? Adidas might not suit your style but some nameless brands may. But that shouldn't matter. Getting what's best for you should matter most.
Further Reading: