The premier league has produced and improved a lot of talented midfielders, and now we'll consider the very best of them in the history of the league.
However, in this piece, we've put together a comprehensive list of the Best Midfielders In The Premier League.
These Midfielders have not only won matches, trophies, plaudits, and hearts but also inspired future generations to play the game in a new light. 
The criteria used in putting this list together are stats, impact on their teams, trophies, and legacy in the premier league.
It is also important to mention that only midfielders who played in the League (since its rename to the Premier League in 1992) are considered.
Now, let's highlight the 15 best midfielders in premier league history.
15. Michael Carrick
We start off with an unsung hero of Manchester United between the late 2000s and early 2010s. Michael Carrick helped United dominate the Premier League, and eventually Europe. 
Carrick, who made a name for himself playing for the London sides, West Ham and Tottenham, was brought to Manchester United in 2006 as a replacement for the newly departed Roy Keane.
While he was never on the same level as Roy Keane was, Carrick's achievements at Manchester United were impressive nonetheless.
Carrick has always been the under-appreciated deep-lying midfielder. He was unlike his compatriots; his skill set was subtler, less match-winning, and more match-defining. 
Holding midfielders are rarely given their due, especially when others have more obvious attacking skills. 
While Carrick failed to win any trophies at West Ham and Tottenham, during the 12 seasons he spent at Manchester United he was able to win.
The Englishman won 5 Premier League titles, 2 League Cups, an FA Cup, a FIFA Club World Cup, a Europa League, and a Champions League title. 
Carrick also managed to score 24 goals in the 481 Premier League matches he played.
Consider Reading: 2018/19 Premier League Title Race
14. Xabi Alonso
One of the greatest Spanish players of all time, Xabi Alonso, is the next player on our list.
A deep-lying maestro, Alonso was not a typical holding midfielder because of the value he added to the team going forward.
His passing and vision, as well as his ability to conjure key goals, are impeccable.
Alonso was great defensively too. He was more adept and keen on breaking up opposition play than his more attack-minded colleagues such as Steven Gerrard at Liverpool.
Gerrard has called Alonso the best midfielder he has ever played with.
In essence, Xabi Alonso allowed the more creative players in his team to roam forward freely because of his reassuring presence behind them.
A Champions League and FA Cup winner with Liverpool, Xabi Alonso was unlucky never to have won the Premier League with the Reds despite being part of a solid team.
Read Also: The Most Overrated Strikers in Football
13. James Milner
Milner, a versatile player, might have gone under the radar because of the era in which we operate right now, but he is truly a Premier League great and deserves his accolades. 
On November 10, 2002, James Milner was a spotty 16-year-old, nervously taking his first steps onto the Premier League stage.
Aged 16 years and 356 days, he became the youngest goal scorer of the Premier League era, breaking Wayne Rooney's short-lived record.
Milner went on to make over 100 appearances for Newcastle United, winning the UEFA Intertoto Cup in 2006, and spent a year on loan at Aston Villa, before signing for Aston Villa permanently in 2008.
Read Also: Messi Vs Lewandowski: Why Messi Deserves The 2021 Ballon D'or
After winning the PFA Young Player of the Year in 2010, Milner was signed by Manchester City and went on to win two Premier League titles, one FA Cup, one EFL Cup, and one FA Community Shield. 
In 2015, Milner signed for Liverpool on a free transfer and was appointed vice-captain by new manager Jürgen Klopp.
He went on to win the UEFA Champions League in 2019, as well as his third Premier League title, the UEFA Super Cup, and the FIFA Club World Cup.
Milner's overall achievements in the Premier League make him a good candidate as one the very best midfielders in history of English Football.
Consider Reading: The Best Referees in the Premier League
12. Gilberto Silva
During the first 10 years of Arsene Wenger's tenure as the Arsenal manager, the club had a plethora of great defensive midfielders.
The Brazilian joined the Gunners immediately after he had won the 2002 World Cup and went on to form one of the most memorable midfield partnerships in Premier League history with Patrick Vieira.
They eventually became an integral part of the famous Invincibles.
Gilberto Silva spent 6 seasons at Arsenal, playing 170 times and scoring 17 goals in the Premier League.
The Brazilian also helped Arsenal win the Premier League once and the FA Cup twice. 
He was part of the Arsenal team that reached the Champions League final and lost to Barcelona in 2006.
Later he became the first goal scorer of Arsenal's Emirates Stadium and led a younger generation of Arsenal players as captain until his departure in 2010.
Gilberto Silva is considered by many to be one of the best midfielders in premier league history and is still a beloved figure amongst Arsenal fans.
Read Also: The Best Football Podcasts To Listen To [Unique List]
11. Micheal Essien
Arguably the best Ghanaian player of all time and one of the best midfielders in the history of Ghanaian football, Michael Essien was almost as important to the beginning of Chelsea's dominance in the Premier League as Frank Lampard. 
The Ghanaian midfielder had everything; power, speed, and technique. All of these qualities he had displayed at Lyon prior to joining Chelsea in 2005 by becoming the 2004-05 Ligue 1 Player of the Season.
However, he took that a step even further at Chelsea and became one of the greatest Premier League midfielders.
During the 9 seasons he spent at Chelsea, one of which was out on loan to Real Madrid, Michael Essien managed to play in 256 matches and score 25 goals.
He became an integral part of a Chelsea side that won 2 Premier League titles, 4 FA Cups, and 1 League Cup trophies as well as a Champions League title.
Consider Reading: The Most Talented Injury-Prone Footballers Ever
10. David Silva
The Spaniard, who scored 60 goals in 308 league appearances departed the Etihad Stadium in 2020. Silva will be remembered as one of the best midfielders in premier league history.
The Spaniard was pivotal in making the dreams of winning a first Premier League title a reality.
Silva contributed with 8 goals and 19 assists across 49 matches in all competitions as City pipped neighbors Manchester United to the title in dramatic fashion. 
It was Silva's most productive season in the Sky Blue of Manchester.
Since arriving at City from Valencia in 2010, Silva won 2 FA Cups and five EFL Cups, and 4 league titles. 
For the national team, he has won two European Championships (2008 & 2012) and the 2010 World Cup. The one trophy that eluded him is the Champions League.
Silva is so good that we rated him as one of the best Manchester City players ever.
Read Also: Best Female Referees in Football
9. Cesc Fàbregas
Fàbregas started his football career at CE Mataró before joining Barcelona's famous youth academy, La Masia, at the age of 10. He started as a defensive midfielder.
In spite of scoring more than 30 goals in a season, he was not picked up on the Barcelona first team.
The talented midfielder rose to prominence with a brilliant performance in the 2003 Under-17 World Cup where he was adjudged Player of the Tournament. 
His tally of five goals helped Spain's Under-17 to reach the final. Seven months after the World Cup, Arsenal signed the 16-year-old.
Fàbregas became the club's youngest player to start for the first team when he made his professional debut in a League cup match against Rotherham United in October 2003.
Wenger compared the Spaniard with the likes of Michel Platini and Paul Scholes.
A fan favorite, Cesc spent eight years in North London and made 304 appearances for the Gunners before his controversial move to Barcelona. 
After Arsenal and Wenger passed on the opportunity to buy back their former captain, Fàbregas controversially joined London rivals, Chelsea.
In his first season with the West London club, he delivered the Premier League title, providing a crazy 19 assists in the campaign.
Almost no true football fan would doubt that Fabregas is one of the best Midfielders In The Premier League.
Consider Reading: The Biggest Upset Title Wins in Football
8. Yaya Touré
An Engine room and the perfect box-to-box midfielder, Toure could easily walk into any team in his prime.
Standing at 6ft 2in tall, Touré was a rare blend of physicality and technicality from the middle of the pitch. 
His dominating presence in the midfield worked as a cover for the back line, while his sublime ball control and technique allowed him to breeze past opponents with ease. 
Toure's goal-scoring abilities were nothing short of mesmerizing, as the City legend had a bucket-load of stellar solo goals while playing in the Premier League.
Touré might have been signed as a holding midfielder, but with each passing season, the Premier League saw one of the most versatile and complete midfielders to have ever graced its shores.
Toure played for Man City from 2010 to 2018, making 230 Premier League appearances and impacting with 97 goals/assist contributions.
Despite being one of the best Midfielders In The Premier League, it is still surprising that he doesn't have a Statue at Manchester City.
It is also important to mention that Yaya Toure is one of the most decorated African footballers. Also, the name Toure is one of football's most common last names.
Read Also: Footballers Who Have Statues
7. Claude Makelele
Touted as the player that revolutionized the role of a defensive midfielder in the Premier League, Claude Makelele joined Chelsea from Real Madrid in 2003.
Claude Makélélé joined Chelsea as one of Roman Abramovich's first signings. 
The Frenchman finished second in the league, behind "Invincibles" Arsenal, in his debut season under Claudio Ranieri. He then advanced to the UEFA Champions League semifinals, where he was defeated by surprise champions, FC Porto, managed by José Mourinho.
For the 2004/05 season, the Portuguese would finally take over for the incumbent Ranieri.
Makélélé was a vital member of Chelsea's 2004/05 Premier League-winning team, which allowed only 15 goals during the season, a Premier League record low.
Damien Duff, Arjen Robben, Frank Lampard, and Didier Drogba all had plenty of attacking freedom thanks to Makélélé. His style of playing laid the blueprint for players like N'Golo Kante and Fernandinho.
Read Also: Who is The Best Midfielder in CONCACAF History?
6. Ngolo Kante
A 500-page article could be written about the journey of this little french man. Kante never had the rise to stardom like some players on this list.
He was playing in lower leagues in France before his light started to sign upon his arrival in the premier league. 
N'Golo Kante is already one of the greatest defensive midfielders of all time.
That's how impressive the Frenchman has been in the 10 years since he started his professional career. 
Kante, who recently led Chelsea to a Champions League title, is the only player in EPL history to win 2 consecutive Premier League titles with 2 different teams.
The Frenchman is one of the few players amongst our best midfielders in premier league history to win the Player of the Season award as well as the World Cup.
Eden Hazard perhaps described Kante the best, when he said that he feels like there are two of him on the pitch at all times.
Kante is also known to go forward on occasion since he is technically skilled and can combine his speed with his technique to produce deadly counter assaults.
The final of the 2020-21 Champions League, in which Kante put up a Man of the Match performance was incredible.
N'Golo Kante joined a struggling Leicester City in the summer of 2015, and in his first season, he guided them to their first-ever league title.
He then moved to Chelsea the next season, where he won the Premier League and the PFA Player of the Season title in his debut season.
Kante has since won the 2018 World Cup, 2018 FA Cup, 2019 Europa League, and 2021 Champions League.
For Football fans who truly understand the game, it should not be surprising to mention Kante as one of the Best Midfielders In The Premier League.
Consider Reading: Is Pogba World Class or Just a Flop?
5. Paul Scholes
The United great could do pretty much everything: pass long, pass short, shoot from way out, shoot from close in, he was strong, could keep the ball, and had a vision.
If he could tackle, he would have been half-decent. 
Scholes proceeded to win trophies and modify his style under Sir Alex Ferguson's tutelage, becoming one of the finest deep-lying playmakers in the contemporary game. 
While most players predict declining results as they near the end of their careers, the Englishman proved to be an exception, as he improved with age, much like good wine.
With the end of the 2010-11 season, it seemed like it was time to call it a day as Scholes ended his glittering career and joined the coaching staff at United. 
But as the injury-ravaged Red Devils struggled for form the next season, Paul took up the mantle once again as he signed a short-term deal at the age of 36. 
He stayed on for one more year as United won the title in 2013, with him pulling the strings sitting at the heart of the midfield in his last hurrah.
Scholes won an incredible 11 PL titles.
4. Roy Keane
Keane won all that there was to be won with Manchester United, yet it was at Nottingham Forest where he took in the workmanship and art of football. 
Under the tutelage of the incredible Brian Clough, Keane advanced into a wise, energetic, and capable player, and in the 92/93 season, Sir Alex Ferguson and Man Utd took the youthful Irish fellow to Old Trafford.
Roy Keane is the perfect example of an old-school "destroyer".
Highly energetic, fast, and aggressive, Keane reveled in taking down attackers. But at the same time, he had the quality to carry the ball forward as well and assist in the attack whenever needed.
Keane won 7 league titles having 61 G/A contributions during his time in the league.
Read Also: The Best Football Articles To Read
3. Patrick Vieira
The French midfielder joined the Gunners in 1996 and remained with them for almost 10 years. Viera helped Arsenal with winning various prizes under Arsene Wenger.
Also, he won all that there was with the France National Team.
There are a large group of various characteristics that made up this great footballer.
Deciphered as a 'cautious' midfielder, the transcending Frenchman was basically a box-to-box administrator who ruled the center of the pitch.
His special rawness and staggering physicality made him a bad dream for opposition players.
Viera won the Player of the Season award and is the only player to have been named 6 times in the Team of the Season.
The Frenchman also helped Arsenal win 3 Premier League titles and 4 FA Cups, leaving a legacy at Arsenal and Premier League.
(Read about our official announcement of our newly launched Telegram Group)
2. Steven Gerrard 
Gerrard is unlucky not to top this list. He was a complete midfielder.
The Liverpool legend could run box to box, make defensive tackles, and take great shots.
Also, he often made aggressive runs, win headers, and duels, and lead by example. He was known for his leadership and influential qualities.
On 29 November 1998, Steven made his debut for Liverpool against Blackburn Rovers in the Premier League. Steven bagged thirteen appearances for Liverpool that season.
In the 2000-01 season, Gerrard became a consistent starter at Liverpool. His season's performance was pretty decent with 50 appearances in all competitions and 10 goals. 
Gerrard was a versatile player and has played a number of positions like a box-to-box midfielder, attacking midfielder, and defensive midfielder. He has also played as a right-back and on the flanks in his glittering career.
Gerrard had a decent partnership with striker Fernando Torres in 2008. The midfielder scored 21 goals that season and also got nominated for PFA Player of the Year.
Steven also won 3 trophies that season including the FA Cup, Football League Cup, and the UEFA Cup.
Consider Reading: The Most Versatile Players in Football
1. Frank Lampard
Lastly, the number 1 midfielder in the premier league era is Frank Lampard.
In this current era in which stats play a lot in receiving accolades, Frank could have easily dominated the world with his talent.
The Signing of Claude Makélélé at Chelsea gave Lampard the permit to wander further forward, especially during counter attack.
That came with added accomplishment as Lampard was Chelsea's most significant standard scorer in their 2004/05 title-winning season. 
Quick forward another year, and Chelsea had won their second progressive association title, with Lampard again being the top objective scorer. 
It is no fortuitous event that Lampard began to flourish with Makélélé on the side, as he had the option to consummate his craft while his midfield friend accomplished the messy work behind him. 
Lampard's versatility and longevity are pivotal in his influence on the pitch. He played relatively higher up the field in a more attacking role in his earlier days.
The Chelsea legend gradually transitioned into a deep-lying playmaker role in a 4-3-3 formation. His ability to strike the ball from both open play and dead-ball situations was unparalleled.
The very fact that he's the only midfielder in the list of the top 10 highest goal-scorers in the Premier League speaks volumes about his goal-scoring prowess.
No wonder Lampard is one of highest goal scoring midfielders in football history.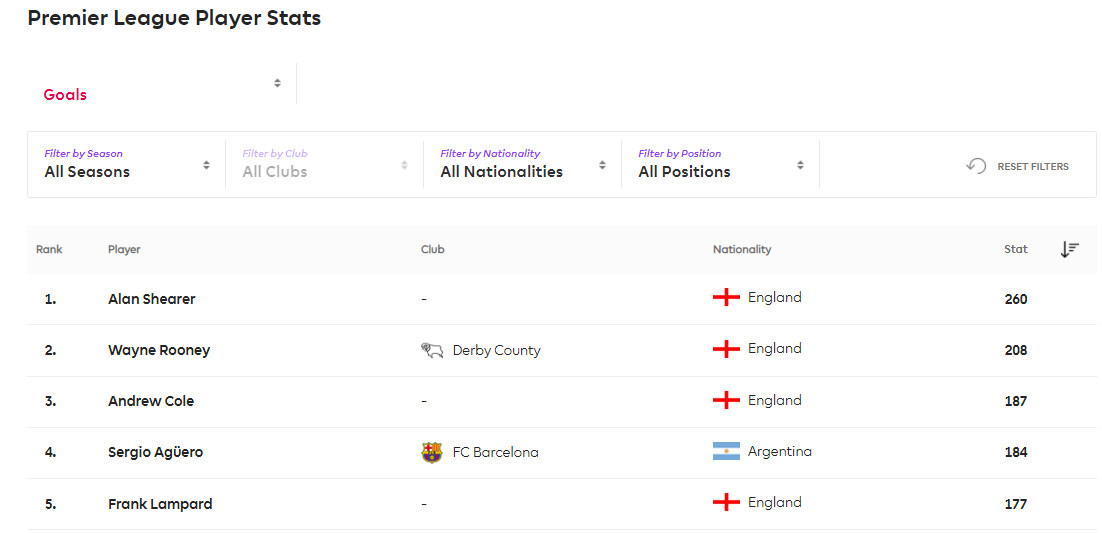 Lampard's goal-scoring record says it all – 300 professional goals as a midfielder is no mean feat.
When he retired, so did his unique style, and his goals will always be engraved in Premier League folklore.
Read Up: How Many Matches Are Played In The Premier?
Final Thoughts On best midfielders in premier league history
Each midfielder on this list has his own unique quality, and the list is not just about goal contributions.
However, their legacy in the league and the importance of these midfielders to their teams winning the league cups in England.
Considering all these factors, it is fair to say that Frank Lampard is the Best Premier League Midfielder of all time.
Further Reading: