The Entertainment world operates with a massive list of top-class celebrities who have made their mark on audiences everywhere. This piece gives some insight into celebrities who played football but are popular Singers and Actors. In essence, we will highlight singers and Actors who played Soccer.
Without wasting time, let's dive into the list already.
7 Celebrities Who Played Football – Actors & Singers
James Bond; Sean Connery | Actor
The Scottish veteran actor who passed on in the year 2020 enjoyed an illustrious career in film. He was the first actor to portray the fictional James Bond 007 character in the film. But, before that, he enjoyed a brief soccer career playing for Bonnyrigg Rose in Scotland.
Connery was reportedly offered a contract by former Manchester United manager Sir Matt Busby at age 23. He had just put on a great performance in a local match while Busby watched. However, Connery turned down the offer as he was set on going for an acting career; it offered more longevity than soccer.
Read Also: Marceloa Bielsa's Influence on Guardiola, Zidane and Pochettino
Julio Iglesias | Singer
The award-winning artist and father of Enrique Iglesias spent a significant part of his youth on the soccer pitch. He was a goalkeeper for the Real Madrid Castilla between 1960-1963 before an automobile accident ended his soccer career.
Iglesias would go on to discover his musical talent while in the hospital undergoing therapy.
Julio won multiple awards in his music career including the Grammy Awards. One can only imagine how his career in soccer would have gone if he didn't have to stop playing.
Consider Reading: The Best Female Soccer Commentators
Tom Cruise | Actor
A-List actor and undoubtedly one of the biggest names in Hollywood, Tom Cruise, is best known for his movie career. However, he was a pretty good soccer player for his high school team while growing up in Canada. An injury in his senior year put an end to his soccer career hopes.
Tom Cruise still supports soccer quite well and has been spotted in the stands at LA Galaxy games. Maybe his love for high-octane stunts and high-speed chases on foot comes from the soccer angle.
Essentially, Tom Cruise is one of the Actors who played Soccer and still loves the game.
Consider Reading: Football Late Bloomers Who Won Trophies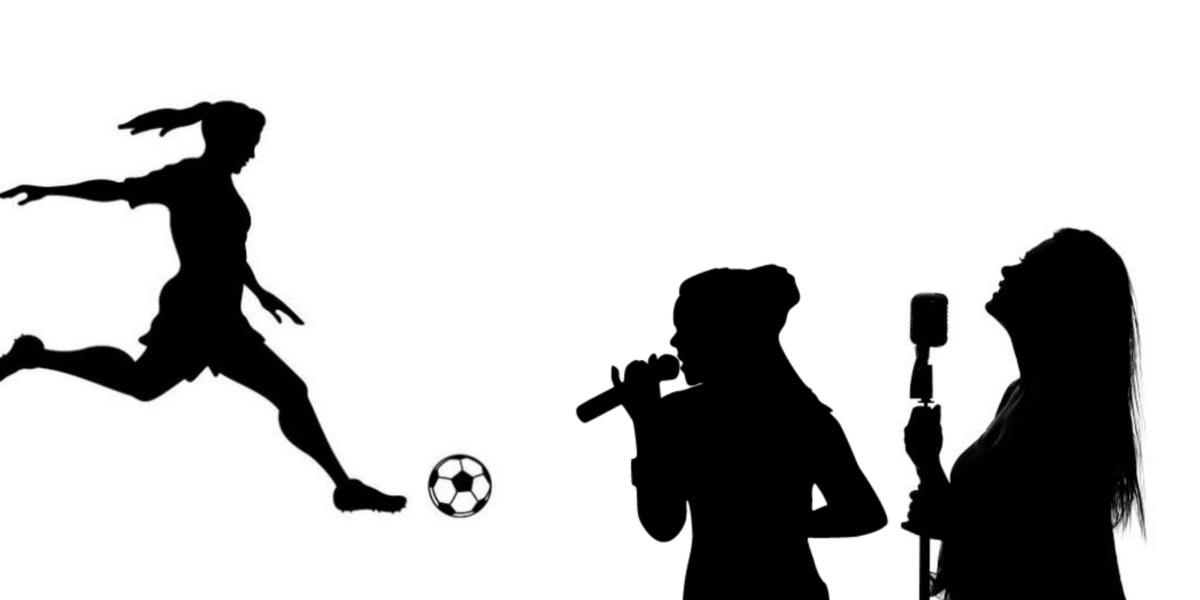 Rod Stewart | Singer
Having sold over 250 million records worldwide, Sir Rod Stewart CBE is one of the biggest names in rock and pop history. But, years prior, he had a decent career in soccer, playing for Middlesex Schoolboys. He even went on trials for Brentford FC at some point.
Stewart admitted in an interview that playing soccer saved him a bit from drinking and doing drugs. Now well beyond his youth, the music icon channels his love for soccer into his support for Celtic FC of Scotland.
Related Article: Private Life of Some Famous Italian Footballers
Channing Tatum | Actor
The American actor, dancer, and producer have a rich list of movies on his record, including Magic Mike and GI Joe: The Rise of Cobra. However, he featured significantly on the Tampa Catholic High School varsity team in his younger years.
His acting career picked up in 2006 with the dance movie Step Up but in the same year, he starred as a soccer player in the movie She's the Man.
Channing Tatum has proven to be multi-talented as seen in his choice of movie roles, expressing his love for being artistic. One can only imagine how his career in soccer would have developed if he stayed on the path.
Today, we have Channing Tatum as one of the Actors who played soccer.
Read Also: Which Teams Have The Longest Unbeaten Home Run in Football?
Olly Murs | Singer
The English singer, songwriter, and presenter is also a soccer player and co-owner of Coggeshall Town FC. Olly Murs became famous after finishing as runner-up in the X Factor reality TV series where he wowed audiences with his great vocals.
Nevertheless, Olly's love for soccer has seen him participate heavily in activities at Coggeshall Town FC as the club moves up the tiers of English Football.
So, count Olly Murs in when talking about celebrities who played Football.
Consider Reading: Helpful Checklists To Buyer Soccer Jerseys
Loius Tomlinson | Singer
The English singer and songwriter was a part of the defunct boy-band One Direction before they split in 2016. Back in 2013, Tomlinson signed for Doncaster Rovers as a non-contract player.
He spoke of his career at Doncaster being a dream come true. The young artiste has featured in charity games for Doncaster.
Read Also: The Best Football Podcasts To Listen To [Unique List]
Conclusion
It is quite remarkable that singers and actors who played soccer were able to experience different careers and interests. They were not stuck on one path so much that they failed to notice other opportunities.
Do you know other celebrities who played football? Please go ahead and mention them in the comments.
Further Reading: