Some of the best Liverpool players of all time impacted the club both on and off the pitch. Alongside Manchester United, they made Liverpool the most successful English club in history.
Most are cult heroes who at the mention of their names, memories of their heroics resonate.
1. Ray Clearance (1967-1981)
It is not often that you find a goalkeeper in the list of the greatest players in a club. Clearance established himself as one of the greatest Liverpool players of all time during his 14-year stay at Merseyside.
In that time, he won five League titles, three European Cups, two UEFA Cups, amongst other titles. Clearance made his presence felt in the defense and coordinated the backline in an exemplary way.
Peter Cech holds the record as the goalkeeper with the least goal conceded in a league campaign of 38 matches (2004/05). However, Clearance conceded just 16 goals at a time when 42 matches were played in the league (1978-79).
Interestingly, Clearance's last act as a Liverpool goalkeeper was lifting the European Cup at the expense of Real Madrid in 1981.
Related: The Best Chelsea Players of All Time
2. Graeme Souness (1978-1984)
Souness took to punditry after retirement but he was good with the ball at his feet too. He was the captain of Liverpool's successful team of the 1980s.
As a midfielder, Souness made his presence felt and dictated the tempo of matches. Also, he scored beautiful and important goals too. He scored a beautiful volley against arch Rivals, Manchester United in his first season. Fans voted the goal as the best of the season.
Furthermore, he scored the winning goal against Everton during the first all-Merseyside cup final in 1984. During his almost 7 year stay at Anfield, he won five league titles, and three European and League Cups.
Additionally, he won the European Cup Golden boot in 1981.
Consider Reading: 2018/19 Premier League Title Race
3. Alan Hansen (1977-1991)
Hansen played as a center-back in Liverpool's domestic and European dominance in the 1970s and 80s. Although he was restricted to a bit-part earlier in his career, he later became a mainstay and captain of the team.
In just his second season with Liverpool (1978/79), he helped the club to a record 68 points. Also, Liverpool conceded just four goals at Anfield all season long. Hansen was good at reading the game and positioning.
This helped him to spot danger even if it occurs. During his 14-year stay at Liverpool, he won 8 League titles, 3 European Cups, and 2 FA Cups, amongst others. Also, he made 6 appearances in the PFA Team of the year during that time.
Read Also: Best Barcelona Players of All Time
4. Kelvin Keegan (1971-1977)
Liverpool signed Kelvin Keegan as a midfielder from Scunthorpe United in 1971. However, his goal-scoring prowess convinced the manager to convert him to an attacker.
In his new position as part of an attack that featured Toshack, Keegan built his reputation as one of the greatest Liverpool players of all time.
He was fast, skillful, and an emotional player too. He once said: "when they(Liverpool fans) start singing 'You'll Never Walk Alone' my eyes starts to water.
Keegan scored 100 goals in 321 appearances for Liverpool. Also, he won 3 League titles, 2 UEFA Cups, and a European Cup, amongst other titles during 6 years at Liverpool.
Read Also: MLS vs Premier League Comparison in Detail
5. John Barnes (1987-1997)
When Jamie Carragher was asked who the best player he played with is, he chose Barnes without hesitation. In his words: "He (Barnes) was great with both feet. I'd say he is the best finisher I've ever played with.
Such glowing tribute, from a man who is one of the greatest Liverpool players of all time counts. Barnes played from the left wing of Liverpool's attack during the late 80s and 90s. He scored over 100 goals and won titles with Liverpool.
Most importantly, Barnes stood by Liverpool fans in one of their most trying times. Following the Hillsborough disaster which claimed the lives of 95 Liverpool fans, Barnes attended several funerals and visited injured fans.
His place as one of the greatest Liverpool players of all time is not just about what he did on the pitch but off it.
Read Also: The Best Leftbacks in Football History
6. Robbie Fowler (1993-2001, 2006-2007)
Some players are born to score goals. This is the story of the Liverpool icon, Robbie Fowler. The Liverpool legend had a natural ability to score goals and he did it for fun and earned the nickname "god".
Teammate McManaman referred to him as the "greatest goalscorer of all time". He held the record for the fastest hat trick in the EPL for twenty years (1995-2015) until Sadio Mane broke it. He is the only player to score more than 30 goals in his first three consecutive seasons.
Although he does not have as many trophies as some names on this list, Fowler's goalscoring exploits are too obvious to downplay. He is the 7th highest goalscorer in the history of the EPL and the 6th in Liverpool's history.
Consider Reading: The Best American Soccer Players in the Premier League History
7. Jamie Carragher (1996-2013)
Carragher belongs to a group of selected few who are called a "one-club man". He spent his entire 17-year career with Liverpool where he established himself as one of the greatest Premier League Defenders.
Carragher was known for his positional ability, work rate, leadership, and loyalty. Without the latter, he may not have spent his entire career at one club. He made more than 700 appearances for Liverpool and played a part in the club's success.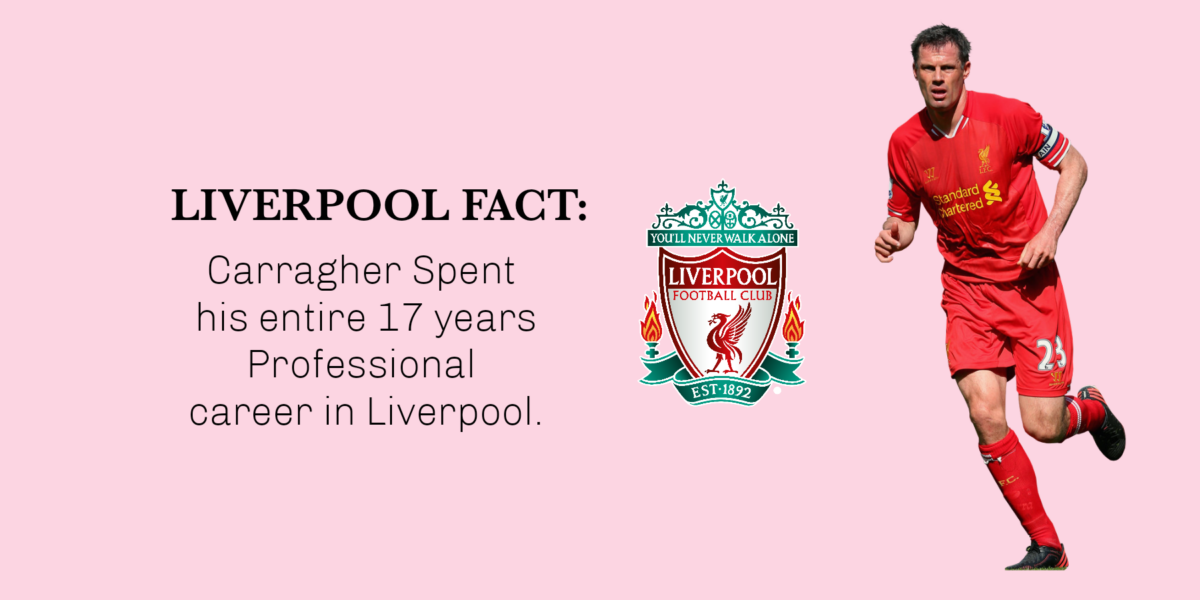 He was part of the team that staged a comeback win in the UEFA Champions League and FA Cup final in 2005 and 2006 respectively. In his final game as a professional, he was given a guard of honor by both the Liverpool and QPR players.
He retired as the player with the second-highest appearances for Liverpool (737).
Read Also: The Biggest Arsenal Flops
8. Ian Rush (1980-1987, 1988-1996)
Liverpool's record goalscorer deserves to be amongst the greatest Liverpool players of all time!
Ian Rush scored 346 for Liverpool during his 15-year stay across two spells. His goals were an important part of Liverpool's success in the '80s and 90s.
He was Liverpool's top goalscorer for 8 seasons and won the European Golden Boot in 1984. Also, he won the PFA Young Player and Player's Player of the Year awards. Additionally, he won the Football Writers Association Player of the Year award in 1984.
Most Importantly, Fowler won 5 League titles, 5 League Cups, 3 FA Cups, and 2 European Cups.
Read Also: The Premier League Top Scorers Prediction
9. Sir Kenny Dalglish (1977-1990)
The choice of who tops the list of greatest Liverpool players of all time is a difficult one. Dalglish embodies Liverpool both on and off the pitch.
There is no better example of a legend in football than Dalglish. Liverpool signed Dalglish following the departure of Kelvin Keegan in 1977. The Scottish international proved his worth with some great displays.
In his first season, he scored 31 goals including the winning goal in the 1978 European Cup final. In his second season, he helped Liverpool win the League and won the FWA Player of the Year award.
Further success arrived including multiple league titles, European Cups, and Football League Cups. Like Barnes, Dalglish is remembered for the support he gave to the families of the Hillsborough disaster.
Consider Reading: Highest Goal Scoring Midfielders of All Time
10. Steven Gerrard (1998-2015)
Gerrard's back pass and slips against Chelsea may arguably have caused Liverpool the EPL titles, but his legendary status remains.
Gerrard masterminded one of the greatest comebacks in the history of the UEFA Champions League and the FA Cup. At 3-0 down to Ac Milan in the 2005 Champions League final, he put in a man-of-the-match display to draw Liverpool level 3-3. Eventually, Liverpool prevailed on penalties in a match dubbed "The Miracle of Istanbul".
A year later, Liverpool trailed 3-1 in the final of the FA Cup against West Ham in a match many refer to as "The Gerrard Final". Indeed, he scored a brace to force extra time and led the team to victory via a penalty shoot-out.
In his 17 seasons at Liverpool, Gerrard won The Champions League, UEFA Cup, FA Cups, and League Cups. Additionally, he earned a place in the PFA Team of the Year 8 times and won the PFA Player of the Year once.
Also, he won the UEFA Club Footballer of the Year and the FWA Player of the Year amongst others.
Final Thought
Liverpool has a rich history of great players like Luis Suarez, Phil Neal, Billy Liddel, Xabi Alonzo, and others. However, they are not on this list because their longevity with Liverpool is nothing compared to the players on this list.
Overall, the players listed deservedly get the nod for their Longevity, Performances, Loyalty, and impact on the club.
All in all, you can get more exciting news about Liverpool on Friendsofliverpool.com.
Further Reading: