Football has been blessed with so many great defenders in history and there are different yardsticks of identifying the greatest of them all, or maybe the best defenders with most trophies.
Some sections of football fans see the Brazilian Tiago Silva as the best in the modern era because of his consistent top-level performance over the years.
Others consider Roberto Carlos as the GOAT of defenders because of his long-range free-kick skill and overall contribution to attack.
Paolo Maldini and Fabio Cannavaro, on the other hand, are revered in Italy for their outstanding career achievements.
Who are the Best three Football Defenders With Most Trophies?
But who really are the defenders with most trophies? Dani Alves, Maxwell, and Gerard Piqué are the top 3 defenders or the GOATs (Greatest of All-Time).
Let us examine them one after another;
Read Also: 10 Best Left-Backs in Football History
Top 3 Football Defenders By Numbers of Trohies Won
Dani Alves – 40 Trophies
The Brazilian Right-Back, who currently plies his trade in his homeland, Sao Paulo, has amassed 40 major trophies in his career to date – including the 2020 Olympics Gold medal.
No defender, in fact, no Footballer in history has more team accolades than him.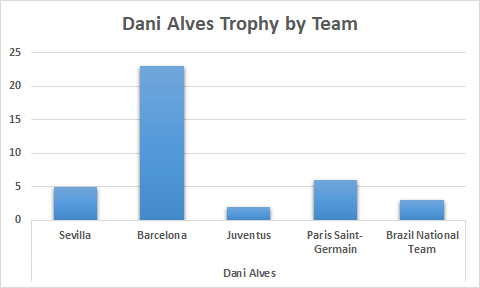 Read Also: The Most Overrated Strikers in Football
Alves won 23 major trophies in Barcelona including 3 Champions League honors. His trophy haul in Paris Saint-Germain is the closest with 6, next to Sevilla 5.
Though the Brazilian played just one season in Juventus, he managed to win the Italian Serie A and the Italian Cup medals.
Dani Alves' success with the Brazilian national team cannot be overstated having won 2 confederations cups (2009 & 2013), the FIFA U-20 World Cup in 2003, and 1 Olympics Gold medal (2021).
Apart from the trophies, he has won, Alves' ability to consistently play top-level Football since his move to Europe is nothing short of astonishing. 
Read: Best Football Apps for Android and IOS in 2020
Maxwell – 37 Trophies
It may be a bit surprising to see Maxwell, the retired left-back, in the list of defenders with most trophies because he may be perceived to never really hit the limelight as a World-Class player.
In truth, he has contributed reasonably to the successes of the teams he represented.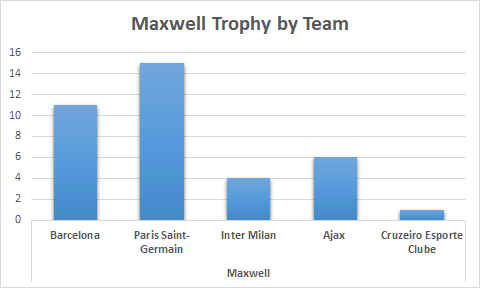 Maxwell, who retired in 2017, won 15 major honors with Paris Saint-Germain including 4 French Leagues.
However, the Brazilian secured 11 trophies in Barcelona including one Champions League medal.
In his time with Ajax and Inter Milan, he claimed 6 and 4 trophies respectively in addition to the Brazilian Cup with Cruzeiro Esporte Clube back in the year 2000.
Maxwell truly deserves to be on the list because it is really not easy to win these numbers of trophies in modern football that are incredibly competitive.
Read Also: The Best Right-Backs Ever in Football
Gerrad Pique – 36 Trophies
The former Manchester United defender is the next on the list with 36 major trophies.
Having spent most of his career in Barcelona, Pique earned himself 29 major trophies including six (6) Spanish Championships. He is a 4-time winner of the Champions League, 3 in Barcelona, 1 in Manchester United.
Also, during his Manchester United career, he won the Premier League, League Cup, and Community Shield Cup.
Unlike other players on this list, Pique has had an outstanding career with his National team. He won the World Cup in 2010 (arguably his greatest achievement as a Footballer) and the Euro 2012.
Let's not forget that Pique also won the U-19 European Championship with Spain in 2006.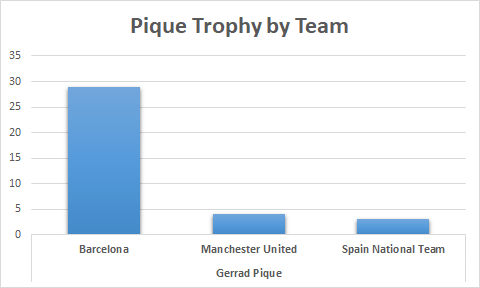 It's almost impossible to deny Pique's immense quality as a defender. So, being touted as one of the greatest defenders of all time is not an overstatement.
Learn more about Gerarrd Pique's stats for Barcelona.
Consider Reading: The Best Football Pairings in History
Cumulative Statistical Inference of Top 3 defenders with most trophies
So, having analyzed the top 3 Football defenders of all time by the numbers of earned trophies, now we will see a holistic overview of their cumulative efforts by the team.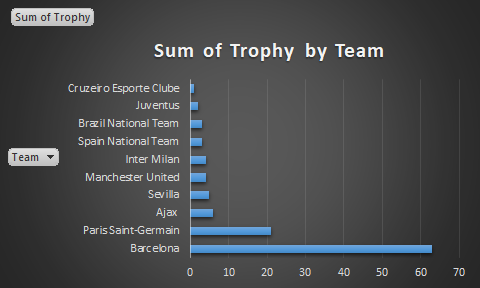 Read Also: The Highest Goal-scoring Defenders in Football History
As the above chart indicates, Barcelona has a whopping cumulative score of 63 trophies, the highest by far on the list.
In other words, the top 3 defenders with the most trophies won most of their trophies with Barcelona.
| | |
| --- | --- |
| Team | Sum of Trophy |
| Barcelona | 63 |
| Paris Saint-Germain | 21 |
| Ajax  | 6 |
| Sevilla | 5 |
| Manchester United | 4 |
| Inter Milan | 4 |
| Spain National Team | 3 |
| Brazil National Team | 3 |
| Juventus | 2 |
| Cruzeiro Esporte Clube | 1 |
Paris Saint-Germain is next to Barcelona but they did not even come close. The French giants have a cumulative trophy score of 21 if all honors of the Top 3 Football defenders are combined by the team.
The Spanish and Brazil national team are on par with 3 apiece.
Read: How to Make Money From Football without betting
defenders with most trophies: Value of Trophies Won
If the trophies won by the top 3 football defenders were weighted based on their value or importance in modern football, there could be another twist to the order of the list.
The Charts below show how each Trophy is graded by Soofootball.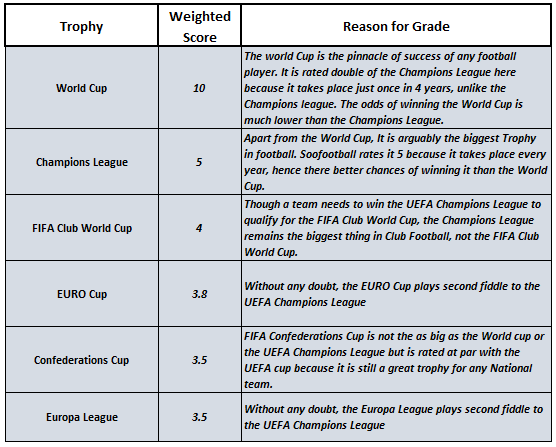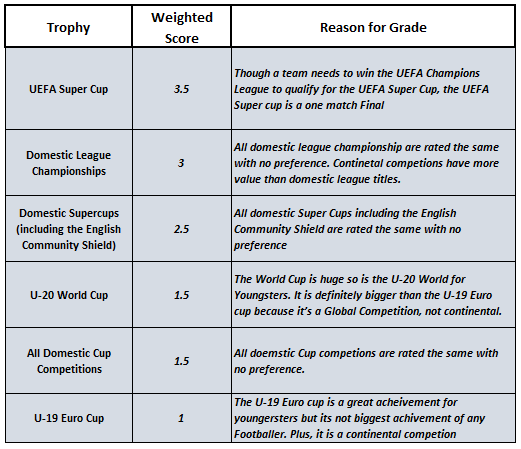 The cumulative score after grading is shown below;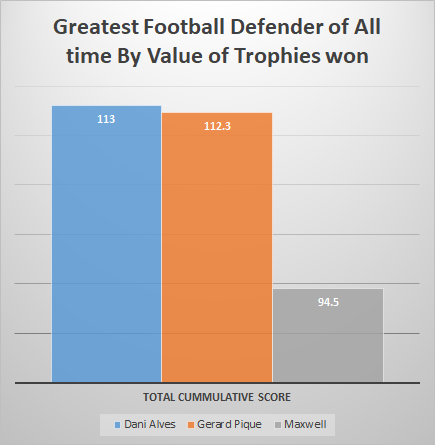 Though it's a very close tie between Dani Alves (113) and Gerard Pique (112.3), we can infer from this study that Dani Alves is the greatest Defender of all time by the Value of trophies won as computed by soofootball.
| | |
| --- | --- |
| Name | Total Cumulative Score |
| Dani Alves | 113 |
| Gerard Pique | 112.3 |
| Maxwell | 94.5 |
The charts below show the breakdown of how each player's cumulative grade is calculated;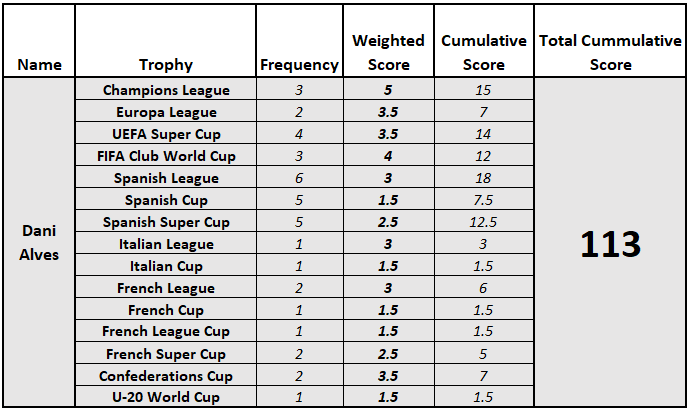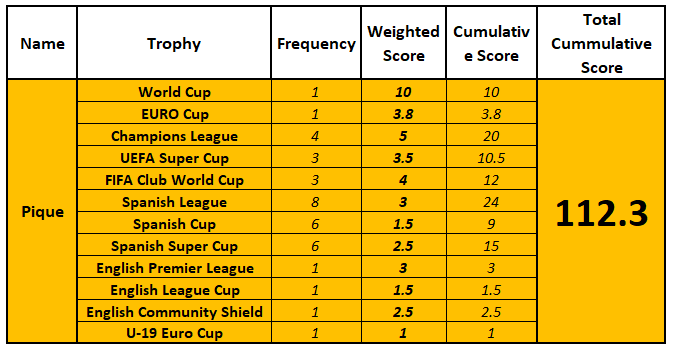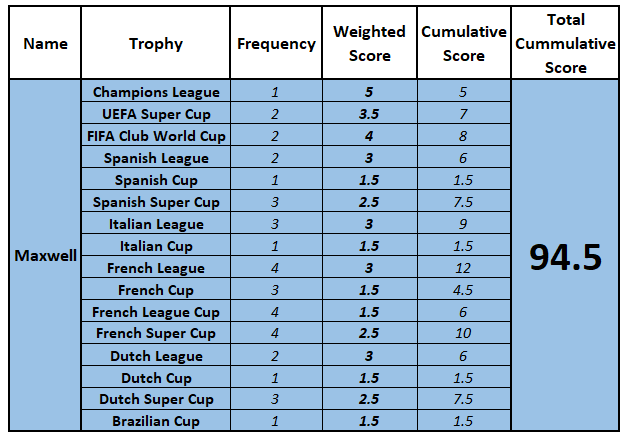 The major contributing factors to the slight change are the World Cup and UEFA Champions League. Pique won more Champions Leagues (4) than any other player on the list.
Plus, he won the World Cup in 2010.
Soofootball's weighted score for the World cup is 10 (the highest score on the list), and the UEFA Champions League 5 because the World Cup is the pinnacle of success for any football player.
It is rated double of the Champions League here because it takes place just once in 4 years, unlike the Champions League.
Furthermore, the odds of winning the World Cup are much lower than the Champions League. 
Pique and Alves have won the Champions League 4 and 3 times, respectively.
Unlike Alves and Pique, Maxwell won the competition just once in his career before he retired. Hence, his moving down the ladder on the list.
Consider Reading: The Most Talented Injury-Prone Footballers Ever
Conclusion
In a nutshell, it is safe to say that Dani Alves is the best defender with most trophies in Football history, and by the value of trophies won.
Also, Barcelona can feel so proud of themselves because the top 3 Football defenders of all time won most of their trophies with them.
Football fans across the world should give maximum respect to Dani Alves, Pique, and Maxwell.
In the meantime, what are your thoughts on this computation and analysis? Is there something missing? It'll great to hear from you.
If you enjoyed this article, you also like Best Football apps or best Premier League center backs of all time or best female Soccer players of all time.
Further Reading: