We all love to watch good footballers, but outside the football pitch, do you really know who they are? The inside life of some famous Italian Footballers is then a relevant case study to consider.
You might be that I don't care or it's none of my business type of person, but these footballers are more influential (on you) than you think.
If you have (or hope to have) nephews or kids of your own then you are advised to have a rethink on that. Why?
Professional players are actually role models to your kids. Your son wants to be like Messi and your daughter would crave to have a date with the Cristiano Ronaldo of her school.
So what do you do? Learn more about these players inside and outside of the Football pitch. So, as a case study, let's consider some famous Italian Footballers below.
Read Also: A Football Poem For Football Fans: Why We Love Football
Private Life of Some Famous Italian Footballers
Nicolò Zaniolo
Date of birth: 2 July 1999
Place of birth: Massa, Italy
Position: Attacking midfielder
Net Worth: $1-3million
Let's start this list with the youngest player – Nicolò is the son of former footballer Igor Costa. As a child, his idol has always been Kakà. Nicolò loved football and ultimately made a profession out of it.
Now, we can say Zaniolo is one of the famous Italian Footballers.
However, in his private life, Nicolo Zaniolo loves inking his skin. His tattoos feature writings in the form of a snake on his left forearm. He has another on his left thigh dedicated to his sister.
Zaniolo faced some disappointments in football and one of them is stunted growth issues.
Although, there is no clear evidence that he was diagnosed with growth hormonal disorder.
Candidly, a better height would have been the icing on the cake for the talented footballer. His height actually did not help him at Florentina Football Academy.
On another note, it is no secret that some footballers live immoral lives with different women.
While they control the ball on the field, they can't really do the same in their relationships or marriages.
Nicolò has been engaged for several years to Sara Scaperrotta but sadly the relationship ended. However, they will be expecting a baby.
Read:
How Football Clubs Make Money
Best Football Late Bloomers Who Won Trophies
How to Make Money From Football Local Tournaments
The Most Shocking Transfers in Football History
5 Highest Goalscoring Goalkeepers in the Football History
Mario Balotelli
Date of birth: 12th August 1990
Place of birth: Palermo Italy
Position: Striker
Net worth: $80 million
Balotelli was born to Ghanaian immigrants, Thomas and Rose Barwuah in Italy, hence, he recognizes Italy as his home. The Italian striker has proven to be one of the most enigmatic names in football.
The former Italy international has a younger brother – Enoch Barwuah who plays for USD Caravaggio in the Italian Serie D.
In addition to his personal life, Balotelli was nicknamed "Super Mario" by his adoring fans from the popular game – featuring the Titular Italian hero.
Furthermore, the Italian has a knack for popping up promiscuous headlines. He has two children named Pia and Lion from different women. The striker can barely keep his engagement because his numerous girlfriends outnumber his supercars.
Interestingly, when Balotelli was at Manchester City, the police found ₤15,000 in the glove compartment of his car.
When asked about it, he basically replied with the words "… because I'm rich". Such is the level of his enigmatic character.
Talking about personal wealth, it is no mystery that the Italian forward loves showing off his luxury life. He's one of the famous Italian Footballers who has a collection of wild modern supercars.
Balotelli's Car Collections Include;
Bentley Continental GT, a car patronized by royal families, and the richest of businessmen.
Ferrari 458 Spider the flaming red Ferrari 458 Italia which he uses as a family car.
Range Rover Evoque A compact luxury SUV that costs up to $55,000 but the base model could be available at a low $28,000.
Away from his luxury cars, Balotelli financed the construction of a school in the village of Cuey Machar in South Sudan. He might not be associated with a lot of charities like other Italian Footballers, but at least, he is doing something.
Surprisingly, the Italian striker is a friend of Kon Kelei, a former child soldier forced to fight in Sudan's civil war.
Balotelli saw the film made by Kelei about his life called 'The Silent Army' and was moved.
As a result, he decided to fund his school in the country, and in return, Kelei named a wing of the school after the Italian footballer.
Giorgio Chiellini
Date of birth: 14 August 1984
Place of birth: Pisa, Italy
Position: Centre-back, left-back
Net Worth: $15 million
Giorgio Chiellini is attributed with a great reputation as one of the best defenders in Serie A. He's also considered as one of the best Centre-backs in the world. The Italian is no doubt one of the most famous Italian footballers.
Most people don't know Chiellini has a twin brother. His brother holds a bachelor's and master's degree in Economics & Commerce from the University of Turin in July 2010.
Furthermore, Chiellini married his long-time girlfriend Carolina Bonistalli In July 2014 and has two daughters.
In 2019, Chiellini published a book that attracted controversy due to his strong criticism of Felipe Melo and Mario Balotelli (his former teammates).
According to Goal.com, he said, "Balotelli is a negative person with no respect for the team." Chiellini also said the Italian sticker "deserved a slap" for his attitude during Italy's 2013 Confederations Cup campaign.
Balotelli did not take the insult lying down, but struck back at Juve's club captain, on Instagram.
However, both players have now buried the hatchet. This was confirmed when they both appeared on the Italian TV show Le Iene in May 2020.
Chiellini gave the profits of his released autobiography to the insuperabili charity during the COVID-19 pandemic in Italy. Many Italian footballers supported his movement.
Read Also: Best Premier League Midfielders of All Time
Gianluigi Buffon
Date of birth: 28 January 1978
Place of birth: Carrara, Tuscany, Italy
Position: Goalkeeper
Networth: $21 million
Gianluigi "Gigi" is still one of the world's best goalkeepers in football history. In fact, he is one of the most famous Italian Footballers.
When Buffon was six years old, his parents enrolled him in a football academy.
At first, he played as a midfielder till he discovered his idol – Cameroon goalkeeper Thomas N'Kono in the 1990 world cup.
Interestingly, this made Buffon change his position to a Goalkeeper. Years after, he named his first son Thomas – in remembrance of his idol.
Gigi like Andrea Pirlo and Andres Iniesta – who both are part of the best Midfielders of all time – went into winemaking.
In 2017, he launched his own brand of wine named Buffon #1. If he can keep his Goal safe, wouldn't you expect his wine to be equally safe?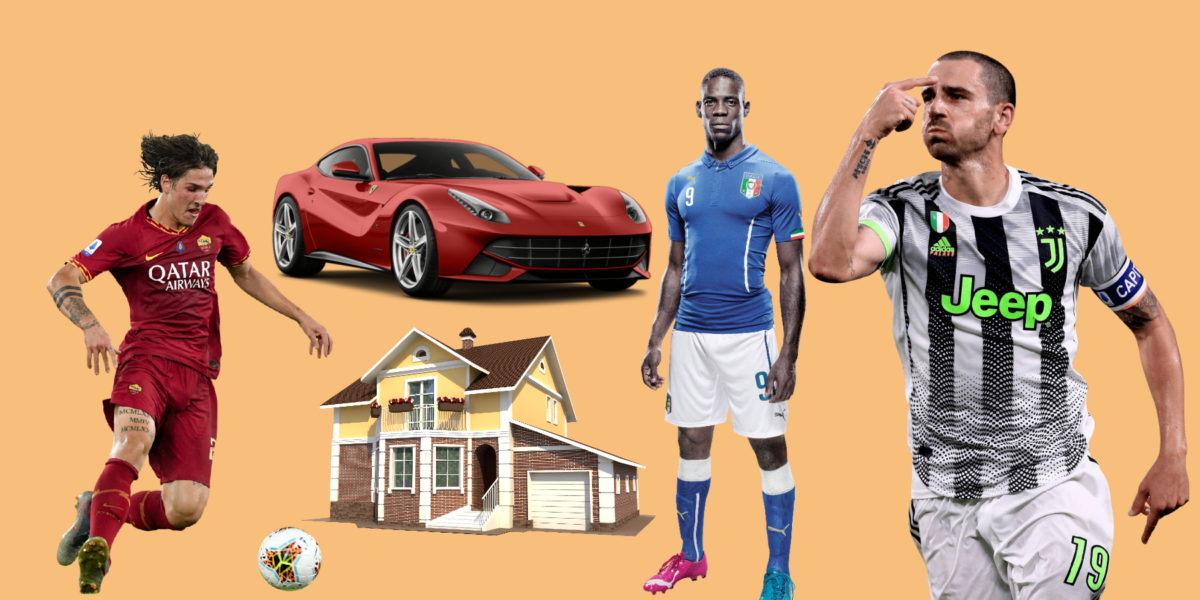 Leonardo Bonucci
Date of birth: 1 May 1987
Place of birth: Viterbo, Italy
Position: Centre-back
Networth: $22 million
Leonardo Bonucci is one of the best ball-playing defenders in Football history. His technique, finesse, and skills set the clear standard amongst other Italian Footballers.
Bonucci married Martina Maccari, a former model and blogger and they have two sons and one daughter.
Although, the Italian plays for Juventus, his eldest son, Lorenzo, support Juventus's cross-city rivals, Torino.
A little sad part of Bonucci's personal life is that In July 2016, his youngest son, Matteo underwent emergency surgery following the onset of an acute illness.
As a result, the Italian defender couldn't train or play football because of his son's health. Eventually, it took about 15 days before his son regained consciousness.
Bonucci confessed that he thought about quitting football because his mind was not at ease. This is a clear indication that he prioritizes his family over football.
In time, Bonucci returned to pitch after his son regained his full health. But then again another trial for the Italian defender came.
In May 2012, Bonucci was accused of match-fixing against Udinese – a match that took place in May 2010. He denied any wrongdoing and was later acquitted in August 2012.
Furthermore, Bonucci is a strong Anti-bullying Activist. In December 2017, Bonucci made a cameo appearance in the music video for Buona Fortuna by Benji & Fede. The storyline was against bullying.
In 2019, he co-wrote and released the book "Il Mio Amico Leo" with the journalist and editor Francesco Ceniti. It partially contained his own experiences and support to bullying victims.
Read Also: 10 Youngest World Cup Debutants
Conclusion
All (Italian) Footballers are humans! They have a life (outside football) just like many of us. Some Footballers are more reserved or private about their life while others flaunt it.
Furthermore, Italian Footballers, like every other footballer have feelings. So don't blame them too much when they overreact on the pitch or you read about their misdemeanors.
Over to you. What's your big lesson learned about the private life of some of these famous Italian Footballers? Share your thoughts in the comment box.
Further Reading: