The soccer Jersey Business is very lucrative lately. It is indeed an opportunity for you to tap into this and make reasonable money. However, you can't make money if you don't do it right. That is why we put this article together for you so you can learn how to start a Football kit Business, Market it and Make Money.
It may be advisable to understand a typical case study of some online Football Kit Designers.
In addition, you could use effective soccer jersey design software to customize sportswear. It all depends on what works best for you.
Without wasting time, let's get to it.
How to Start Your Soccer Jersey Business
Research & Plan Your Business
A clear plan is essential for success also in the Soccer Jersey Business. It will help you map out the specifics of your Football Kit business and prepare you for unforeseen circumstances.
A good plan should include Surveying your existing competition and planning to set yourself apart from them. Find out what they are doing and do better.
In addition, write a good business plan, and research the cost of rental spaces and kit apparel. Also, stay current and follow up on industry trends.
In the Planning stage of your Football Kit Business, you need to crucially consider two factors.
Target market- Ideally, the target audience for your kit business should be coaches of youth sports teams, junior high school teams, and high school teams. You can also take it a step further by making Football kits for local clubs, Football Academies, and the likes. Coaches buy in bulk for teams to make last through the year.
Business Registration and Policy – To make your Soccer Jersey business official and trustworthy, you need to acquire the necessary forms and applications. Register and seek necessary approval before proceeding. There will be a need for you to formulate good policies for your Football kit business. These policies should assure your customers that you will be able to deliver at the appropriate time.
Select a Strategic Business Location
There are two different kinds of locations you can consider. But it is preferable to have both to widen your reach.
Physical store – This is a physical store where your customers can buy and patronize your service. It is better to be situated on premises that will be easy for both foot & driving traffic, with adequate parking and space for your apparel. However, If you don't have enough funds for this then you can start online instead until you can rent a space.
Online Store – This is an online shop but keeps in mind that you will need a physical storage place. Having your own virtual storefront will give your business a valuable online presence. This allows you to display all your products in one place. Although, it is best to establish your online store after your physical shop.
Allocate Budget Wisely
Allocating the budget wisely is very crucial to having a successful Soccer Jersey Business.
For startups, you need to include everything you will be needing in your early phase. Things like location, stock, business license and insurance, and utility costs should be decided on first.
Additional costs can be taken later. Follow your budget strictly so you don't fall into deficit.
Read Also: Unique Soccer Gifts to Give Soccer fans & Players
Hire Valuable Employees
If you are just starting up, you are the only employee you need. Run the store by yourself until you begin to attract businesses.
But when hiring, employ workers with sales experience in football or the sporting goods industry.
As a start-up, you can also consider getting volunteers to work for you to cut costs. However, they should not be taken advantage of. You can possibly offer them reasonable incentives and benefits.
Read Also: Do Soccer Players Wear New Jerseys Every Game?
Choose The Perfect Supplier
This is a very important step you shouldn't miss. Making arrangements for getting your kits to sell is vital to your business.
A good kit should have high quality, great design, and a fair price. Check that your prices are not too expensive with the market before fixing them.
You can make arrangements for your kit in the following ways;
Import from overseas – Most original kits are made in Europe so you are definitely importing from there except if you choose to deal in selling replicas. Replicas are produced in China and are way cheaper. However, your customer preference will determine where you will import your stock from. Find out what companies operate and ship products to your location. You can look through trade magazines or visit research websites online.
Wholesale distributors – There are major distributors in every country who already import football kits in bulk. For starters, getting stock from distributors will be a safe bet. After six months to a year of learning the ropes, you can now order directly from manufacturers by yourself. A lot of kit manufacturers are now online. You can browse their policy and offers and choose the best for your business.
Discount Sales – Most football kit manufacturers have discount plans for their clients. The most common discount is quality and sponsor discount. The quality discount is on the large bulk purchases or orders for team kits and so on. While the Sponsor discount is given if you choose to allow the company's logo printed on your kit order. The discount rate goes between 10 – 20% discount or less depending on the manufacturer.
PS: Some online stores sell Cheap Soccer Jerseys at a Wholesale price. It may be smart to approach these ones.
Invest In Branding
Branding helps you stand out from your competition in the Soccer Jersey Business. It gives your brand identity.
You can make your kit business into a brand in the following ways.
Brand name – Decide on a catchy name for your business, one that will be memorable. Have a mission statement and set your values as a business.
Logo – A logo is the face of your business. It is the most important thing you'll need. Think about how you want to be perceived by customers. PS: You can hire a good logo designer online.
Assets – Things like business cards, product packaging, or flyers go a long way in making your business stand out.
Consider Reading: The Best Soccer Cleats or Boot to Buy
How to Market your Soccer Jersey Business
1. Create Your Website
Having your own website is an excellent way of telling customers where you are and what you are selling.
Thankfully, setting up a website is not too expensive. With Content Management Systems like WordPress, you can set up or e-commerce website for less than $100.
But whatever the cost, it sure worths your investment especially if you want a long-term & sustainable Football Kit Business.
On the other hand, you could hire a professional to set up your online store for you.
Read Also: Messi vs Ronaldo: A Classic H2H Battle
2. Take Advantage of Social Media & Online Marketing
Don't underestimate the power of social media or online advertising.
Strategic use of Pay Per Click Ads can be really useful. You can also learn a simple, step-by-step guide to launching a successful Facebook Ad campaign for your Football Kit Business.
In addition, you can make effective use of online tools and create a sign-up sheet for a mailing list.
By doing so you can send coupons and other information directly to interested customers.
3. Sponsor Local Teams
This might seem expensive but if you can pull it off, your brand will completely stand out, and yes, you'll earn get more turnover and brand awareness.
It will also increase word-of-mouth advertising for your Soccer Jersey business.
During local League seasons, offer to print up their jerseys, fulfill trophy orders, or take special requests for customized gear.
You have the potential to reach parents and their kids as well as other teams they come into contact with.
By helping budding athletes, you can attract customers. But make sure to differentiate yourself from local competitors.
Consider Reading: The Biggest Upset League Title Wins in Football
4. Place Ads In Local Newspapers or Sports-Related Publications
Advertise on local sports-related newspaper websites. If you can afford it, sports radio and television are great for getting customers to your store.
There are a lot of football enthusiasts out there.
Someone might just be thinking of getting a Jersey to support their favorite club.
Also, publicize your raffles or giveaways.
5. Offer Self-branding Service
Everyone wants something special. Many of your customers may choose to have their last names printed on their jerseys.
Others even go as far as having a full sporting kit customized for them. You can offer this self-branding service to your customers
Consider Reading: History of Football Kits
6. Sell on eBay & Amazon
Selling online can be an excellent way of reaching new customers and boosting your sales.
At first, it might seem that the value of online sales will not justify set-up costs but it will in the long run.
So if you are going into the Soccer Jersey business, just don't stop.
You may also decide to sell on eBay and Amazon without owning an online shop or website.
Amazon and eBay are also good places to sell because of the traffic they get during seasoned sales (like Black Friday deals).
7. Offer Promotional Deals, Coupons, and Discounts
You may consider running special offers at certain times of the year.
These can result in bringing more customers through your doors who may buy more than just the items that are advertised on special offers.
Offering discounts can also be a good way of shifting old stock and kit designs. As you should know, the football kit business is quite vulnerable to changes in fashion.
So, selling off the previous year's stock means that you can keep your stock up to date.
It also helps you recover your money tied up in items that people don't really want.
8. Get The Timing Right
Your sale deals should target the football season.
Many kit shops have increased in demand during the start of EPL, LaLiga, and Serie A leagues.
Also, customers prefer to purchase merchandise from football clubs in the top five league tables.
The market changes along with the trend and popularity of clubs and players as well.
Also, top-performing players in ongoing football seasons have their Jerseys in popular demand.
Fans like to associate it with success. Children, as well as adult fans, want to wear the names of their favorite players. You can render this service to them.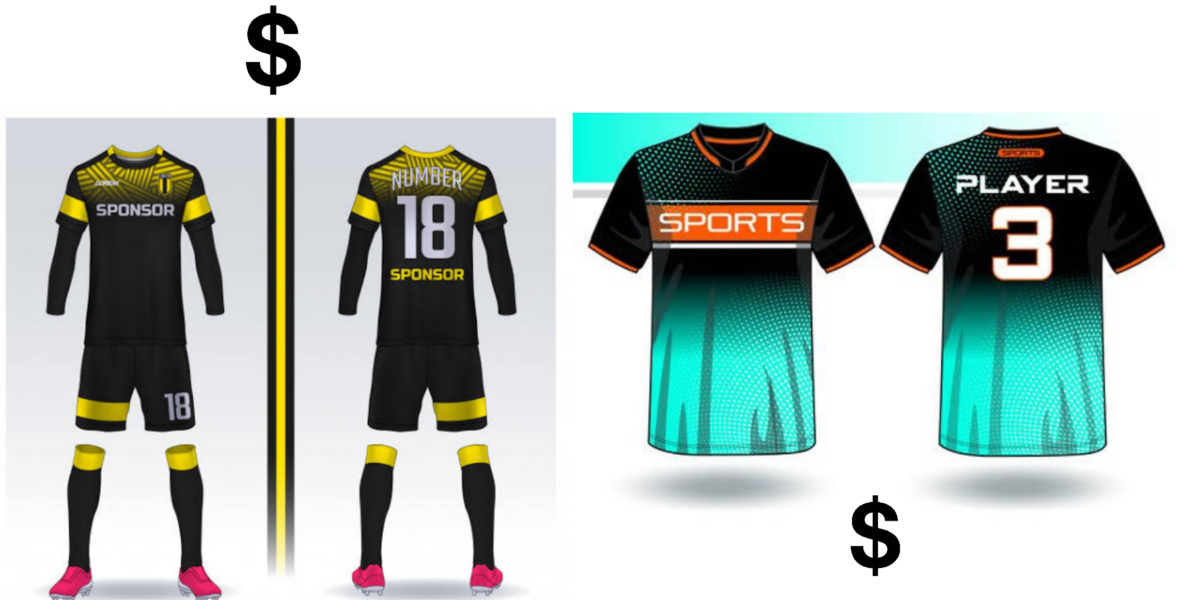 How Much Money Can Your Soccer Jersey Business Fetch You?
The amount of money you can make depends on how well you can market your business.
It also depends on the size of your store as well as the size of your market.
However, it is important to note that if you only sell in retail, your profit could be minimal.
But if you sell wholesale or in bulk (wholesale) to clubs etc. then you could make more than you think.
On average, you can make well over $5,000 monthly from your Soccer Jersey business if your product is top-notch and you have a strong marketing connection and/or strategy.
Related: Learn How To Become A Football Scout
Conclusion
Soccer Jersey Business will always be relevant and profitable as long as football lives.
You can start a Football kit business on the side to earn residual income as well. Most Football kit businesses are operated in this way.
Many football enthusiasts exist in the Football Kit business out of sheer passion. You should develop your passion too.
To make reasonable revenue, you should maintain a very high standard for your products and have good customer service to clients and potential customers.
In order to broaden your knowledge, you can consider other ways to Make Money from football without betting or how to make money from local football tournaments.
Another option to consider is how to write Football articles for money.
Further Reading: