Football kit history has long been an interesting one. Football or soccer kits are now an important part of identity and brand.
The football kit has changed significantly through the years, from the earliest days of association football in England to the modern game.
However, before going into details about the history of football kits, we'll highlight some relevant points. 
Brief History of Football
Football is one of the most popular sports in the world.
It has its origins in ancient games like Cuju and Harpastum and is now the most popular sport on Earth, played by close to 250 million people. 
What many people don't know, however, is that there are two different styles of soccer: Association football (or "soccer" as commonly known in American) and Rugby Football (also known as "football" or "gridiron"). But our focus in this piece is "Soccer".
Football in Europe is played in teams of 11 players, with a "goal" at either end. 
The object of the game is to score by putting the ball into the opponent's goal (using either feet or head). 
It is important to mention that soccer is the most popular sport in the world.
Read Also: Cheap Soccer Jersey Tips
What is a Kit?
A kit is a set of clothing worn by a sports team, or by members of an organization. 
The term "kit" is usually used for the uniform worn by players. 
In games where there are more than two teams per side, the different kits distinguish each team from one another. 
This is often called a "Jersey". The types of garments included in a kit are as follows: Jerseys, shorts, trousers, and socks. 
Jerseys are usually made of a polyester mesh, which offers better breathability for the wearer than a cotton one.
Different types of sports have different styles of kit. 
For example, football kits will usually have tighter-fitting shorts and lighter-colored shirts; rugby kits may have wider shorts and lighter-colored shirts.
Read a detailed guide on the law about football kits.
Consider Reading: The Best Soccer Stadiums in the US
What Is A Football Kit?
Football kit is the uniform worn by players of association football. The term "kit" refers to either the shirt or the shorts and socks of the uniform.
Association football is also known as soccer in some countries. Players for a team typically wear identical shirts, made from a polyester mesh with elastane, which helps them stay dry and cool. 
The shirt traditionally has short sleeves or long sleeves depending on whether it's worn in summer or winter, respectively. 
A player's number can be found on their upper back between the shoulder blades and on top of one of the sleeves, while their surname appears on their back below the number. 
There are rules about what color shirts need to be worn for different teams and leagues.
The football kit can be worn for home or away matches. 
The design and colors of the shirt represent the club's identity, often with the logos of its main sponsors. 
Occasionally, teams also wear nicknames on their shirts or badges depicting their geographic location. 
Nowadays, they are made from a wide range of colorful synthetic materials and they are available in many different sizes for all ages.
The most popular colors for a team shirt are blue, white, and black with red also being popular as it was once the color worn by England's dominant team.
Consider Reading: How Man of The Match Award is in Football is Decided
Brief History of Football Kits
The earliest evidence we have for a footballer wearing clothing that identified them as being on one team or another was in 1895. 
This was when a player from Aston Villa wore a cap with the word 'VILLA' embroidered on it. 
It wasn't until 1901, during a match between Everton and Aston Villa, that both teams were already wearing different kits. 
Before then, it was normal for every team to wear red shirts with white shorts and black socks. 
This type of kit became known as 'combination' kits.
Football has had many different types of kits over the years. At first, players wore whatever they could find. 
Slowly, teams began to wear kits that were more like what we know today. 
In the late 1800s, the iconic football kit was created by a rugby team called the Rugby school who played in white shirts and dark trousers.
Today's football kits vary depending on what teams are playing and whether or not it is a national game. 
The most important determinant factor of kits' color is the colors on the National flags or club emblem.
When Was The First Football Kit Made?
The first football kit was made in 1872 by the English company Dick, Kerr & Co., who later became more famous for their hand-made cricket bats than their football gear. 
It was worn by England player Charles Wollaston, and it consisted of a long-sleeved white shirt with a red cross on the chest and blue cuffs on the end of the sleeves.
As the game became more popular, clubs and manufacturers started making their own kits. 
The first football kit was made by a club called Cardiff and it consisted of a white shirt with blue shorts. 
Ever since football kits have come a long way.
Read Also: Best Selling Soccer Jerseys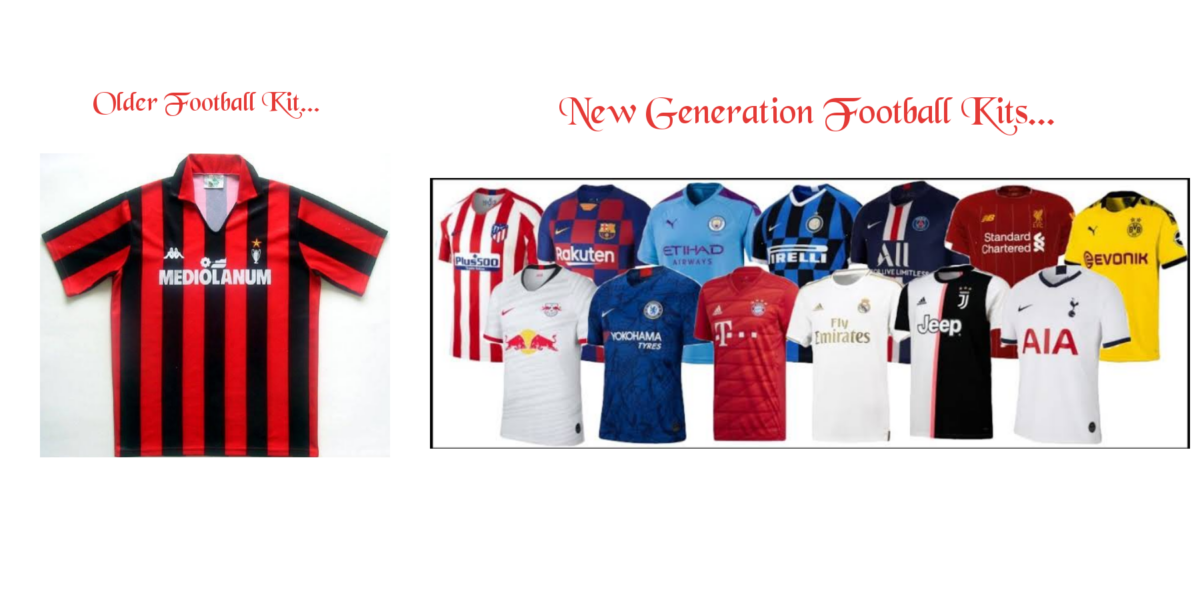 Top Football Kit Brands
Football kits history cannot be more interesting without kit brands.
A football kit brand is a sports clothing company whose main goal is to provide football players with the best clothes and gear.
The market for football kits has grown exponentially in recent years. 
From the 90s to the present day, the market has gone from $2 billion worth to $25 billion. 
The leading brands have also changed from Nike and Adidas to other companies that have focused on strengthening their marketing strategies in order to be able to compete with them.
This section provides information about top football kits brands in world football.
Consider Reading: Best Soccer Cleats To Buy
Adidas
Adidas originates in Germany. It is a multinational corporation that designs and manufactures sports kits (including football) and accessories. 
It is the largest sportswear manufacturer in Europe, and the second-largest sports apparel manufacturer in the world.
Nike
Nike, Inc. is an American multinational corporation that is engaged in the design, development, marketing, and sales of footwear, apparel, equipment, accessories, and services.
Puma
Puma SE (PUM) is a German multinational company that designs and manufactures athletic shoes, clothes, and accessories with headquarters in Herzogenaurach – Germany.
(Find out how to make custom mystery soccer jerseys.)
Final Thoughts on Football Kits
In a nutshell, Football kits are a great way for football teams to engage with their audience and can be used to express the team's identity.
FIFA, the international governing body for football, has strict regulations on what teams are allowed to wear on the field. 
The kits need to be a certain color and must not have any other colors on them either. 
This is because it makes it easier for TV viewers to distinguish team members from one another during games.
Finally, football kits have evolved over the years and have got better.
Further Reading: