Since the turn of the decade in 2010, no English club has had more domestic success than Manchester City. This success would not have been possible without the best players. Hence, we will consider the 10 best Manchester City players of all time.
When the club was taken over by Sheikh Mansour in 2008, City was able to splash the cash on some of the best players.
This allowed them to be one of the most dominant clubs in the world. 
Although most of City's success has come over the past ten years, they had players before this that were all-time talents.
Here are the ten best players in Man city history have had in no particular order. 
Read Also: 20 Best MLS Transfers From European Teams
Recommended For You: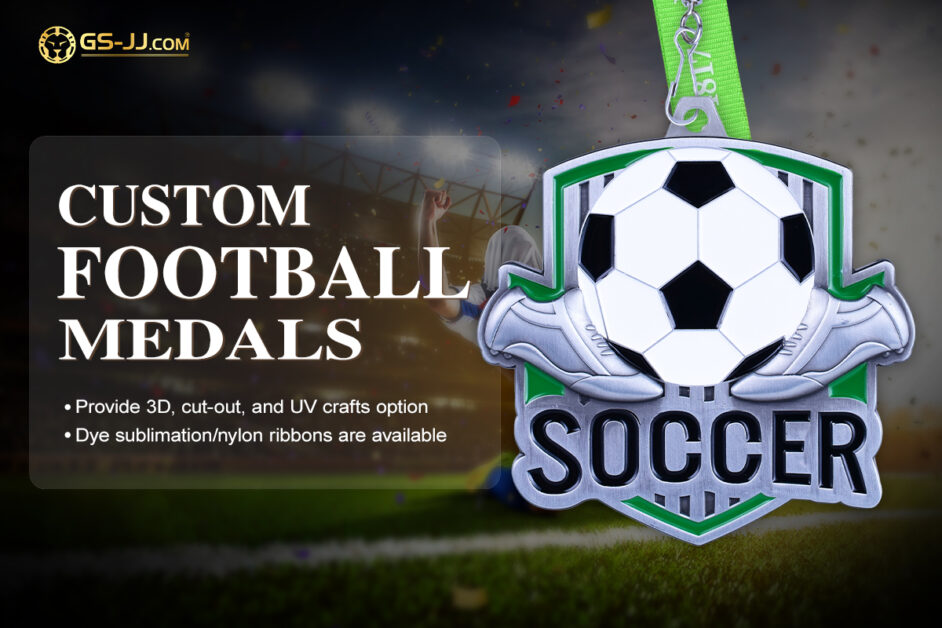 If you are preparing a football match, what gifts will you prepare to reward the participating players? We recommend the custom soccer medals from GS-JJ.
Wouldn't it make sense to give players medals with their names or team logos? Such personalized medals not only boost players' enthusiasm, but also help promote the soccer event.
10 Best Manchester City Players Of All Time in Summary
SN
Player Name
Pos
Apps
Goals
Assists
Team Accolades Won With Man City
1
Sergio Aguero
ST
390
260
73
1 FA Cup
5 Premier League
6 League Cups
3 Community Shields
2
David Silva
AM
436
37
140
2 FA Cups
4 Premier League Titles
5 League Cups
3 Community Shield Cups
3
Bert Trautmann
GK
71
NA
NA
1 FA Cup
4
Fernandinho
DM
382
26
33
1 FA Cup
4 Premier League Titles
6 League Cups
5
Collin Bell
CAM
176
51
2
1 Premier League
1 FA Cup
1 Europapokal Der Pokalsieger Sieger
1 League Cup
6
Vincent Kompany
CB
359
19
11
4 Premier Leauge Titles
2 FA Cups
4 League Cups
2 Community Shield Cups
7
Kevin De Bruyne
CAM
306
86
120
1 FA Cup
5 League Cups
4 Premier League Titles
2 Community Shield Cups
8
Mike Doyle
CB
201
13
NA
2 League Titles
2 FA Cups
4 League Cups
1 Europapokal Der Pokalsieger Sieger
4 Community Shield
9
Eric Brook
LW
499
179
NA
1 FA Cup
1 Football League First Division
1 FA Community Shield
10
Yaya Toure
CM
316
79
49
3 Premier League Titles
1 FA Cup Title
3 League Cup Titles
1 Community Sheild
Read further below to get details about each player.
1. Sergio Aguero (2011-2021) 
5-time Premier League Champion, 6-time League cup winner, FA cup winner, City's record goal scorer, and the most iconic moment in football history.
Is there any doubt that Sergio Aguero is Manchester City's greatest ever player? 
260 goals are just incredible given that he is an injury-prone footballer.
But Aguero's 184 Premier League goals are enough for him to be the 4th highest goal scorer in Premier League history.
No player has a better goal-to-game ratio in the league's history than Aguero.
So many of his 260 goals for City were massive goals.
Yes, we all know about his goal on the final day vs QPR in 2012 that led to the popula3 92 30 solgan, but they're so many more. He has league cup final winners, as well as big-game performances.
Two that stand out are his goal vs Liverpool in their famous 2-1 win in 201. Also, the equalizer on the last day vs Brighton of that season, to win the title for City.
He terrorized the other big teams in the league. Aguero scored 54 goals in just 75 games against the "Big Six" teams. 
Simply put, Sergio Aguero is the best player in Man city history. His numbers and trophies speak for themselves.
Everyone ahead of him on the goal-scoring list has 400-plus appearances.
But Aguero managed to get to 4th with just 275 Premier League appearances.
Aguero is the best foreign player in Premier League history, and forever City's legend.
Watch Aguero's most iconic moment in the Manchester City shirt again.
(On the flip side, you can learn about Aguero's Football Nickname and other footballers Nicknames. Also, find out why Aguero and other now have heart issues and other players like Aguero who have Statues)
2. David Silva (2010-2020)
"The Magician" as they called him, David Silva is City's most naturally gifted player of all time. Silva would rack up 424 appearances while scoring 60 Premier League goals as well as 90 assists. 
Silva is up to there with the best midfielders of all time in the Premier League, winning everything there is to win in England.
While he has a lot of assists, he is known for delivering the assist to the assist. The Spanish midfielder's most impressive feat was the constancy he had over his decade at the club.
You could count on one hand the number of poor games he played in Manchester City. 
He was the first name on the team sheet for a decade. Unfortunately, he never really got the praise he so deserved.
His quiet personality led to him being overlooked, but make no mistake.
Some fans even refer to David Silva as the best player in Man city history.
Read Also: The Emergence & Decline of the No. 10 Role
3. Bert Trautmann (1949-1965) 
Trautmann has had a career that was truly one of a kind and will probably never be seen again.
The German was a prisoner of war during World War 2 and even helped heal relations between England and Germany. 
The City goalkeeper made 545 appearances for the team and famously played for 17 minutes with a broken neck in the 1956 FA cup final.
A few weeks later, he would win FWA player of the Year. He was the keeper during their run in the 60s and 70s, earning his spot as one of the best players in man city history.
Read Also: The Best Football Articles To Read
4. Fernandinho (2013 – 2022)
Bought in 2013, Fernandinho has quietly become of the best holding midfield players in the Premier League era.
His stats don't pop out, and he is not talked about when talking about the best players in the league, but he is one of the most crucial. 
During his peak at City, there were few players that were more important than him.
In 2018, City set the Premier League record for points (100) and Fernandinho was by far the most important player.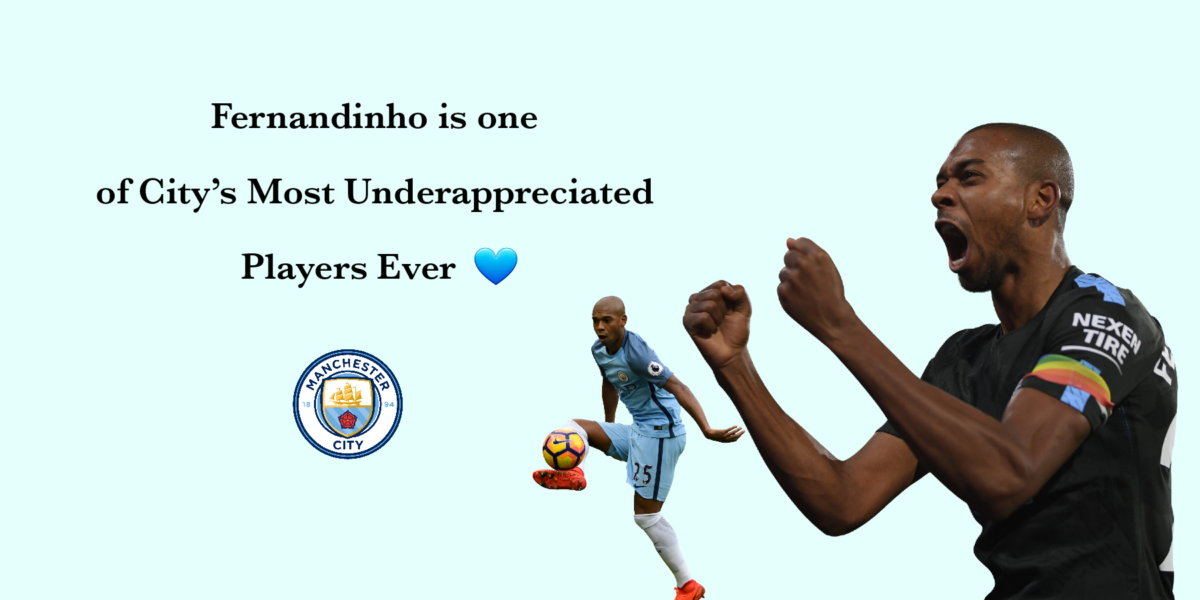 Holding midfield players do a lot of the work that does not stand out or get noticed.
Fernandinho was at the heart of City's greatest ever team. He has to be on a list of the best Manchester City players of all time.
Clearly, Fernandinho is also one of the best Premier League midfielders ever.
5. Colin Bell (1966-1979)
You are not called "The King" for being just an average player. Colin Bell was unquestionably City's best player in their successful run in the '60s and 70s.
The midfielder would make 500 appearances for the club and score 155 goals. 
To this day, it is hard to find a City fan who would not but Colin Bell in their top 2 players for City. He was in the PFA Team of the season in 1975.
In addition, he was inducted into the English Football Hall of Fame in 2005.
Bell was respected by players and coaches around the world and is said by many people who played with and against him he could walk into any team in the world. 
Colin Bell tragically died in 2021. City honored him with a banner that was held in the stands during the 2020/21 season with his picture and two words, the King.
Fittingly, it is safe to say that Bell is the best player in Man city player during the '70s.
6. Vincent Kompany (2008-2019)
City's Captain for 8 years, Kompany led City through their most successful stretch ever.
The Belgian defender captained City to 4 Premier League titles, as well as 2 FA Cups and 4 League Cups. 
Despite spending a series of times out with injuries, Kompany has the most Caps for any Belgian in Premier League history. He is regarded as one of the best central defenders the league has ever seen. 
When Pep Guardiola first arrived, there were talks of Kompany being forced out, but he stayed and became a key figure in the 2018/19 title fight with Liverpool.
Man City won their last 14 games of the season, with Kompany leading the defense.
However, that season, Kompany's last, would be known for one thing, his wonder goal vs Leicester in the second to last game of the season. 
With City struggling to score in a must-win game vs Leicester, in what would be Kompany's last game at the Etihad Stadium, Kompany produced one of the best goals in league history.
He struck the ball from 30 yards out, smashing it into the top corner, beating Schmeichel, and securing a crucial 1-0 victory that would see City win the league the next weekend.
Although he was already a City legend before that, Kompany wrote himself a fairytale ending to a remarkable career, as he would leave City as its greatest ever defender. 
Furthermore, it is safe to say Kompany is also one of the best Manchester City Players ever. No wonder Soofootball rates him as one of the best Premier League Center backs of all time.
7. Kevin De Bruyne (2015-Present)
The English Premier League has never seen a better passer of the ball than Kevin De Bruyne.
The Evolution of Chelsea under Abramovic could have been a reason for De Bruyne's departure from Chelsea before moving to Wolfsburg.
De Bruyne came to City from the German side VfL Wolfsburg in 2015.
At the time, people question the price, 65 million Euros, but he has shown that he is worth 3 times that. 
In the Premier League alone, he has over 52 goals and 83 assists – more than any other player during his time.
De Bruyne has over 116 big chances created – the most in the league during his time. He led the league in assists in the 2017/18 and 2019/20 seasons, while matching the record for most assists in a single season in 2020. 
The Belgian has won the League 3 times, the FA cup once, and the League Cup 5 times.
De Bruyne is also the only City player to win the PFA Player of the Season and is one of only 3 players to win it in back-to-back seasons. 
Despite only playing for the club for the last 6 seasons, he still cracks the top ten.
That's how talented and fantastic he has been over this time.
Given his current standard, he surely is one of the best Manchester City players of all time.
Consider Reading: Champions League Winners as Players & Managers
8. Mike Doyle (1965-1978)
Born in Manchester, Mike Doyle would go on to win 570 caps for the club while scoring 41 goals.
Doyle is one of Manchester City's most decorated players. He has won the league title in the First and Second division in English football, the FA Cup, a UEFA Winners' Cup, and a League cup. 
While Doyle is not a household name in the mind of the casual fan, he certainly is among City fans.
Having 570 appearances is no small feat. It is one of the most appearances for a City field player.
Doyle was at the heart of City's successful run in the mid-70s and was known for his versatility, hence the 570 appearances. He started as a right-back but could play in the midfield and out on the wing.
Although most modern-day City fans may not know Doyle, it takes nothing away from him. Doyle is one of the best Manchester City players of all time.
Read Also: The FIFA Arab Cup Competition Explained
9. Eric Brook (1928-1939) 
Before Sergio Aguero broke the record to become Manchester City's all-time goal scorer, Eric Brook held the record for nearly 8 decades. Brook scored 178 goals in 496 appearances. 
The City winger would help bring the FA Cup back to Manchester in 1934 after losing in the final the year prior.
Later, he would bring Manchester City their first-ever league title in the 1936/37 season.  
Unfortunately, his career was cut short after sustaining a major skull injury from a car crash that would force him into early retirement. 
Consider Reading: Best American Soccer Players to Feature in the Premier League
10. Yaya Touré (2010-2018)
Yaya Touré is a Manchester City legend and one of their best all time players. He made his mark in City blue during the 2011 FA cup semi-final and final, where he scored the winner in both games.
This was the first silverware that Manchester City had won in 35 years and was the beginning of a dominant stretch of silverware.
Yaya would score 62 goals and 32 assists in 230 premier league appearances for the club. He would bag 3 league titles, an FA Cup, two League cups, and Manchester City Player of the Season in 2014.
Without any iota of doubt, Yaya Toure deserves to be called one best Manchester City Players of all time. It is also important to note that he is one of the Most decorated African footballers.
Man City Players FAQ
Who is Man City all time goal scorer?
Sergio Aguero scored a total of 260 goals for Manchester City, hence making him the all time Man City top goal scorer.
Who is the Greatest Man City player of all time?
Without any doubt, Sergio Aguero is the greatest Man city player of all time. Aguero helped Man City win their first ever league title in 2012. Also, he is the highest goal scorer in the club's history.

No wonder he has a Statue outside the Etihad stadium to remember his greatness.
Who is Man City's most decorated player?
Again, Sergio is the most decorated Man City player of all time, given his achievement for the club.
Who is Man City's best defender?
Vincent Kompany is Manchester City's best defender of all time. The Belgian won a total of 12 trophies with Manchester City and no defender came close to this achievement.
Who is the best Manchester City Midfielder of all time?
Given his achievements and longevity, Keven De Bruyne is the best Manchester City midfielder of all time. He's won 12 trophies so far with City and he's not done yet.
Is Manchester City the most successful English Club?
No. Manchester City is not the most successful English club. That honor goes to their rivals, Manchester United.
What is Man City biggest defeat?
Man City's biggest defeat is 8-0 loss and it happened twice – in 1894 against Burton and 1933 against Wolves.
What is Man City biggest win?
Manchester City's 12-0 win over Liverpool Stanley in October 1890's FA Cup fixture is their biggest ever win in the club history.
Conclusion
Without a doubt, most of City's greatest players have come after Sheikh Mansour bought the club in 2008.
Manchester City gets a lot of stick for not having a big history. But clearly, there have been all-time talented players that played before the money in 2008. 
If you ask City fans, the older ones will tell you that Colin Bell is the best player whereas the younger ones would say Aguero is.
Players that played nearly 40 years apart yet are loved equally by the fans. 
Yes, money in football helps, but most of the players were not highly sought-after players or record signings.
Think of the best players in the world, who they all signed for record fees.
Most of the time, they are brought through the club, or signed for small amounts like most of the players on this list.
All in all, most City fans regard Sergio Aguero as the best player in Man City history.
Further Reading: