Do you need a reliable Football app? Well, in this article, we will review the best go-to Football apps for Android and IOS.
Mobile apps are one of the most popular sources of gathering information and updates on Football today because it's easier for most Football fans to use apps rather than surf web pages.
So, it is understandable that you'll need a football app.
Before going further, I must mention that the "app" mentioned herein are mobile applications, not games, but you can check out the key features of a highly recommended Football game or other soccer games for Android.
Also, the size of the football app mentioned here is estimated.
This piece highlights the 12 best Football Apps for Android and IOS.
1. Overlyzer
There are loads of livescore apps out there. They provide information about scores, statistics, and goal scorers. But Overlyzer does much more than that.
The Live Statistics Software interprets live statistics in such a way that the course of each game is displayed live in graph form. So the user can see at first glance what the pressure conditions of a game look like.
The higher a team's graph, the higher the pressure they are currently exerting and the more likely they are to score a goal soon.
In addition, Overlyzer offers filter functions that not only allow you to filter by league or country but also by game events and current pressure situations.
Registered users can also save these filters and call them up again later.
This is a huge advantage for sports bettors, especially since they can only filter out games that fit their betting behavior perfectly.
Summary
Unique function: Live trends and customizable filters
Cost: Free to download, subscription starts from $19
Size: Android – 8.5 MB, IOS – 35.9MB
Read Also: Best Football Predictions Apps For You
2. Livescore
Since 1998, the Livescore website has received tons of traffic from Football fans trying to stay up to date with live results of Football Matches.
However, in June 2011, they launched their mobile app that delivers the same stunning service.
One interesting feature of the mobile app is its in-depth coverage of football fixtures, live results, yellow cards, scorers, and final results. This information is updated in real-time.
The ball tracker feature is another remarkable thing you want to experience on the app rather than on the web.
You can check the pitch view live and follow the ball and the important actions of the game. It's so fascinating that it makes you feel like you are actually watching the match.
Livescore's top-notch service earned them an official partnership deal with La Liga.
So, if you need a trusted mobile app to give you the latest results of Football matches and other related services, Livescore is your best bet.
Take your time to watch how to use the Livescore APP.
The usage is pretty simple and follows the modern standards of UI and UX, that you may meet in many modern apps such as instant withdrawal casinos, for example.
Summary
Unique Function: Live score
Cost: Free to download
Size: Android – 8.73MB, IOS – 51.8MB
Read Also: Ten Key Features of the Football Manager 2020 Game
3. Sky Sport Football Center
Sometimes, it's not just about getting live scores; most football fans want something extra.
The Skysports team understood this, and so they went ahead with the Sky Sports Football Score Center.
Apart from live scores, you can watch video highlights of ALL the Premier League and English Football League games.
Beyond English Football games, you can enjoy video highlights of La Liga, MLS, World Cup Qualifiers, Eredivisie, and yes, the Chinese Super League.
Though the app is free to download, Sky TV customers with a Sky Sports Subscription enjoy in-game goal clips from all Premier League matches.
The Sky Sports Football Score Centre app also allows users to personalize their home page with live updates of their favorite teams.
Furthermore, you can enjoy match previews, reports, and a dedicated news section on the app. These unique features make the app one of the best Football Apps.
If you want more than live scores of football matches, the Skyport Football Score Center App is the best option to enjoy video highlights, in-game goal clips, and news.
Summary
Unique Functions: Video Highlight and in-game Goal Clips
Cost: Free to download
Size: Android – 7.26MB, IOS – 69.8MB
Read Also: The Best Right-Backs Ever in Football
4. 365Scores
Though the 365scores is an all-around sports tracker, it is a handy app for football fans.
It provides live scores, news updates, statistics, upcoming fixtures, and League tables of top Football competitions like UEFA Champions League, English Premier League, German Bundesliga, Spanish La Liga, and Italian Serie A.
Intriguingly, the live match notification of the app is most times faster than live streams, and users can track football matches closely.
In addition, you can as well personalize your scoreboard by selecting your favorite teams or matches you're interested in.
Tracking the top Football Leagues is easy with the 365Scores app, so you should consider downloading it if you want to stay abreast of important football matches.
Summary
Unique Function: Live Match Notification
Cost: Free to download
Size: Android – 15.83MB, IOS – 101MB
Read Also: The Best Chelsea Players of All Time
5. Sofascore
All Football fans want a Football application that has extensive coverage of even the most unrecognized Football League. Sofascore offers just that.
On the App, you can get live coverage of results, fixtures, and standings of almost ALL leagues in the world, including Major League Soccer.
Thanks to this application you will always have time to evaluate the match and make the right bet. If you don't want to take such a risk, you can check out online casino no verification withdrawal Canada. Playing for real money, you will be able to withdraw them in a few minutes. But you need to remember to play safe! 
One unique feature of the Sofascore app is that it is optimized for Android wear smartwatches.
Summary
Unique Function: Compatibility with Android Smartwatches
Cost: Free to download
Size: Android – 11.96MB, IOS – 93MB
Read Also: The Best Soccer Games on Google Play Store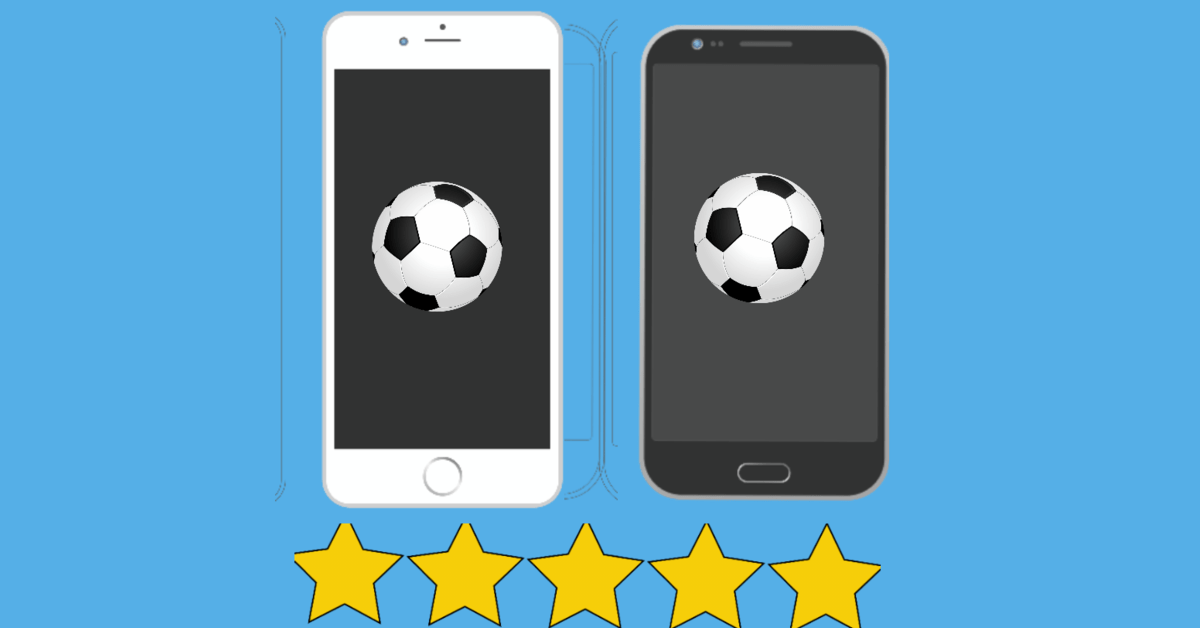 6. UEFA Champions League
Undoubtedly, the UEFA Champions League is arguably the pinnacle of Football competitions.
Hence, getting updates on such a big competition is definitely fascinating.
In 2015, the UEFA Champions League launched the official mobile app to cater to the requests of passionate followers.
The app provides comprehensive and immersive coverage of the competition's match highlights, Live audio commentaries, live match statistics, live draws, and personalized feeds for users.
Basically, this is the best football app to get all the essential details of the UEFA Champions League.
Summary
Unique Function: Live Draw Coverage
Cost: Free to download
Size: Android – 26.69MB, IOS – 247.1MB
Consider Reading: Ways To Make Money Playing Soccer Video Games
7. Live Football TV
Sometimes, you could be stuck in traffic when your favourite team is playing an important match. That feeling is really awful.
But there can hardly be such an experience if you have the Live Football TV app. With the app, you can stream live football matches seamlessly in HD if you have a good network.
The UEFA Champions League to the Europa League, FA Cup, La Liga, Serie A, FIFA competitions, and many more can all be streamed live on the Live Football TV App.
Alternatively, take advantage of this Live Football Streaming website.
Summary
Unique Function: Live Match Video Stream in HD
Cost: Free to download
Size: Android – 7.45MB, IOS – 50.8MB
Consider Reading: The Best Soccer Cleats or Boot to Buy
8. Chelsea FC – The 5th Stand
This is the official App of Chelsea FC, and it is designed for their fans. With the 5th Stand app, you can get live match updates, line-ups, analysis, and live audio commentary of every single game of Chelsea.
Interestingly, you can chat with other fans during the game.
Some other videos you can watch on the app are live Chelsea matches, extended highlights, Chelsea coach live from the dugout, live press conferences, and behind-the-scenes footage.
Chelsea fans can ask Chelsea head coach questions right from the App to crown it all.
Though the Coach may not answer all questions from fans, some are answered weekly. This is the best football app you can recommend to a Chelsea Fan.
Summary
Unique Functions: Ask Head Coach Questions and Watch Chelsea Live
Cost: Free to download
Size: Android – 24.29MB, IOS – 224.9MB
Read Also: The Premier League Top Scorers Prediction
9. Premier League – Official App
If you want all-round info about the English Premier League in one App, the official Premier League app is the best Football app for you.
Some exciting things you can do on the app are free to download match highlights, fixtures, results, and tables of the Premier League, PL2, U18, and even the UEFA Champions League.
More to it, you can fully manage your Fantasy Premier League team and get comprehensive statistics of players in the League and every single club in the Premier League's 27-year history.
Summary
Unique Function: Get profiles of ALL Premier League Clubs
Cost: Free to download
Size: Android – 24.93MB, IOS – 130.1MB
Read ALso: How To Make Money From Football Without Betting
10. La Liga
La Liga has become more popular in recent years, especially because of the rivalry between Barcelona and Real Madrid.
In 2012, La Liga launched its official La Liga app to make the league much more fun and accessible to fans digitally on mobile phones.
The most intriguing thing about the APP is the stay-home section.
In this section, fans can enjoy eLaLiga, which features La Liga players, professional FIFA21 players, and other big influencers as they play each other on FIFA21.
In addition, match highlights, news, reports and goals, calendars, and live match feeds of La Liga and the Europa League can all be enjoyed on the app.
Without any doubt, the La Liga app is the best football app for Android and IOS that you can recommend to any ardent follower of the Spanish League.
Summary
Unique Function: eLaLiga
Cost: Free to download
Size: Android – 30.48MB, IOS – 146.9MB
Read Also: The Complete Guide On Football Fantasy
11. All Football
All Football is another great football App you want to download on your smartphone as a football fan.
It is an all-round football app that keeps you up to date with football happenings around the world. Notably, you can get live scores of football matches in the top Leagues.
In addition, you can easily lay your hands on (pre and post) match reports and stats of major football matches. On top of that, Football news is readily available on the app.
Given its features, All Football is one of the best football apps for Android and IOS devices.
Summary
Unique Function: Live Scores
Cost: Free to download
Size: Android – 19MB, IOS – 147.9MB
12. ESPN
Of course, every Football fan knows ESPN. They have a unique app that caters to all kinds of sports – which includes football.
The embedded features in the app make stand out as one of the best football apps for Android and IOS devices.
On the ESPN App like on other football apps, you'll have access to Live Scores of football matches around the world.
There is also a dedicated platform for up-to-date football news in the ESPN app.
In case you missed any important football match, you can always watch Highlights on the ESPN app.
In addition, they offer Expert Football Analysis before and after a football match.
Although the App is free to download, there is a premium version called ESPN+.
If you subscribe to the ESPN+ bundle, you'll have access to some exclusive football "originals", premium content, live streaming of football matches, and football fantasy tools.
Read Also: The Best Football Articles To Read
Summary
Unique Function: Football Match Highlight
Cost: Free to download, Subscription starts from $6.99.
Size: Android – 19MB, IOS – 147.9MB
13. FIFA+
The official FIFA app is the official app of the Fédération Internationale de Football Association (FIFA) and provides comprehensive coverage of FIFA events, including the World Cup and other international competitions organized by FIFA.
It offers real-time updates and scores for matches, as well as news and highlights from the biggest events in football.
The app also includes articles and analyses from expert sources, covering the latest news and developments in the world of football.
In addition, the app provides access to a wide range of videos and highlights, including match highlights, interviews, and behind-the-scenes content.
Overall, the official FIFA app is an indispensable resource for fans of international football, offering an unparalleled level of coverage and information for fans.
Conclusion
Having considered these 12 football apps, which of them can be termed the best?
Well, what is termed "best" is relative and subjective to one's pressing needs. The team you support and the league you follow are other important factors.
However, this article provides clear guidance and insight into the best football apps for Android and IOS generally so you can make a sound decision.
Now it's your turn; in your opinion, which are your best football apps for Android and IOS?
Which Football app do you see as the best but not listed here? Write in the comment box so other football fans can benefit.
Further Reading: