Is your child thinking about playing football? Or are you a young footballer or just someone who needs to be fully kitted up for a friendly game? Then you need to know what the Football kit rules for players is.
Also, if you are looking to start a club, produce or sell football kits, this information is very vital for you.
Bonus Tip: Learn how Football Clubs Make Money from Jersey sales and other means.
What is a Football Kit?
A Football kit is the standard equipment and attire worn by football players.
Football kit has evolved significantly unlike the thick cotton shirts, knickerbockers, and heavy rigid leather boots. Now, football kits are more advanced and improved with technology.
Shorts are worn shorter and boots are lighter to aid player speed. Also, with the emergence and rise of advertising in the 20th century, sponsors place logos on jerseys.
Now, let's consider the Football kit rules for Footballers, Goalkeepers and Officials.
On another note, you could consider buying Cheap Soccer Jerseys Online or get acquainted with other online Football Kit Designers.
Read Also: Do Soccer Players Wear New Jerseys Every Game?
Football Kit Rules: Complete Football Kit (Apparel) for Players & Match Officials
The complete Football Kits are in 4 Categories here: Player Equipment, Goal Keeper Equipment, Team Kit, and Match official Kit.
The Player Equipment (or kits) consist f 5 items: Jerseys, Short, socks, footwear, and Shinguard.
Find below a detailed explanation of these categories and subcategories of the complete football Kit.
1. Player Equipment
A. Jerseys/Football shirt
The players wear the jersey as a means of identification. Another feature of shirts is that they must have sleeves (both short and long sleeves are accepted).
Furthermore, the shirts also have to identify numbers on the backs. Originally, a team of players wore numbers from 1 to 11 that corresponded with their playing positions.
However, it changes at the professional level by squad numbering.
Today, players are allocated a fixed number for the duration of a season.
Some professional clubs also usually display players' surnames or nicknames on their shirts above or below their squad numbers.
In essence, the T-shirts or Jersey are of three types:
Supporter Shirt Jersey Type
This shirt is the lowest grade of football shirts. It is very easy to distinguish it from the replica or player issue shirt. It has the lowest amount of details and usually produced with the most basic technology.
This type of shirt is just a T-shirt and has the most basic design. To recognize this type, you need to examine its collar. Most of them have paper labels on the collar instead of heat transferred labels.
This difference is huge because it makes the supporter shirts look substandard compared to others.
Replica Jerseys
As the name suggests, it has a similar appearance as authentic Jerseys. The major difference here is that it isn't produced in the most rigorous standard.
Replicas are designed as a jersey to fully reflect what the players are wearing on a pitch. It has the same pattern and almost identical details.
Another major difference between them and authentic jerseys is that they are not produced to feel really free.
The material is quality but does not contain features needed by athletes during their maximal effort. Features such as; additional ventilation holes, heated labels, and a lot more.
In addition, it is manufactured with technology designed for wearing comfort but doesn't have many conveniences as a player issue version.
Replica shirts include different sizes and they cost more than the supporter shirts.
Player Issue (Or Authentic) Jerseys
Player Issue Jerseys are also known as authentic Jerseys. They are the original jerseys Footballers wear while playing on the pitch. It is the highest and most advanced type of all football shirt types.
Furthermore, the player issue shirt is made to suit the most extreme conditions that take place on a pitch. This makes it the most expensive shirt. A good feature of this kind of shirt is ventilation.
Authentic Jerseys are made with very light material that provides fantastic receiving and vaporization of sweat. The material is lighter than the replica and contains many ventilation holes.
Ideally, Football jerseys need to provide the best performance and are therefore made with the most advanced technologies.
These shirts are very expensive and also unavailable for commercial sales. The reason for this is the advanced technology and quality used to produce them.
Player issue shirts are gotten from players themselves.
It is limited and are worn for a game. And sometimes at the end of these games we see players stripping them and exchanging with their counterparts.
B. Shorts
Obviously, shorts are needed to accommodate running on the field. However, goalkeepers are allowed to break the rule since they get to look very distinguishable in the team.
Most players wear thermal undershorts along with their shorts but must be the same color as the shorts themselves.
C. Socks
Socks are meant to make your feet sturdy inside your footwear. It gives player a hold on their grip when running and also helps to secure shin pads in place.
D. Footwear
Most current players wear specialist football boots made of either leather or synthetic material. Modern boots are getting intricate and scientifically designed.
However, the best boots out there should be the ones you are most comfortable in.
Bonus Tip: Learn The Best Soccer Cleats or Boots to Buy – The Comprehensive Guide
E. Shin Pads/ Shinguard
Shin pads are made of rubber, plastic or similar material to provide some protection on the legs when playing football. They must be covered entirely by the stockings. And must also not be deemed dangerous to himself or other players.
In addition, it's worn at the shin (front part of the leg below the knee) to protect it from injury. Also, it's not compulsory to wear them even though they are deemed protective to hinder player injuries.
The Shin Pads are made of;
Foam rubber – light weight
Polyurethane – Heavy and sturdy
Fiberglass – Stiff, sturdy, and light weight.
Plastic – Less protective than any of the other synthetic shin guards.
Metal – Highly protective, but very heavy and uncomfortable.
Bonus Tip: Learn How to Start a Soccer Jersey Business & Make Money.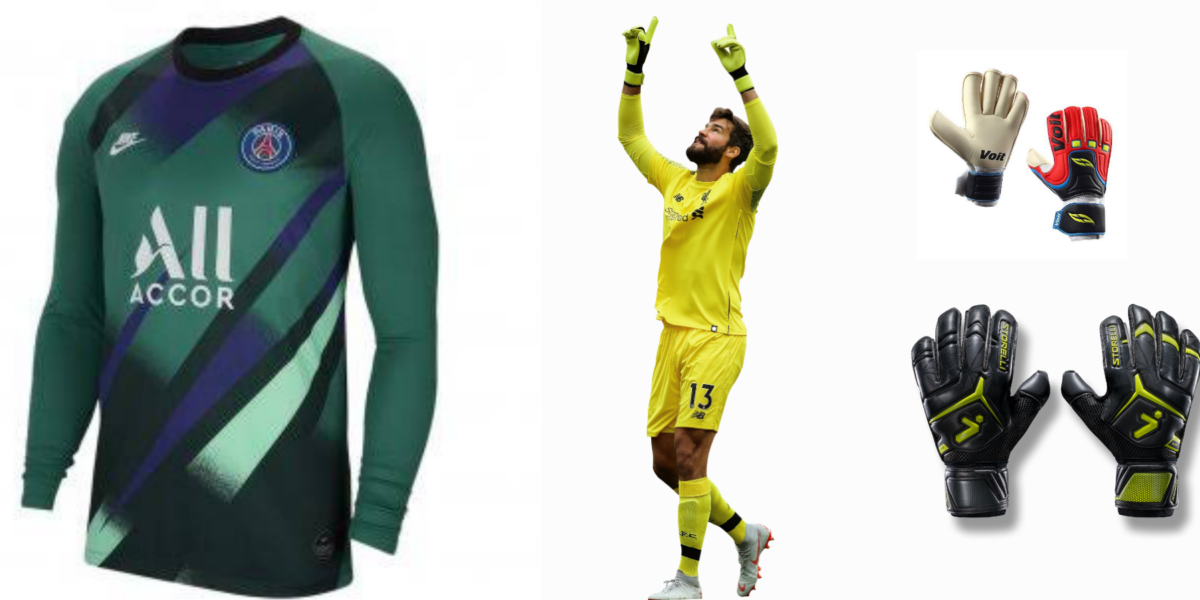 2. The Goalkeeper's Equipment
Goalkeepers must be easily distinguishable from all other players and the match officials.
Shirt – his shirts is slight is different from all others.
Gloves – All players are permitted to wear gloves but the goalkeepers usually wears the specialist goalkeeping gloves. The design of gloves features protectors to prevent the fingers from bending backwards. They are made of materials designed to protect the hand and to enhance a player's grip. Its variety includes "flat palm", "roll finger" and "negative".
Goalkeepers are allowed to wear tracksuit bottoms instead of shorts unlike other players.
Miscellaneous attire: Goalkeeper's must look different from everyone else. Because of this they have developed a flexible way of dressing. Sometimes they wear kit that informal to the sport. They might wear head gear, tracksuits etc.
Consider Reading: History of Football Kits
3. Team Kit
These constitute all the play equipment for a club team. It is majorly worn by all players including the goalkeeper for outings. Most of the items on the team kit are branded like tracksuits, trainers, running tops, etc.
Also, it's not worn on the field or during a game but during events, press conferences, public awareness, etc.
4. Match Officials' kit
The officials of a Football match are the Referees, Assistant Referees, and fourth officials. They all wear a kit similar to those worn by players.
Below is a list of apparel or equipment of the Match officials.
Shirts
Shorts
Footwear
Socks
Whistle
Chain Clips
Flip Coins
Information Cards
Patches & Flags
Penalty Flags
Pumps & Gauges
Signal Cards
Watches & Timers
Writing Materials
Referees have no need for shinpads because they have no risk of getting injured.
It is a principle in football for officials to wear shirts of a different color to those worn by the two teams and the goalkeepers. Black is the traditional color worn by officials.
The 1994 World Cup was the first in which FIFA dispensed with black kits for officials.
However, sometimes, colors might clash on the field with the referee which might lead to a change of kit.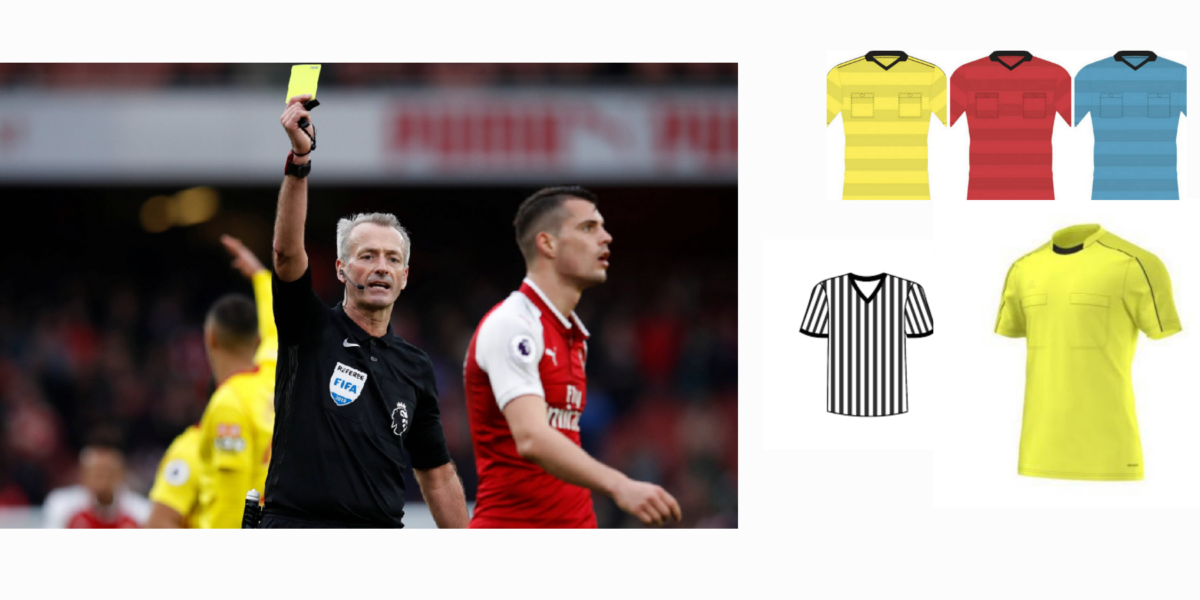 Other Football kit rules
The rules set out the basic equipment which must be worn by all players. All players on a team wear the same equipment except the goalkeeper.
Also, matches between teams with identical or similar colors must change to different colored attire.
There are a lot of specific rules on Football Kits. They are (but not limited to):
The use of anything that is dangerous to either the player or another participant.
Individual competitions may stipulate further restrictions, such as regulating the size of logos displayed on shirts.
Furthermore, find below the standard rule in football for Gender and Color.
Gender Football Kit Rules
The rules specify that all players regardless of gender must wear the same kit.
However, this rule has once been challenged. The Dutch women's team FC de Rakt in September 2008 swapped its old strip for a new one.
The new model featured short skirts and tight-fitting shirts. This innovation was initially vetoed by Dutch Football's Governing Body.
Although this decision was reversed when it was revealed that the team would wear hot pants under their skirts. This would therefore put their kit in compliance with the rules.
Colors Rules About Football kits
FIFA football Law hinders competing teams from wearing similar colors on the pitch. Teams should be distinguishable from each other and also the match officials.
In addition, if two teams normally wear identical/similar colors, the away team must change to a different color. A team's second choice is often referred to as its "away kit" or "away colors".
However, it is unknown if the same rule applies to international teams. On the international level, that teams may choose to wear their "home" or "away" kit if they wish.
Also, most professional clubs have a "third kit" for use if both kits are deemed too similar to an opponent.
CONCLUSION
Every football fan has either a supporter shirt or replica if not the complete football kit. It's the way you can show how much you love the game and the team you support.
Football Kit business is an evergreen venture that will always be needed as long football lives. So, it is important for you to know how to start a soccer jersey business and make money.
Luckily, details about the Complete Football kit rules highlighted here can help gives you the basic knowledge needed. This is applicable if you are an aspiring player, sponsor, or coach.
Helpful Tip: Read Comprehensive info about the forthcoming Qatar 2022 World Cup and the Best Football Academies in Africa.
Further Reading: