The best Barcelona players of all time are the most outstanding soccer players in all ramifications for the prestigious club.
Several players have impressed fans, teammates, the city, neutrals, and even opponents in Barcelona's history.
The greatest Barcelona players in history consist of players who defined an era, re-defined the club, and left lasting legacies.
Although Barcelona has some of the best players of all time in football, we have managed to draw up this list for the football club itself. But, we settled for some criteria which guided our judgment for the list.
These criteria include goals, assists, clean sheets, appearances, skills, amongst others. Also, we considered a success on the pitch (trophies), values, profile, and longevity.
Read Also: How to Be A Professional Footballer
10 Rivaldo (1997-2002)
Rivaldo is one of several Brazilians who left a lasting legacy in Barcelona.
The left-footed attacking midfielder/striker joined the club in 1997 after losing his national teammate, Ronaldo.
Rivaldo had an amazing five-year stay at Barcelona in which he scored goals and lifted trophies. He won the League, Copa del Rey, and the UEFA Super Cup in his first season with the club and was the second top scorer.
Again, he was the second top scorer and won the league in the following season.
In 1999, he won the FIFA Best Player and the Ballon d'Or awards after his stellar performances for both club and country.
Perhaps, his most memorable moment was the final League match of the 2000/01 season against Valencia.
With a Champions League spot at stake, Rivaldo rescued the team with a memorable performance. He scored a hat-trick that left the Barcelona President punching the air from his VIP box!
Read Also: The Best Chelsea Players of All Time
9. Carles Puyol (1999-2014)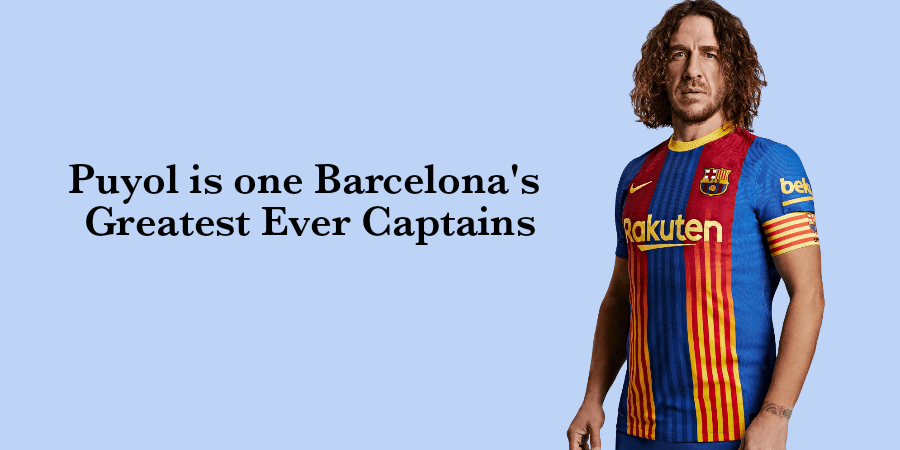 He may not be as technically gifted as any of the Best Barcelona soccer players in history, but who cares?
Puyol was an embodiment of Barcelona, a charismatic captain whose presence was felt by all. Furthermore, he wore the captain armband for 10 years and led by example.
Puyol was at the Barcelona defence's heart in the most successful period of the club's history. He won several League and European titles.
Between 2008 and 2012, he lifted 14 trophies with Barcelona, including a sextuple of trophies in one year (2008-2009).
Interestingly, Puyol is one of Football's late bloomers who won major trophies. He started winning major trophies at the age of 27.
Also, he was at the heart of Spain's European Cup and World Cup win in 2008 and 2010, respectively.
Surely, he is one of the best Barcelona players of all time.
Read Also: Pele Vs Maradona: Who Was Really Better?
8. Cesar Rodriguez (1942-1955)
Rodriguez is no doubt one of the best Barcelona Players ever.
Before Leo Messi came around, there was a certain Cesar Rodriguez who scored for fun. For 57 years, he held the record as Barcelona's top scorer in history.
Interestingly, Cesar scored double figures in 11 of his 13-year stay at Barcelona. Also, he won five League titles, and he is regarded as one of the best Barcelona players of all time.
Consider Reading: The European Super League in Details
7. Pep Guardiola (1990-2001)
There was Pep, the midfield maestro before Pep, the managerial genius. Pep embodied Barcelona's tiki-taka football style as a midfielder in Barcelona's "dream team".
Guardiola was the go-to man in Johan Cruyff's team that won 4 consecutive League titles between 1991 and 1994 with a trademark 4-3-3 tactics.
Furthermore, he played an instrumental role in Barcelona's first UEFA Champions League triumph in 1992.
Also, he won the European Cup Winners Cup and the UEFA Super Cup in 1997.
Pep captained Barcelona between 1997 and 2001 before he left for Brescia. By that time, he had cemented his place as one of the best Barcelona players of all time.
Icons such as Xavi and Iniesta said he was their "idol" while growing up.
Pep is regarded as one of Barcelona's greatest managers in history. He perfected the tiki-taka style as a coach and was at the helm of Barcelona's most successful era (2008-2012).
Consider Reading: Best Selling Soccer Jerseys Worth Buying For Business
6. Ronaldinho (2003-2008)
Ronaldinho is not just one of the greatest Barcelona players in history; he is one of the best soccer players to play for Brazil.
Ronaldinho arrived at Barcelona at a turbulent time in the club, but he helped turn it around. He was a joy to watch, with several mesmerizing skills accompanied by a charming smile.
In addition, he is one of the very few plays which got a standing ovation at the home of Barcelona rivals, Real Madrid.
In his prime, he was unstoppable. Ronaldinho scored from free-kicks, shots, bicycle kicks, amongst others.
Also, he could pick a pass while facing the opposite direction of a player.
Furthermore, Ronaldinho won league titles, the UEFA Champions League, and the FIFA World Player of the Year twice.
Unfortunately, off-field incidence impacted his performance in the latter years of his 5-year stay at Barcelona.
Read Also: Messi vs Ronaldo: A Classic H2H Battle
5. Xavi Hernandez (1998-2015)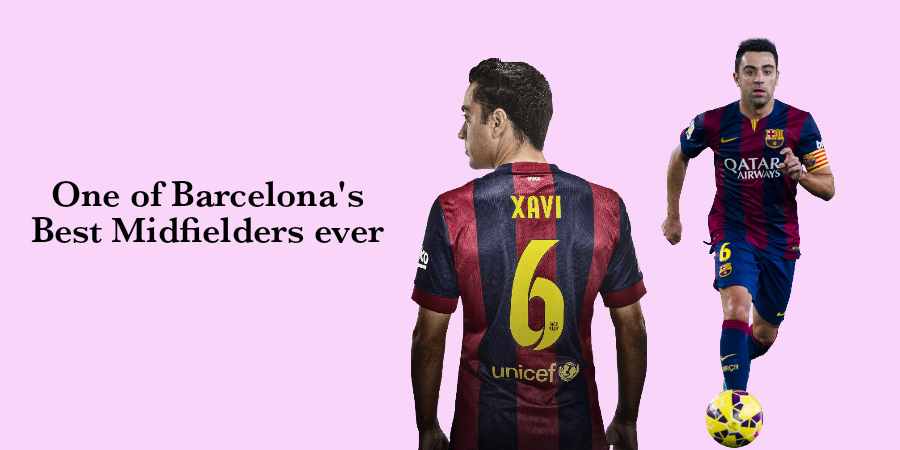 It isn't easy to separate Xavi from Iniesta. Their partnership in midfield is one of the best in football history.
They spent the majority of their career beside each other in midfield. Whether at the club level or with the national team, they were always together.
In fact, when some footballers choose their best midfielder ever, they find it difficult to choose between the two players.
The same challenge was encountered when deciding who to come first on this list of greatest Barcelona players in history.
Xavi's passing accuracy and ball retention are second to none, and he uses them to great effect. Sir Alex Ferguson once said:
"It wasn't really Messi who was the problem, It was Iniesta and Xavi. They can keep the ball all night long."
There are doubts that Spain and Barcelona could have been as successful without Xavi.
Xavi was to Guardiola and Barcelona's style what Guardiola was to Cruyff's Barcelona dream team. He captained Barcelona for a season; the season(2014/15) won their second treble.
The Barca legend spent 17 years with Barcelona's first team and won over 20 trophies.
Also, he got several recognitions including, the Euro 2008 Golden Ball award. Truly, Xavi is one of the Best Barcelona soccer players in history.
4. Andres Iniesta (2002-2018)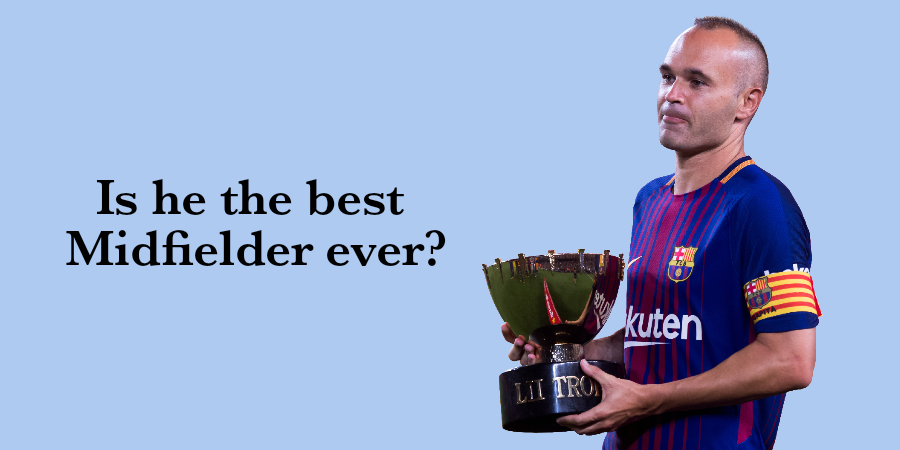 Some say he is the "golden boy" of Spanish football; others say he is the greatest Spanish footballer.
Iniesta possessed the rare ability to keep the position of the ball in tight spaces. Alongside Xavi and Busquets, they dominated almost all the teams they faced.
Especially between 2008 and 2012, when they won several trophies with Barcelona and the Spanish national team.
While Xavi exchanged short passes frequently to frustrate opponents, Iniesta drove through them to start attacks. He was the link between the midfield and the attack.
Also, he scored some memorable goals too at the club and national team level.
It was his extra-time winner against the Netherlands that earned Spain the 2010 FIFA World Cup.
Iniesta scored the goal in the semi-final second leg match at Stamford Bridge that took Barcelona to the 2008/09 Champions League final.
His goal came after then Barcelona coach Pep Guardiola congratulated his Chelsea counterpart, Guus Hiddink.
Iniesta won 30 trophies with Barcelona and represented the club for 16 years.
Wayne Rooney once said:
"Forget Messi, Iniesta is the best player in the world."
Undoubtedly, he is one of the Best Barcelona soccer players in history and, in fact, one of the best Midfielders ever.
Read Also: Real Madrid's Highest Goal Scorers
3. Ladislao Kubala (1950-1961)
We would not mention Kubala name amongst the best Barcelona players in history if he did not avoid death in 1949.
That year, he was supposed to play for Torino in a friendly match against Benfica. He pulled out of the match following his son's illness, but that was what saved his life.
Unfortunately, the plane carrying members of the Torino team crashed on their way back with no survivor.
A year later, Kubala arrived in Spain and dazzled the whole world with Barcelona.
To date, he holds the record of scoring 7 goals in a match against Sporting Gijon. Kubala was Barcelona's first major "superstar".
People came from far and wide to watch the player. So much so that Barcelona's stadium capacity had to be increased from about 66,000 to 90,000!
In 1999, when Barcelona celebrated its 100 years of existence, fans voted Kubala as the greatest Barcelona player in history.
Most importantly, there is a bronze statue of the player at Camp Nou, Barcelona's stadium.
2. Johan Cruyff (1973-1978)
Barcelona is all about the tiki-taka style of football plus a bit of counterattack, but do you know who introduced it?
Johan Cruyff changed Barcelona's history as a player and later as a coach. He made the club an institution that served as the benchmark for other clubs.
Also, Barcelona may not have produced players such as Xavi, Iniesta, Messi, Busquets, Puyol, etc.
As Xavi rightly put it: "Cruyff established an obvious philosophy at Barcelona, he gave birth to that philosophy, he created Barça's DNA."
In his first season with Barcelona, he helped the club win its first league title in 14 years.
The same year, he won the Ballon d'Or award. Cruyff's legendary status goes beyond Barcelona. He has a football skill named after him: Cruyff Turn. Also, the Dutch Super Cup is named after him, too (Johan Cruyff Shield).
Most importantly, he is one of the Best Barcelona soccer players in history.
Read Also: The Emergence & Decline of the No. 10 Role in Football
1. Leo Messi (2004-2021)
Although Cruyff gave Barcelona the identity it has today, and Kubala brought more fans to the stadium.
Leo Messi makes fans scream and leaves players and coaches in awe.
Gudjohnsen, Pep Guardiola, and Samuel Eto o are some of the football personalities who wrapped their hands around their head in awe of the player.
Atletico Madrid, Real Betis, and Brazil are some teams whose fans gave Leo Messi standing ovations.
It will be a futile exercise to try to describe him with worlds. Even Arsene Wenger said, "he (Messi) is like a Play Station."
Since his introduction to the Barcelona first team in 2004, Messi remained consistent in his performance.
No footballer has ever dominated football for as long as Messi. He won more top scorer awards in Spain than any Ballon d'Or awards than any player in the world.
Messi's place as the greatest Barcelona player in history is indisputable, and that is part of the reasons why he's called the Football GOAT. No wonder he is the highest goal scorer in La Liga History.
Read Also: The Role of Player Power in Modern Football
Conclusion
Johan Cruyff gave Barcelona its identity through the tiki-taka style, but there are several great players in Barcelona's history.
Coincidentally, this list of the 10 greatest Barcelona players in history is split into two equal, distinct parts.
5 players from this list emerged from the Barcelona academy (Messi, Xavi, Iniesta, Guardiola, and Puyol).
At the same time, other clubs brought in the 5 others. Perhaps, this is a fair reflection of Barcelona's history: success built by the mixture of players from the academy and overseas.
Consider Reading: Best Football Academies in Europe
In conclusion, it is important to state that other players could have made this list of the 10 Best Barcelona soccer players in history.
They include but are not restricted to Eto'o, Koeman, Pique, Hristo Stoichkov, Michael Laudrup, and Daniel Alves.
Further Reading: