Two classic footballers: Ronaldo and Messi, have reigned supreme in football for the past decade and a half. At different times in that period, they registered figures that made them look almost supernatural. It is, therefore, normal to consider an in-depth Messi vs Ronaldo Stats.
It is no coincidence that of the past twelve Ballon d'Or winners, the duo shared 11. Only Luca Modric came in between Messi and Ronaldo to win the award for 12 years.
The Ballon d'Or is the highest individual award alongside FIFA The Best, which recognizes the best player in the world annually.
They [Messi and Ronaldo] also accrued so many titles in that period, especially the most significant trophy at club level: The UEFA Champions League.
Specifically, they won 8 of the past 12 medals with their respective teams.
They say "stats" do not lie, and this duo has some staggering stats that put them ahead of other footballers, especially in this generation. Let us look at some of them.
Read Also: Messi Vs Lewandowski: Why Messi Deserves The 2021 Ballon D'or
Read Also: Former Ronaldo Teammates Say Messi is Better
Messi vs Ronaldo Head-To-Head Stats
| Competition | Matches Played | Ronaldo Goals | Messi Goals | Ronaldo Assists | Messi Assists | Ronaldo Win | Messi Win |
| --- | --- | --- | --- | --- | --- | --- | --- |
| Champions League | 6 | 2 | 3 | – | – | 2 | 2 |
| LaLiga | 18 | 9 | 12 | 1 | 6 | 4 | 10 |
| Copa del Rey | 5 | 5 | – | – | 3 | 2 | 1 |
| Supercopa | 4 | 3 | 5 | – | 2 | 1 | 2 |
| Total | 33 | 19 | 20 | 1 | 11 | 9 | 15 |
Messi vs Ronaldo head-to-head (Matches played against each other)
From the chart above, Messi and Ronaldo have met in a total of 33 matches.
In these matches, Ronaldo scored 19 goal and laid just 1 assist. Messi on the other hand, scored 20 goals.
Messi' team won Ronaldo's team 15 times. Ronaldo managed to help his team win Messi's just 9 times.
Career Goals
Messi and Ronaldo have scored a lot of goals in their careers so far. Although there is about a two-year gap in age between them, the difference in goals scored is similar. 
Those who saw Leo Messi at a very young age attest to his unique abilities. One of the most skillful footballers ever, Ronaldinho even predicted that he (Messi) would rule in his stead.
Whether he envisaged the staggering number of goals the "little magician" will go on to score remains uncertain.
Since Messi's debut in the 2004/2005 La Liga season, the Argentine has scored 748 career goals for both club and country. In that time, no player scored as many goals. 
Notwithstanding, Ronaldo has scored more goals overall, considering that he started his career earlier.
Ronaldo began his career with the Portuguese club Sporting CP. However, it was at Manchester United that his stock grew.
Following Ronaldo's impressive performance in the 2003/2004 pre-season friendly match between Sporting CP and Manchester United, Sir Alex Ferguson was persuaded by his players to sign Ronaldo.
He granted their request, and the 'complete' footballer was born.
Since his switch from Sporting CP to Manchester United, Ronaldo has represented two more clubs (Real Madrid and Juventus), scoring 698 Club goals.
Messi on the other hand, has 681 Club goals.
Read Also: A Football Poem For Football Fans: Why We Love Football
Messi vs Ronaldo Free-kick Goals Stats
One of the most difficult ways to score a goal is via free-kicks. This does not infer that other goals are easy to score.
However, goals scored via free-kicks require certain techniques which only a few players possess.
Fortunately, Leo Messi and Cristiano Ronaldo are two of the most technically gifted players. 
Cristiano tends to apply more force when taking free kicks; however, the right technique needs to be applied. Else, the shot may go wide, off the target.
As of July 2021, Cristiano Ronaldo scored 55 goals from direct free-kicks.  Of the 55 free-kick goals, he scored nine with Portugal and 46 with his club sides.
Read Also: The Most Overrated Strikers in Football
On the other hand, Leo Messi tends to focus on placement and curl, with some level of pace, when he stands over a free-kick.
A typical example was his goal against Liverpool in the 2018/19 UEFA Champions League semi-final match.
Overall, Messi has scored 58 goals from direct free-kicks. Eight of them came while in the shirt of Argentina, while he scored 50 with Barcelona. This total puts him just ahead of Cristiano Ronaldo.
Interestingly, as of 2013, Ronaldo was on 39 free-kick goals, while Messi was on 14.
This suggests that while Messi became better and scored more from free-kicks in recent years, Ronaldo's conversion dropped drastically.
Read Also: 3 Players Who Should Have Won The Ballon D'or Instead of Messi and Ronaldo
Important Goal Records
With over 700 career goals scored, it should come as no surprise that the duo of Messi and Ronaldo holds several goal-scoring records.
These goal-scoring records are held by these players in some of the biggest competitions in football.
For instance, Ronaldo is Real Madrid's and Portugal's all-time top scorer with 450 and 109 goals.
The latter also means that he jointly holds the record as the player with the most international goal in the history of men's football.
A record he is primed to own in the coming years. 
Consider Reading: The Best International Footballers At Every Position
Similarly, Messi is Barcelona's all-time top scorer with 672 goals. He doubles as the all-time top scorer with Argentina, too, with whom he has scored 76 goals so far.
Furthermore, Cristiano holds the record for the most goals scored in a single UEFA Champions League season (17).
Ronaldo is also the UEFA Champions League leading all-time top scorer with 134 goals, 14 goals ahead of Messi.
Meanwhile, Messi holds the record for the most goals scored in a League season. A record he created when he scored 50 League goals in the 2011/2012 La Liga season.
Also, he holds the record as the player that scored the most goals in a calendar year. A record he achieved by scoring 91 times in 2012.
Consider Reading: The Most Unbelievable Football Records Broken in 2021
Messi vs Ronaldo Trophies Stats
| Team Accolades | Messi | Ronaldo |
| --- | --- | --- |
| Domestic leagues | 11 | 7 |
| Domestic cups | 14 | 11 |
| International club tournaments | 10 | 11 |
| International National Team Tournaments | 0 | 2 |
| Olympics | 1 | 0 |
| Total | 36 | 33 |
Trophies are the 'crème de la crème' of a footballer's career. For some, it is a yardstick with which their careers are adjudged to be successful or not.
For instance, Leo Messi used to find himself on the wrong end of the debate for who is the greatest ever for his lack of trophy with the Argentina national team until 2021. 
Cristiano Ronaldo and Leo Messi have won so many major trophies. Whether it is League titles or Cup competitions, they enjoyed success at both clubs at the national team level. 
With Argentina, Messi won the FIFA under-20 World Cup, the Olympic football men's tournament, and the Copa America.
In comparison, Cristiano Ronaldo won the UEFA European Championship and the UEFA Nations League.
In the 9 years both Ronaldo spent in Spain alongside Messi, he managed only two league titles compared to Messi's six.
However, he did amass more UEFA Champions League trophies in the same period than Messi. He won 4 compared to Messi's two.
Overall, Messi has won 34 titles compared to Ronaldo's 32.
Consider Reading: How Ball Possession is Calculated in Football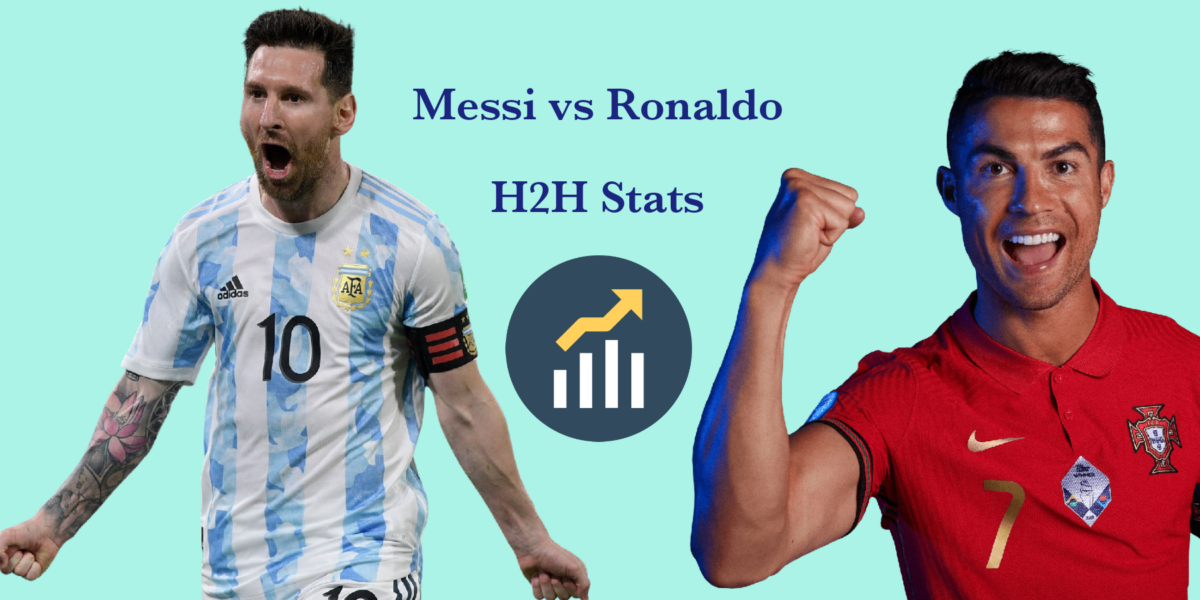 Read Also: Kylian Mbappe To Real Madrid – A Tale of Torture, Ardency, And Dream
Messi vs Ronaldo Individual Awards Stat
| Honour | Messi | Ronaldo |
| --- | --- | --- |
| Ballons d'Or | 7 | 5 |
| FIFA World Player of the Year | 1 | 1 |
| The Best FIFA Men's Player | 1 | 2 |
| World Cup Golden Ball | 1 | 0 |
| European Golden Shoe | 6 | 4 |
| Total | 16 | 12 |
Individual awards spice them up if trophies are the crème de la crème of a footballer's career.
As highlighted earlier, no duo in football history dominated the Ballon d'Or or FIFA World's Best Player awards as much as Messi and Ronaldo.
Together, they sit in the first and second positions as players with the most awards in that regard. While Messi won six, Ronaldo won five, with the former a favorite to claim the 7th award following his performance in Copa America which ensured he lifted his first major trophy with the Argentina national team.
Interestingly, Ronaldo first won the Ballon d'Or in 2008, following a record-breaking season with Manchester United.
Perhaps, it motivated Leo Messi, who claimed four consecutive awards between 2009 and 2012. That run was stopped when Ronaldo won two consecutive awards in 2013 and 2014.
The next year, Messi won another award to make it five awards compared to Ronaldo's three. However, Ronaldo leveled up matters with two more wins in 2016 and 2017.
 In their 9 years together in Spain, Messi won five La Liga Top Scorer awards compared to Ronaldo's three, and six La Liga Player of the Season compared to Ronaldo's two.
However, Ronaldo won six UEFA Champions League top scorers awards compared to Messi's four in the same 9 year period.
The duo has won more European Golden Shoe than any other player. Messi has 6 European Golden Shoes compared to Ronaldo's 4. 
So far, Messi has won the best player award with Argentina in various competitions five times.
He has twice been voted the best player in Copa America, once in the FIFA World Cup, FIFA under-20 World Cup, and the Olympic Men's football tournament.
On the other hand, Ronaldo is yet to win any with Portugal at any level. 
Notwithstanding, he (Ronaldo) won the FIFA Puskas Award in 2009, an award given to the player adjudged to have scored the best goal in a calendar year.
Although Messi has been nominated severally for the award, he is yet to claim it.
Consider Reading: The Best Soccer Cleats To Buy
Messi vs Ronaldo Market Value Over Time

In football, it is very typical that market values of players decline as they edge towards retirement.
The case is no different for Messi and Ronaldo.
Messi had an all time value of 180M as of January 2018 while Ronaldo's all time highest is 120M.
Notable Quotes About Cristiano Ronaldo and Lionel Messi
Ronaldo and Messi are not short of admirers. Whether it is from teammates at the football club and national team, opponents, or other athletes.
Oftentimes, encomium is showered on them as they move towards the twilight of their respective careers.
Consider Reading: The Best Football Pairings in History
Most Memorable Quotes On Messi
"Maradona filled us with emotions. But between the cracks, without doubt, Messi is better than Maradona." – Diego Simeone
"Who is the best player in the world? Leo Messi. Who is the best player ever? Leo Messi." – Arsene Wenger
"Messi does not need his right foot. He only uses the left and he is still the best in the world. Imagine if he also used his right foot, then we would have serious problems." – Zlatan Ibrahimovic
Consider Reading: How Man of the Match Award is Given in Football?
"Lionel Messi is quite clearly the best player ever. It is a pleasure to pit myself against him and when I finish my career, it is something I can look back on and know I have tested myself against the very best." – John Terry
"I wear the number 10 jersey for the US National Team in honour of the greatest athlete I have ever seen: Messi." – Basketball legend, Kobe Bryant.
"Messi is the best player ever. And this is said by someone who has seen Maradona and Pele play." AC Milan Chief, Adriano Galliani.
Read Also: How The FIFA Ranking of National Teams Work
Most Memorable Quotes on Ronaldo
"When you play with Ronaldo on your team, you are already 1-0 up." – Zinedine Zidane
"There are some things Ronaldo can do with a football that makes me touch my head and wonder how on earth he did it." – Luis Figo
"We have had some great players at this club in my 20 years, but he is up with the best." – Sir Alex Ferguson
"He has great magic in his boots. The first thing you notice about him is that he is incredibly quick and very, very powerful for such a young man." – Eusebio
"When Cristiano Ronaldo gets the ball, you can just leave him to it while he beats player after player." – Ryan Giggs.
Consider Reading: The Most Shocking Transfers in Football
Final Thought
Messi and Ronaldo are undoubtedly the two best players of their generation. In fact, many sections of football fans believe that they are the best to play the game.
The essence of the Messi vs Ronaldo head-to-head stats is to prove their invincibility and professional rivalry further.
But who really is better: Messi or Ronaldo? Well, both are great players.
However, let's put stats aside, Ronaldo is a product of hard work and dedication. Messi, on the other hand, is naturally talented.
But if we consider the numbers critically, Messi has the upper hand.
Further Reading: