The very best Football Academies in Europe are the ones most of you know quite well – the popular ones. However, many Football Academies in Europe are not popular, and they have top training facilities. Moreover, they are easier to get enrolled in than the very top football academies.
This article sheds more light on these not too popular football Academies in Europe, so you easily get enrolled.
Before going further, it may be advisable for you to consider the Best Football Academies in Africa and Nigeria. Furthermore, you could learn How to be a Professional Footballer or Apply for Football Scholarship Online.
Now, let's consider the Best Football Academies that are not so popular.
1. Alicante Football Academy
Alicante is one Football academy that signs many international players to Spanish clubs, then turns them into superstars. The academy is filled with UEFA Pro licensed coaches and players from all over the world.
Training is done with the Spanish football style to better equip players for the pitch. Essentially, the soccer academy benefits from top-class football facilities in Alicante to improve the players.
In addition, players have access to high-standard top-quality training pitches, a modern gym, and a premium residence. They also improve and develop player skills and abilities on an individual level.
Alicante is definitely one of the best Football Academies in Europe, although not very popular.
2. Spain Soccer Academy
Location: Seville, Spain
Notable Graduates: Mark Gonzalez, Juanito, Dani Martin Alexandre, Ricardo Oliveira, Sergio Garcia, Beñat, Jose Mari, Javi Lopez, Toni Doblas, Alvaro Cejudo, Lombán, Cañas, Sergio León
Spain Soccer Academy is an International Elite Football Soccer Academy located in Seville. Plus, It welcomes international student players from 14 – 23 years of age.
SSA is not just an academy for players but coaches as well. They currently offer internship programs to football coaches.
In addition, The academy conducts Exchange Programs that unite studies and football internationally. They also accept students by trials or video applications. It is an ideal academy for international students.
Read Also: The Biggest Arsenal Flops
3. Soccer Inter-Action Football Academy (SIA)
Location: Spain
SIA Academy is one of the best Football Academies in Europe for young Footballers. They create high-performance programs that promote the best of their students. This, in turn, prepares them for a professional future in football in Europe.
The SIA academy accepts both male and female students from all over the world come regardless of age.
SIA trains in three disciplines. They are Academy for Players, Goalkeepers, and Coaches
Furthermore, the academy periodically partners with one of the biggest clubs in Europe, FC Porto, to manage the "Dragon Force Valencia Football Club".
This program provides the opportunity for players to learn, play and practice at the local football club. Sometimes they also represent the club at International Tournaments.
Consider Reading: The Best Soccer Stadiums in the US
4. NF Academy
Location: Portugal
Notable Graduates: Zeca, (of FC Copenhagen)
NF Academy is a collaboration with NFPM, a Portuguese player management company. They connect players with NFPM for representation get them the opportunity to sign a professional contract with a Portuguese club.
This academy mediates like a consulting partner in optimizing players' development. They then coordinate with the club, organize trials anties for professional contracts with top academies/clubs.
NF is one academy that gives out International and Regional Scholarships each year. In addition, they support and develop players and create career pathways to professional contracts with top academies. This makes them one of the best Football Academies in Europe.
Their scholarships have an age range of 13 to 16 years. To be selected, they need to see a top-class potential in the player. The player also needs to show a commitment to work hard and focus on reaching a professional career abroad.
Furthermore, players who want to be evaluated for Scholarships can sign up in NF International events hosted in many cities in Nordic countries this summer.
The Academy has a high-performance culture that Integrates and exposes players to top academies. Also, they have detailed feedback, and individual follow up a policy that brings out the best in their students.
Interestingly, they also conduct training sessions with top foreign academies to afford players the chance at been scouted.
Their international scholarship programs are FREE, but flight costs are not covered. In contrast, their regional scholarship program is partial with 50% financing of all costs, excluding flight tickets.
Read Also: The Best Female Soccer Referees
5. European Football Academy
Location: London, England
Notable Graduates
The EFA is a professional Soccer Academy that attracts youth players and allows them to train and compete at the Spanish highest level.
Also, Players usually get to have the opportunity to play against professional clubs. They regularly play friendly games against Pro clubs.
It has a fully-funded program where players receive full academy training from 3rd-Party sponsorship, amongst other benefits.
In addition, the academy believes in giving students every opportunity to succeed outside of football along their career path.
The European Football Academy runs educational courses as part of its programs. The eligible age to attend this academy is 6 to 17.
These factors are put together to make them one of the best Football Academies in Europe, even though they are not very popular.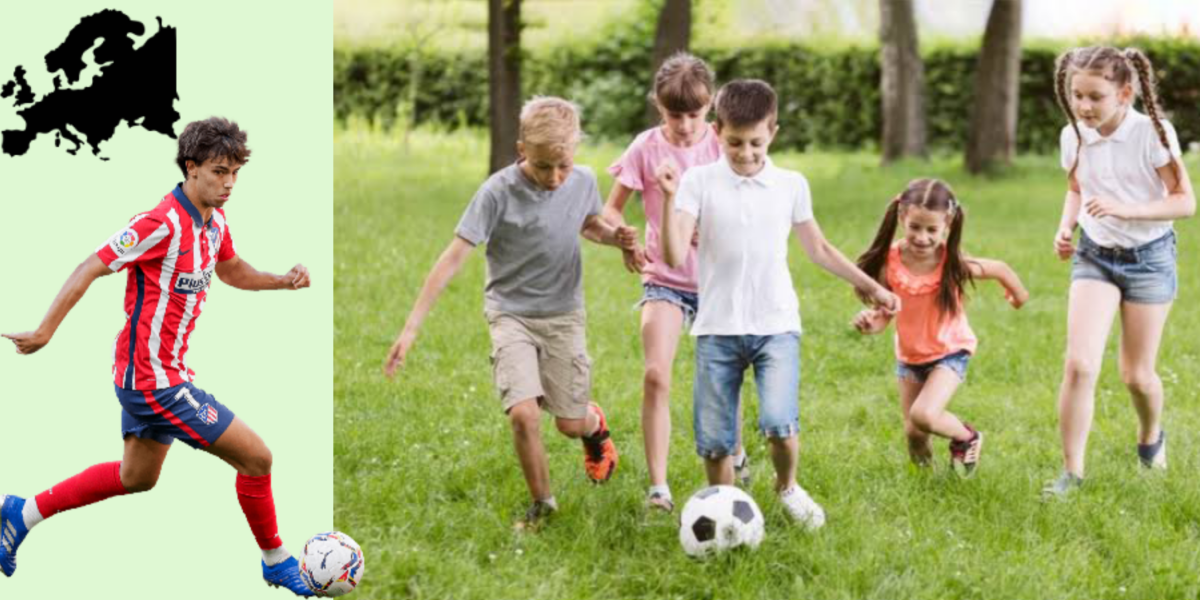 6. Eastleigh FC Football Academy
Location: Hampshire, England
Notable graduates: Brett Williams (Reading FC), Aaron Martin (Southampton FC), and Will Aimson (Hull City)
The academy is based at Eastleigh FC, Sliverlake Stadium, Eastleigh, Hampshire. They are equipped with excellent training facilities, including grass and all-weather pitches.
Eastleigh FC Football Academy aims to help talented footballers progress in their football careers while continuing their academic studies. This gives their players opportunities and greater experiences to help them progress on and off the pitch.
In addition, they aim to develop players as footballers as wells as individuals. The Academy competes in many Football Tournaments. Some of them are:
U19 National Youth League Alliance
Tactic Premier League
Tactic Regional
and the prestigious FA Youth Cup.
Their curriculum is initially to study for 2 years on a BTEC Level 3 in Sport (Equivalent to 3 A levels). On this study plan, they also offer the opportunity for players to access English and Maths GCSE.
This sets the ball rolling for successful players to get invited to their 3rd year Elite Development Squad program.
7. Valeo International Academy
Location: Lisbon, Portugal
Notable graduates: Deco, Nani, Luis Figo, and Cristiano Ronaldo
VIA is also one of the best Football Academies in Europe. They are based in Lisbon, Portugal. The Football Institution partners with elite academies and coaches to train students with a world-class training curriculum.
Valeo also identifies, develops, and trains the young US and International soccer talent intending to play International and First Team European football. They also provide the opportunity and gateway for players to play professionally in Europe.
Each training session at Valeo is designed to improve a player's technical, tactical, physical, and psychological skills. The acceptable age range is from ages 17-23, a ripe age to expose players to many professional Portuguese clubs. The academy, like others, provides the opportunity to train with local professional clubs.
Valeo gives a rare opportunity to compete with international youth clubs without forgoing their academics.
Furthermore, they strive to improve their athletes as students and fully immerse them in the Portuguese way of life.
Like other academies, Valeo International Academy provides an unforgettable experience while simultaneously setting them up to succeed in every aspect of their lives.
8. Michel Hidalgo International Football Academy
Location: Cannes, France
This Academy reveals the potential and skills of players and weaknesses to prepare their individual training programs accordingly.
The Michel Hidalgo, International Football Academy, has a highly qualified staff who train and detect young talents' performance individually. This method has proven true in improving player skills and abilities regularly.
In addition, they train with top Ligue 1 teams; OGC Nice, AS Monaco, and Olympique Marseille. They also meet the Best Football Agents to scout their players. Their cultural program is focused on human behaviour in terms of body and mind.
The Michel Hidalgo International Football Academy welcomes players from different nationalities. In addition, they teach their students the French language.
9. MSM Football Academy
Location: Prague, Czech Republic
Notable graduates: Taras Kacharba, Vladislav Erkhov, Valery Blazhko, Tretyakov Artyom, Oleg Osipenko, Danilo Shelest.
MSM is one of the top Football Academies in Europe. They bring young people from all over the world to the Czech Republic to teach them how to play Football. The academy is another organization that helps young football players to become professionals in European football.
For more than 10 years, the Football Academy partnered with leading Czech clubs, renowned coaches, and agents from all over Europe. Sparta, Slavia, Dukla, Bohemians, Viktoria, Meteor and Aritma are just a few.
The main priority of MSM is quality. They procure training equipment from world-famous brands, maintain high-quality service, and employ professional coaches.
MSM Football Academy conducts open training programs in which anyone can participate, either professional football players or amateurs.
Like most European academies, they provide players with cultural, historical, and language courses. Young players are developed jointly with the Czech Football Federation and the SC "Sparta Prague".
10. Valencia Football Academy
Location: Valencia, Spain
Notable Graduates: Samuel Christianson, Romedi Llapi, Ahmed Zaghloul
Nestled on the Mediterranean coast in Valencia, Spain, the IFX Valencia International Soccer Academy uniquely combines soccer development with various academic tracks. Some of these include high school or Spanish language study.
Valencia Football Academy is in partnership with the renowned Valencia football team and CF Cracks. The Valencia-based soccer academy is geared toward high school-aged or young adult footballers worldwide looking to further their development as players while continuing their education.
The CF Cracks Valencia soccer club was established in 1985. It has approximately 450 players between the ages of 4 and 18. CF Cracks also has a men's amateur team for players over 19 years old. Also, they have two teams per age group to accommodate various levels of players.
Furthermore, the CF Cracks compete in the top Valencian Amateur division called 'Primera Regional'. Playing alongside talented Valencia soccer players from the region enables Valencia football academy players to experience a fast-paced and authentic Spanish football style.
This style of play has contributed immensely in crowning the youth academy as a leader in the region.
The development of players is also largely attributed to establishing and developing its facilities as one of the best in the region.
They were one of the first youth soccer clubs in the region to install artificial grass fields and have enjoyed close partnerships with clubs, including FC Barcelona and Valencia CF.
CONCLUSION
The European leagues are the most popular professional league in the world and the most desirable.
Everyone wants to be the next Messi or Christiano Ronaldo. But who says you can't do more? Decades ago, no one thought young players would overshadow the likes of Maradona, Beckham, etc. But today, the reality is obvious.
When there is a will, there is a way. If you desire to reach these heights, you can do it. With this unpopular list of best Football Academies in Europe, your journey should be faster.
Do you know other top Football Academies in Europe that are not so popular? Share your thoughts.
Further Reading: