Every year, there are major transfers or signings in football. But the most shocking transfers in football don't happen often.
Following a humiliating defeat to Bayern Munich, Messi surprised everyone by handing in a transfer request to Barcelona. He desperately wants to leave the Football Club that has become his home for almost two decades.
Although the move did not materialize in that season, it eventually happened in the following season after Barca failed to reach a contract agreement with Messi because of La Liga restrictions.
Messi finally joined PSG, and it is one of the most shocking Transfers in Football history. Why? It is widely believed that Messi will probably end his career with Barcelona.
Now, let's take a look at some of the most surprising Transfers in Football history.
Consider Reading: The Most Talented Injury-Prone Footballers Ever
Andrea Pirlo: Inter Milan – A.C Milan – Juventus |Part Exchange & Free
Pirlo is one of the very few players that completed double shocking transfers in their football career.
Many football fans do not even know that Andrea Pirlo once played for Inter Milan. He joined Inter Milan from Breccia in 1998. His move from Inter Milan to AC Milan is the first of the shocking transfer in his career.
The second transfer is even more surprising. Pirlo had been Milan's best Midfielder for years but the Milan board wrongly assumed that he was already on the decline just at age 32.
So, they refused to renew his contract. In 2011, Juventus had the glorious opportunity to sign arguably the best midfielder in the world for FREE and from arch-rivals.
Pirlo even got better at Juventus and he helped them to win four Scudetti and one Italian cup. His transfer to Juventus especially is one of the Football Transfers that shocked the world.
Read Also: Best Free Transfers in Football
Leonardo Bonucci: Juventus – A.C Milan – Juventus |€45M & €35M
Bonucci had been Juventus's best defender for years. In fact, he was widely regarded as the best ball-playing and creative defender in the Italian League. He had an exceptional eye and he's able to pick out attackers with deadly long balls from defense.
Bonucci looked like a player who would end his career in Juventus (but it could still happen though) and transfer away from Juventus looked very much unlikely.
Rumor had it that Bonucci had a strained relationship with then-manager Max Allegri and this prompted him to consider seeking a move away from the Turin club.
Related Article: The Inside Life of Some Famous Italian Footballers
Milan came calling just at the right time and they completed one of the most shocking transfers in football history for €45M.
Just like Pirlo, Bonucci made two shocking transfers in his career. After just one season where he struggled badly on the Pitch, Bonucci returned to his former club Juventus.
This move too is one of the Football Transfers that shocked the world because some Juve fans saw him as a traitor, so moving back there looked impossible.
Read Also: Best Football App for Android and IOS in 2020
Higuaín: Madrid – Napoli – Juventus |€90M
As of 2016, Juventus did not have a lethal frontman. They heavily relied on the team's energetic midfield trio of Pirlo, Vidal, and Pogba, and their dependable defense.
Surprisingly, Vidal was the highest goal scorer that season with just 10 goals.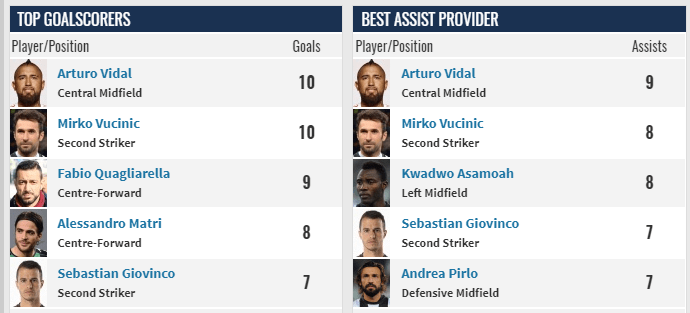 Read Also: Who Are the Best African Wingers of All time?
It was clear that Juventus needed a lethal Striker to improve their squad.
Gonzalo Higuain had just finished his career-best season with Napoli, scoring 36 league goals as they pushed Juventus to the limit.
Juventus then turned to their bitter rival – Napoli for their prolific frontman.
The transfer looked impossible and even ridiculous. But eventually, the deal was done. Juventus unveiled Higuain and the transfer cost a whopping €90M.
Higuain's transfer is one of the most surprising transfers in football history.
It is also imperative to mention that Higuain's transfer from Real Madrid to Napoli was a little shocking too.
It looked unimaginable because Madrid is one of the biggest clubs in the world and Napoli were not so big and had not even won the League title for years.
Read ALso: Features of Football Manager 2020 Game
Ronaldo: Real Madrid – Juventus|€100M
Ronaldo had just won the la undecima with Real Madrid after breaking so many Records with the club during his successful spell at the Bernabeu.
In fact, he scored an astonishing bicycle kick goal against Juventus on their way to Champions League glory.
Surprisingly, Juventus fans applauded Ronaldo. This gesture touched Ronaldo at a crucial point when he already made up his mind to seek a new challenge.
Rumors had it that Juventus is Ronaldo's preferred destination, but it looked impossible and unbelievable.
Reports also suggested even Ronaldo wants to join Juventus, how could they afford his transfer fee let alone his wage?
Lo-and-behold, the transfer came through. On July 10, 2018, one of the most shocking transfers in Football history happened. Juventus signed Ronaldo for €100M.
Read Also: Features of FIFA 2020 that you probably don't know
Robinho: Madrid – Man City |€43M
Having been part of the Real Madrid Galactico, Robinho is definitely one of the most talented footballers of his era. He had just completed a relatively good season with Real Madrid, winning the La Liga in his final season.
Real Madrid boasted the likes of Raul, Ruud van Nistelrooy, Higuain, and Saviola. So, Robinho then was very much expendable.
On the other hand, Manchester City are relatively unknown globally. They'd never even won the English Premier League before.
The Sheikh Mansour bin Zayed Al-Nahyan had just bought the club and a rebuilding project had just started.
Manchester city embarked on the ambitious project of assembling the best footballers on the planet to win them the English Premier League. Their attention turned to the Brazilian superstar in Robinho.
Consider Reading: The Biggest Upset League Title Wins in Football
The transfer window was almost closed, but the rumor kept flying around that City and Chelsea are interested in signing the Real Madrid Star.
Eventually, just a few minutes to the end of the transfer window, on the 1st of September 2008, BOOM, City signed Robinho for €43M.
Robinho's transfer to City is one of the Football Transfers that shocked the world because most people believed he was likely going to join Chelsea.
Read Also: VAR in Football: The Definitive Review and Recommendations
Luis Figo: Barcelona – Real Madrid |€60M
Luis Figo's move from Barcelona to Real Madrid in the year 2000 is one of the most surprising transfers in Football history.
It looked so unreal given the bitter rivalry that existed between the two clubs. It is even more shocking when you remember FIGO then had the world at his feet.
He was on top of his game and he'd just won the La Liga Foreign Player of the Year.
Rumor had it that he had a strained relationship with board members even though the fans loved him.
This prompted his move to join arch-rivals Real Madrid.
Eventually, on July 24, 2000, Real Madrid signed Luis Figo for €60M.
Read Also: 20 Best MLS Transfers From European Teams
Neymar: Barcelona – P.S.G | €200M
Messi had always been the main man at Barcelona even before Neymar joined the Catalan team. It was understandable that Neymar must have thought of breaking out from Messi's shadow to be the Star Man himself.
However, his eventual transfer to PSG for a record-breaking €200M remains one of the most shocking transfers in Football ever.
The transfer fee may not be too surprising because we all know that PSG is capable of shelling out that amount.
But what's surprising about the transfer is that no one really believed that Neymar would be willing to move to PSG who had never won the Champions League.
In fact, some sections of football fans believed that Neymar moving to Real Madrid from Barcelona looked more realistic than his transfer to Paris.
In the end, Neymar had his wish, and the Transfer became a reality.
Undoubtedly, Neymar's transfer is one of the Football Transfers that shocked the world.
Read Also: How Do Football Clubs Make Money?
Hakan Calhanoglu: A.C Milan – Inter Milan | Free Transfer
Hakan Calhanoglu completed his move from A.C Milan to Arch Rivals Inter in a bizarre transfer.
Transfer between the two clubs is very much unimaginable considering the existing rivalry. However, the move materialized because Calhanoglu was out of contract already in Milan.
Inter Contacted him directly through his agent. A.C Milan was not really involved in the negotiation at all.
In total, he scored 32 goals and registered 48 assists in 172 appearances for A.C Milan.
No doubt, his move to Inter is one of the most shocking transfers in football history.
Read Also: How Many Nigerians Have Played For Manchester United?
Messi: Barcelona – PSG | FREE
Messi is undoubtedly the most talented footballer in history. In addition, he is a Barcelona Legend.
However, things have turned sour between the mercurial Argentine and the Club. They were unable to tie up his contract due to La Liga Financial regulations.
Messi's move to PSG is definitely one of the most shocking transfers in football history.
Consider Reading: How Football Contracts Work
Conclusion
Understandably, there are many more shocking transfers in football history, but which one is the MOST SHOCKING to you? Have your say in the comment box.
You can also consider reading about the Champions League winning Managers who also won it as a player and find out what transfer Add-ons mean.
Finally, subscribe to our Youtube Channel to watch informative soccer videos.
Further Reading: