Club football is always a different ball game from International football. Some footballers shine for their clubs but fail to reproduce the same sparkle for their country and vice versa. While club football is often the center stage, we've chosen to rank the best international footballers at each position – from the Goalkeeper to the No. 9.
It is important to mention that we'll use the 4-3-3 formation to select the best international footballers in each position.
GOALKEEPER: Gianluigi Buffon
The charismatic Italian Goalkeeper played for the Azuri 176 times between 1997 and 2018. He first represented them at only 19. Gigi went to the 1998 world cup but didn't get a minute on the pitch as Italy was knocked out in the quarter-final. 
By the time Euro 2000 had come along Buffon was number 1 put in a game just days before the tournament against Norway he broke his hand and had to miss the tournament which Italy would lose in the Final. 
Buffon finally got to play in a major tournament at the 2002 world cup. He played every minute until Italy's exit in the round of 16.  Buffon then broke a record at the 2006 world cup, conceding just twice in 7 games. 
Italy's legendary keeper is the country's most capped player and definitely one of the best international footballers.
Read Also: Who Are AFCON Top Scorers of All Time?
Honors Won With Italy – World Cup
Second choice options: Iker Casillas, Edwin Van Der Sar, Hugo Lloris, Petr Schmeichel
RIGHT BACK: Dani Alves
Dani Alves is a player whose understanding and joy of the game have made him a pleasure to watch for Brazil, Barcelona, and some other top clubs in world football. He started his international career against Ecuador in October 2006 and made the squad for Copa America the next year.
Alves played in four games at the tournament. Alves started in the final and got his first international goal in a comfortable 3-0 win against rivals Argentina. In the same match, Alves had an assist too.
Although he struggled to hold down the right-back spot with the stiff competition with Maicon, Alves eventually went on to become one of the best international footballers ever.
Neymar's absence through injury ensured that Alves captained Brazil in the 2019 Copa America. Brazil went on to win the competition beating Peru 3-1 in the final.
Alves was also part of Brazil's Olympic-winning side in Tokyo. He currently has 119 caps for his country with 8 goals but has not officially retired from international football.
It is also important to note that Dani Alves is the best Defender in the history of football by international trophies won.
Honors Won With Brazil – Brazil U-20 World Cup, 2 Copa America, 2 Confederations Cup, Olympic Gold
Second choice options: Philip Lahm, Zambrotta
Read Also: The Best Center-backs in Premier League History
CENTRE BACK: Sergio Ramos 
Sergio Ramos is a joint most capped player in European history and that's why he's one of the best international footballers ever.
Ramos got his first cap aged 18 in a 3-0 win over China. In 2006 when Spain beat San Marino 6-0, he netted twice.
Ramos was part of the World Cup squad in 2006 wearing number 15. He got two goals in Spain's qualification campaign for Euro 2008. He played every game in the finals bar a first-round game against Greece.
The aggressive Spaniard was a key part of the side who beat Germany in the final to start their domination of world football. 
Spain were crowned World champions in South Africa, with Ramos playing a crucial role at right-back. He was moved to Centre back for euro 2012 but the result was the same. Spain beat Italy 4-0 to retain their title.
Nonetheless, Ramos has 180 caps and scored 23 goals for La Roja to reaffirm himself as one of the very best for Spain.
Finally, it is important to remember that at the club level, Ramos and Pepe are one of the best pairs in football.
Honors Won With Spain – World Cup and 2 European Championships
Second choice option: Gerrard Pique
CENTRE BACK: Marcel Desailly 
Marcel made his international debut in 1993, won the 1998 world cup even though he was sent off in the final.  Desailly was part of the team that won Euro 2000.
After Euro 2000 the defensive rock was made captain and was in charge when the confederations cup was won. The Frenchman with Ghanian ties retired after Euro 2004 with 116 caps and 3 goals.
Honors Won With France – World Cup, European Championship, and 2 Confederations Cup.
Second choice option: Lilian Thuram, Diego Godin, Fabio Cannavaro
Read Also: The Best Football Articles To Read
LEFT BACK:  Roberto Carlos
Carlos, who made his international debut in 1992, is possibly most remembered internationally for that free-kick against France in 1997. Overall, Carlos earned 125 International caps for Brazil and scored 11 goals. He featured at 3 World Cups and 4 Copa Americas. 
In all, Roberto Carlos won 2 Copa Americas and the World Cup with Brazil. This is a shred of clear evidence that cements his place as one of the best international footballers.
The attacking left-back made his first appearance at the World Cup in 1998 and played every game. Brazil finished runners-up to France but came back stronger winning the 2002 edition with a 2-0 win over the Germans in the final.
It is important to also note that Roberto Carlos is one of the highest goalscoring defenders in football history. Also, he is one of the best Left backs in football history.
Honors Won With Brazil – World Cup and 2 Copa Americas
Second choice options: Paul Brietner and Antonio Cabrini
DEFENSIVE MIDFIELD: Lothar Matthaus
Lothar Matthaus is often described as a "criminally underrated player" of his generation. Matthaus made his international debut against Holland at euro 1980. He then played 150 times for West Germany/ Germany between 1980-2000.
A man who could play in midfield or as a sweeper, Matthaus was in the Euro 1980 European Championship-winning squad. Also, Matthaus was an integral part of West Germany's 1990 world cup victory, the same year he won the Ballon d'Or. 
Germany once again came second to Mexico 86'. Matthaus played a much more prominent role and was captain at the Euro 1988. He scored in Germany's 2-1 defeat in the semis versus the Dutch. 
Furthermore, Matthaus scored 4 goals in Germany's 1990 World Cup triumph.
While playing for Bayern Munich he was injured for Euro 92' and Germany's early exit in the USA in 1994 was where most people thought he would call it a day. The Ballon d'Or winner wasn't selected until the 1998 World Cup due to injuries.
Matthaus is one of three players to play at 5 world cups and the only outfield player.
Interestingly, Matthaus is one of the best midfielders ever in football. Despite playing most of his career as a defensive midfielder, Matthaus is still one of football's highest goalscoring midfielders ever.
There is no doubting Matthaus' legendary status in world football. Even though the younger generation of football fans do not know so much about him, Matthaus is one of the best international footballers.
Consider Reading: The Most Talented Injury-Prone Footballers Ever
Honors Won With Germany – World Cup, European Championship, 2 times German Footballer Of The Year, European Championship, and Ballon D'or
Second choice option: Claude Makelele, Andrea Pirlo, Patrick Viera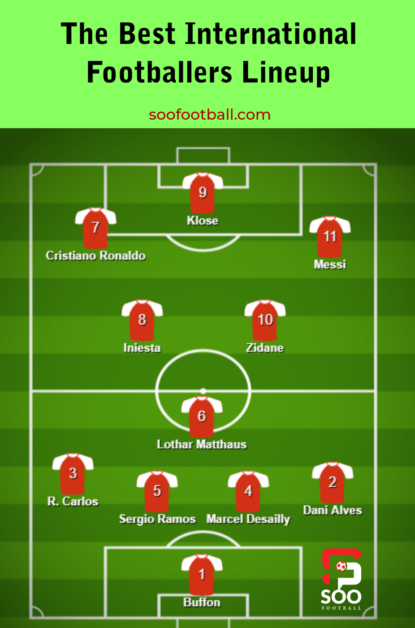 CENTER MIDFIELD: Andres Iniesta
If you are looking for a complete midfielder who has won it all for his country, look no further than Andres Iniesta. He is a prime example of who should be among the best international footballers.
Iniesta was a star at youth level for Spain and got his chance for the senior side in 2006 when he was called up for the World Cup that year. He scored his first goal for La Roja in 2007 against England with a wonderful effort from distance. 
Andres Iniesta played in every game for Spain in their victory at the Euro 2008. He was named Man of the Match in the semi-final and was in the team of the tournament.
Iniesta's most famous moment in the red of Spain perhaps was his extra-time winner against the dutch in the final of the 2010 World Cup. He scored twice in the tournament and his performances would get his name shortlisted for the golden ball award.
Like the two tournaments before the Euro 2012, Spain dominated the competition and Iniesta was the heartbeat of the side. He won man of the match 4 times, including in their 4-0 defeat of Italy in the final. His monumental efforts won him a player in the tournament.
Overall, Iniesta's career is a glittering one. No wonder he is one of the best Barcelona players.
Honors Won With Spain – World Cup, 2 European Championships, 2 European Championship, European U-17 Champion, and European U-19 Champion
Second choice option: Yaya Toure, Xavi Hendandez
Read Also: Who is The Best Midfielder in CONCACAF History?
CENTER MID: Zinedine Zidane
Zizou was able to play for both Algeria and France but chose the European giants. Zidane made his dream debut in August 1994 against the Czech Republic. He scored twice when he came on, taking the game from 2-0 to 2-2. 
In 1995 the entertaining Frenchman was made first-choice number 10 when Cantona was given a 12-month ban for his kung fu kick. 
At the 1998 World Cup final against Brazil, held in France, Zizou scored two in a 3-0 win, getting MOTM and becoming a hero for the French nation.
Furthermore, Zidane won the Player Of The Tournament at the Euro 2000 as France beat Italy in the final in extra time. 
Zidane came out of international retirement for the 2006 World Cup and was made captain. His penalty was the difference against Portugal in the semis. However, he will never forget his last game with Le Bleus.
The Frenchman's seventh-minute Panenka penalty gave France the lead. However, Italy equalized in extra time. To add to his woes, Zidane headbutted Italian defender Materazzi and got a red card. Eventually, Italy won 5-3 on penalties without their talisman – Zidane.
Overall, Zidane won 108 caps scoring 31 times for Le Bleus.
After his retirement, has since become a football coach and won many trophies for Real Madrid. Notably, he is one of the very few coaches to win the Champions League after being hired midseason.
Honors Won With France – World Cup and European Championship
Second choice option: Yaya Toure, Xavi Hendandez
LEFT WINGER: Cristiano Ronaldo
Cristiano is the joint third-highest capped player and highest international goal scorer ever. So it's impossible to leave him out of the best international footballers lineup.
At Euro 2004, Ronaldo got 2 goals and assists as Portugal made it to the final. A shock defeat to Greece in the final ended their dream. 12 years later, things would happen differently for Portugal.
In Euro 2016, Portugal drew all 3 group games and scraped through. Ronaldo scored in their 2-0 win against Wales in the semi-final. Portugal's goal machine had to leave the field after just 25 minutes in the final after a challenge with Dimitri Payet. Eder's goal in extra time gave the Portuguese the unlikeliest of the Euro Championship victories. 
Ronaldo won his 100th cap for Portugal against Northern Ireland while qualifying for the 2014 World Cup.
Ronaldo's 2 goals against Ireland in September made him the all-time international leading scorer with 110 goals.
Overall, Ronaldo's career is just excellent. He is indeed a goal machine for every team he's represented. Little wonder that he is Real Madrid's highest goal scorer.
Honors Won With Portugal – European Championship and All-time Highest Goalscoring International
Second choice option: Neymar
Consider Reading: Messi Vs Ronaldo Stats: The Epic H2H Battle
STRIKER: Miroslav Klose
When talking about international football, the highest scorer at World Cups ever is bound to come up – Miroslav Klose.
Klose showed signs of what was to come when he was subbed on in the 73rd minute and scored the winner in the 88th in a qualifier against Albania in 2001. At his first world cup in South Korea, he scored the most headed goals at 1 world cup, putting 5 in off his head.
In the 2006 World Cup hosted in his home country Germany, he won the golden boot for his 5 goals at the tournament. Sadly, Germany was eliminated in the last 4.
Klose scored twice at Euro 2008 as Germany finished runners-up to Spain. 
The powerful number nine had said it would be his last world cup before the first game in Brazil and he was more determined than ever to win some silverware for his country. Klose netted once in the group against Ghana and then broke Ronaldo's record scoring his 16th World Cup goal against Brazil. In that match, Germany smashed Brazil 7-1 in the semi-finals.
Eventually, Klose won the World Cup with Germany after Mario Gotze's extra-time goal against Argentina gave them victory.
Although Ronaldo Delima was a phenomenon Striker for Brazil, Klose edges past him because of his longevity and scoring more World Cup Goals than his Brazilian counterpart.
Honors Won With Germany – World Cup Medal and All-time Highest Goalscorer
Second choice option: Ronaldo Delima
Consider Reading: Undisclosed Fee In Football – The In-Depth Explanation
RIGHT-WING: Leo Messi
The Argentine's international career couldn't have gotten off to a worse start when he made his debut in 2005. He was sent on as a sub in a friendly against Hungary.
Messi's dazzling performance for Barcelona is always a yardstick of measuring his success with the National team. Most times, fans criticize him for underperforming for his country.
Matters got even worse for Messi and Argentina as they lost 3 Copa America finals and the 2014 World Cup Final.
In fact, after the 2016 Copa America final loss to Chile, Messi retired from the National team before later changing his mind.
Eventually, Messi lays his hands on his first International trophy with the senior team as Argentina won the 2021 Copa America. His reaction after the win says it all.
All in all, Messi has played 156 games, scored 80 goals, and won the Copa America with Argentina.
Honors Won With Argentina – Copa America
Second choice option: Diego Maradona
Final Thought
All of these players have to be applauded for staying at the top for so long. Only very few players have played more than 100 times for their country and never had their place in the side questioned or debated.
None of them have come into the national side as heroes. However, all have made themselves the best international footballers at their respective positions.
These players have made memories for billions of fans across the globe in the biggest and best tournaments football has to offer. Their longevity and impact on football will always be looked at and remembered.