On February 24, 2022, Russia invaded Ukraine. Ever since then the Football world has not remained the same. It is therefore important to understand the impact of the Russia vs Ukraine war on football.
In this piece, we'll highlight the most important impact of the Russia vs Ukraine war on Football globally.
Chelsea and Abrahimovich Saga
Chelsea owner, Roman Abramovich is a Russian Billionaire. Some reports suggest that he has some ties with Vladamir Putin – The Russian President, who sanctioned the invasion of Ukraine.
Actually, Abramovic is being accused of supporting Putin financially to acquire armory for invading Ukraine.
Since his ties with Putin emerged in the media, Abramovic planned to leave the UK and announced that he would sell Chelsea.
Unfortunately, however, the sale was halted by the UK government while all other assets (in the UK) of the Russian billionaire were frozen.
However, the sale of Chelsea has resumed again but the UK government insists that Abramovic and Putin must not benefit from the net sales proceed.
There are chances that the net sales proceed of Chelsea would be sent over to the Ukrainian government to aid victims of the invasion.
Read Also: The Evolution of Chelsea FC under Roman Abramovich
Support From Top European Clubs and Competition
In the light of the ongoing war, many football competitions and clubs have shown their support for Ukraine in this trying time.
La Liga, for example, has a "STOP WAR" notice as it is broadcasted on Tv.
In the Champions League also,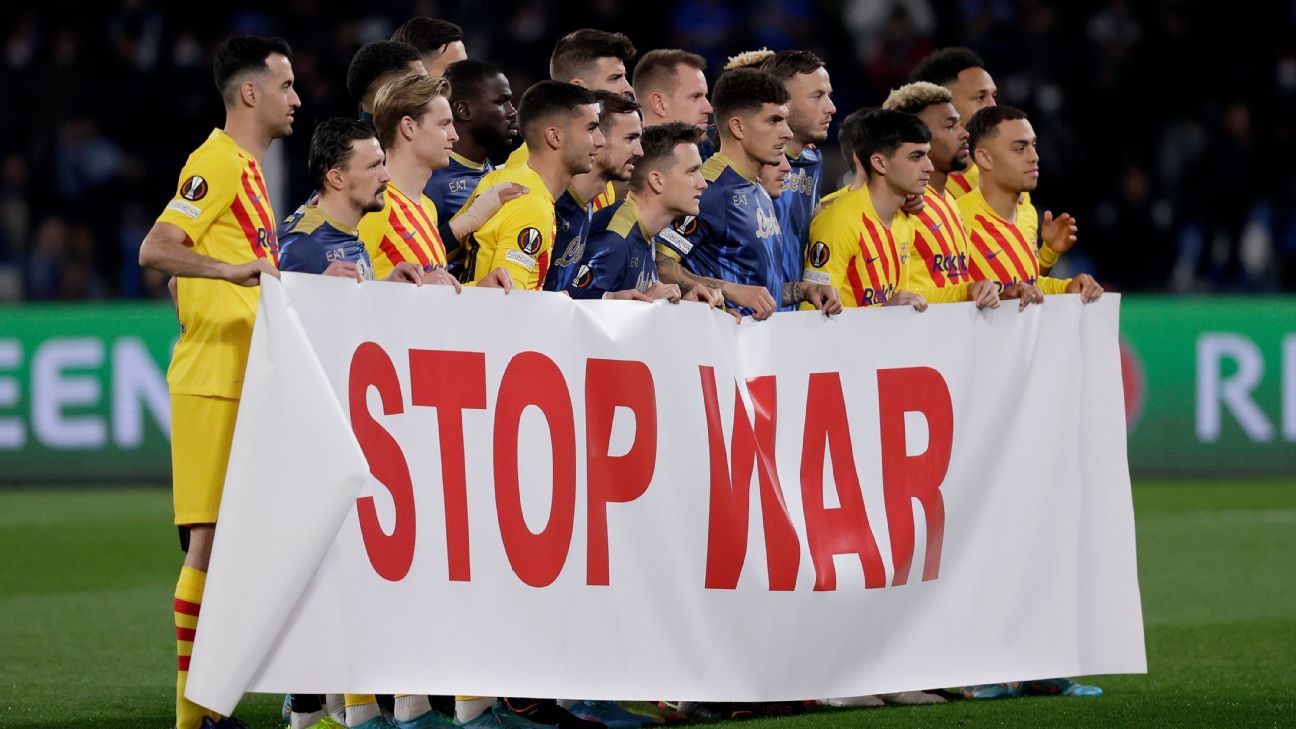 Ukrainian Footballers and Managers Cut ties With Russian Employers (Clubs)
Many Ukrainians in football have cut ties with Russian employers. One key example is Andriy Voronin.
Andriy Voronin left Dynamo Moscow because of the Russian invasion.
Also, Ukrainian footballer Rakitskyi quits Russian club Zenit and the club agreed.
Many more Ukrainians in football have found their way out of Russia.
Russia vs Ukraine Conflict: Other Impacts on Football
Many football sponsorships dealing with Russian brands have been terminated. For example, Uefa has confirmed the termination of its long-standing sponsorship deal with Russian state energy company Gazprom.
Also, UEFA changed the Champions League final venue from Saint Petersburg Russia to Paris, France.
Since the Rusia v Ukraine invasion, there have been claims of racism as European teams support Ukraine. Some fans claim that there have been ongoing wars in Afghanistan, Yemen, and Isreal but there was no such support from the football world.
Ukrainian Football Managers-turned Soldiers. For example, Sherif Ukrainian coach Yuriy Vernydub join the Ukraine army to fight against Russia.
Further Reading: