Today, 93 20 is associated with Man City, but many football fans do not know what it does mean and how it relates to their shirt and cleats.
If you are in this category of football fans, worry less. You'll get an exquisite explanation for everything, about 93 20 and how it is connected to Manchester City.
What Does 93 20 Mean To Man City?
93 20 is the exact time when Sergio Aguero scored the winning goal that earned Man City their first ever title win in 2012 against QPR.
To put it straight, Aguero scored 20 seconds into the 93rd minute of the game.
This is part of the reason why Aguero is generally regarded as Manchester City's best ever player. And no wonder he has a statue at the Etihad Stadium.
When did 93 20 happen?
On the 13th of May 2012, 93 20 came into existence.
It was on the same day Aguero scored the iconic goal against QPR that earned City their first ever PL title.
Learn more about the Man City v QPR match – match report stats and every important detail.
Re-live The 90 30 Moment
To further understand the importance of 93 20, you need to relive the iconic Sergio Aguero moment again.
Watch again.
How Man City Commemorate The 93 20 Anniversary
93 20 is so important to City that they commemorate it every year on the 13th of May.
However, the biggest commemoration happened in 2022 as they celebrate 10 years of 93 20.
See below the different ways Manchester City celebrates the 93 20.
Read More: How Do The Championship Playoffs Work?
93 20 Jersey customization
To celebrate it, Manchester City made provisions for their fans to create their custom 93 20 shirt.
Of course, the customized shirts are not real. They are only for posting on Social Media.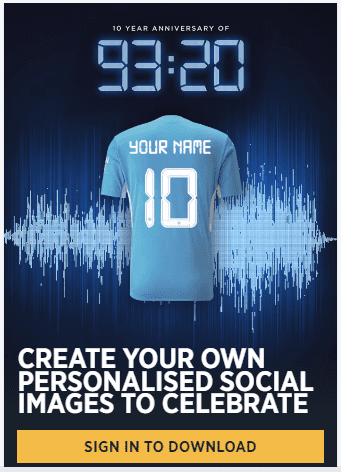 By the way, you could learn everything about soccer jersey customization, how to make custom mystery shirts, and how to get cheap jerseys.
Original 93 20 Shirt Sale
Unlike the custom downloadable shirts, Manchester City fans can actually buy an original 93 20 city shirt.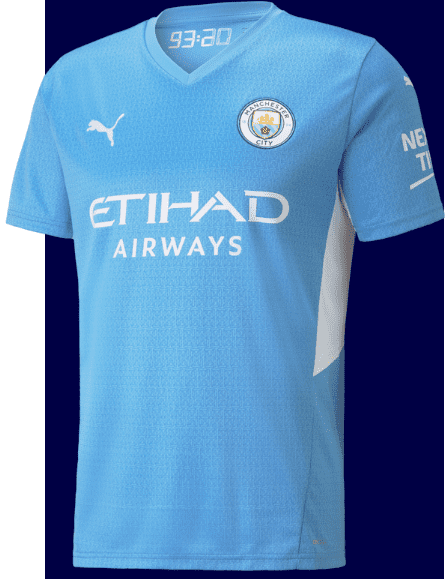 As you may now know, the 93 20 Man City shirt is special because it reminds fans about Aguero's 93rd minute goal against QPR that earned them their first ever league title in 2012.
Read Also: Pep Guardiola vs Jose Mourinho Head To Head
93 20 competition
Apart from the custom 93 20 jerseys, City have some competitions for the remarkable event day.
City fans who win the competition win some other custom, 93 20 paraphernalia.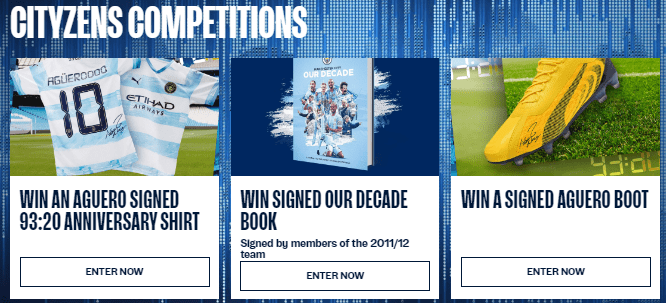 93 20 Quiz
The 93 20 competition earns fans some customized gifts however, the Quiz is made differently.
The Quizes basically test fans' knowledge about the remarkable day in 2012.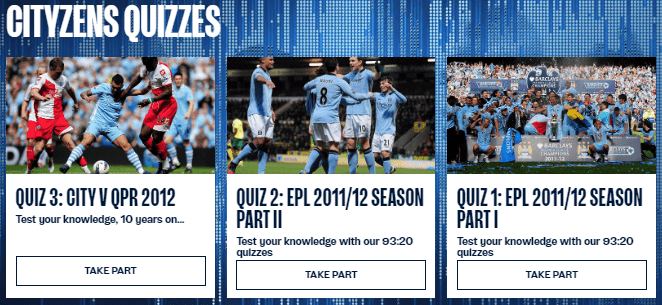 Unlike the competition, fans do not win any gift after the quiz except the fun of testing their knowledge.
Just in case you love football quizzes on Soofootball, we have a dedicate page for that. Check it out and test your soccer knowledge.
Read More: Pep Guardiola Champions League Stats Broken Down
93 20 Squad
The 93 20 squad are the Man City and QPR players who played in the historic final day showdown in the 2011/12 Premier League Campaign.
See below the full squad list for both teams.
| Man City | QPR |
| --- | --- |
| J Hart (GK) | P Kenny (GK) |
| P Zabaleta | N Onuoha |
| V Kompany (c) | A Ferdinand |
| J Lescott | C Hill |
| G Clichy | T Taiwo |
| S Nasri | S Wright-Phillips |
| Y Touré | J Barton (c) |
| G Barry | S Derry |
| D Silva | J Mackie |
| C Tévez | D Cisse |
| S Agüero | B Zamora |
| | |
| Substitutes | Substitutes |
| C Pantilimon | R Cerny |
| M Richards | D Gabbidon |
| J Milner | A Taarabt |
| E Dzeko | D Campbell |
| A Kolarov | J Bothroyd |
| N de Jong | A Traore |
| M Balotelli | A Buzsaky |
93 20 FAQ Answered
Was QPR relegated against Man City?
Interestingly, QPR were already relegated before the Man City match. Their winning or losing has no bearing on their relegation. Man city, on the other hand, had everything to gain or lose on that day.
When did Man City beat QPR 3 2?
The last time Man City beat QPR 3-2 was the 13th of May 2012, when City clinched their first ever league title, which inspired 93 20.
What minute did Aguero score against QPR?
Aguero scored QPR in the 20th second of the 93rd minute, hence the 90 30 slogans today.
What does 9320 mean for Man City?
93 20 is a reminder of when Aguero scored the historic goal that earned Man City their first-ever Premier League title.
Who assisted the Aguero goal?
Mario Balotelli assisted Aguero's 93 20 goal.
Who said Agueroooo?
Peter Durry was the commentator for the Man City vs QPR match and literally screamed "Aguerooooo" after the Argentine scored their first-ever PL title-winning goal.
Conclusion
At this point, you should know what 93 20 means to a Man City shirt.
Well, to remind you again, 93:20 is the exact time when Sergio Aguero scored the goal that sealed Manchester City's first-ever Premier League title win.
City decided to place 93 20 on their Jerseys to commemorate their dramatic first Premier League title win.
Further Reading: