There are so many talented Midfielders who have played the beautiful game. However, a few of them have been able to master the act of scoring during their notable careers. These few have marked their stamp on football as the highest goal scoring midfielders of all time. Hence, in this article, we'll find out the midfielder with the most goals.
Before now, we already wrote about the Best Midfielders of all time by trophies won, and it is very much different from this one.
At the end of the article, you'll know the midfielder with most goals irrespective of the trophies they won.
However, before going into details, let's consider the criteria for selecting midfielders on this list.
Read Also: Pele Vs Maradona: Who Was Better?
Criteria For Selecting "Midfielders"
The players who belonged to this diverse category influence every single passage of play for the game's entirety.
Football has also evolved in over a hundred years of its well-recorded history.
The role of midfielders has constantly transformed into a complex combination of ability and decision-making prowess.
There has, however, been one nature in which fans have used constantly to judge most midfielders – Stats. These stats today have changed how footballers are judged.
Sometimes, the stats can be unfair. For example, there is no stat for no-look passes, dummies, or sensational turns. Today's midfielders are largely judged based on goals & assists.
However, we will only consider Center or Attacking Midfielders who played most of their career as Midfielder and still scored regularly for this topic.
Hence, the likes of Diego Maradona and Messi are not considered in this list.
Read Also: Who is The Best Midfielder in CONCACAF History?
10 Highest Scoring Midfielders Of All Time 
1. Zico – 476 goals 
Arthur Antunes Coimbra, commonly known as Zico, was born on 3 March 1953 in Rio de Janeiro. 
Often called the "White Pelé", he was a creative playmaker with excellent technical skills, vision, and an eye for goal.
 Zico was a clinical finisher and one of the greatest players of all time.
The FIFA World Cup trophy is every footballer's dream. It is the trophy that makes all the sweat and blood worth it.
Brazil, a country where football is religion, Zico appeared to play; both of his older brothers, Antunes and Edu, played professionally.
Not winning the World Cup trophy is the very definition of Zico's misfortune. He had his best chance at the 1982 World Cup. The attacking midfielder scored four goals in the tournament but came up short.
A famous Paolo Rossi masterclass undid them. Unfortunately for Zico, the Italians ensured Brazil finished the tournament in fifth place for the second time in history.
Zico ended his career with an astonishing 477 goals. Hence, Zico is the midfielder with the most goals in football history.
Consider Reading: The Most Talented Injury-Prone Footballers Ever
2. Fritz Walter – 390 goals 
Known as the "Hero of Berne", Walter at the age of 33, led the Germans in the soccer World Cup in the Swiss capital in 1954.
This was the first World Cup tournament in which the Germans had participated since World War 2
The late German midfielder can consider himself one of the lucky few from his era to be immortalized in the name.
At least with German club FC Kaiserslautern's stadium being named after him. It was the least that Germany could do for the legendary midfielder.
Fritz Walter was the primary creative influence in Germany's triumphant 1954 World Cup campaign.
The 1954 World Cup victory is the tournament that united Germany as a country after a tumultuous decade.
Fritz Walter superior understanding of the game elevated his overall output allowing him to take advantage of specific situations. The midfielder scored a total of 390 goals in his storied career.
Read Also: Messi vs Ronaldo: A Classic H2H Battle
3. Michel Platini – 353 goals
The recent memory of Michel Platini would be his scandal. Young readers might not know how brilliant he was before he rubbed himself in the dirt. 
He was a phenomenal player. The French attacking midfielder was the heart and soul of the all-conquering Juventus side of the 1980s.
Playing behind a potent attacking trident of Paolo Rossi, Zbigniew Boniek, and Roberto Bettega as a traditional number 10.
Platini's dead-ball technique allowed him to match the three forwards in goal scoring statistics regularly.
The attacking midfielder also played an essential role in Juventus' 1985 European Cup triumph and finished his career with 353 official goals in all competitions.
Platini won Serie A titles with Juventus in 1984 and 1986 and led the French national team to victory in the Euro 1984 with an astonishing nine goals in five games.
Read Also: Best Manchester City Players of All Time
4. Teofilo Cubillas – 340 goals
Nicknamed the Pele of Peru, Teofilo was 13 when he was first discovered playing for the Alianza Lima youth team.
The attacking midfielder is a legend in his home country and was a part of the best Peruvian team to take the pitch in football history.
The midfielder was renowned for outscoring the strikers in his team for both club and country. His statistics are a fair reflection of his incredible abilities.
The Peruvian hit his peak at the 1978 World Cup, scoring five goals and finishing second in the Golden Shoe race behind Mario Kempes.
Cubillas ended his career with an incredible 340 official goals, including 26 strikes for his country.
Although Cubillas may not be popular like others on the list, he remains one of the highest goal scoring midfielders of all time.
Consider Reading: Lessons Learnt From Alisson Becker's Goal For Liverpool
5. Bobby Charlton – 309
Sir Bobby Charlton CBE was born on 11 October 1937; Manchester United's legendary attacking midfielder was the solution to England's problems in the 1966 World Cup. 
England's national team adopted a traditional 4-4-2 setup, with Bobby Charlton taking up a creative role behind the lethal strike partnership of Geoff Hurst and Roger Hunt.
The midfielder was virtually unplayable during the tournament and led England to their only World Cup triumph. Charlton also won the Ballon d'Or in the same year.
The only thing more impressive than Bobby Charlton's trophy count is his goal tally. He racked up a career total of 309 goals.
Consider Reading: Most Capped International Footballers – The Most Complete List
6. Frank Lampard – 303 goals 
Frank Lampard is already well clear of every other midfielder in terms of goals scored in the Premier League.
The former Chelsea midfielder would top that list in his sleep if the best midfielders in the game's history were to be ranked exclusively on efficiency.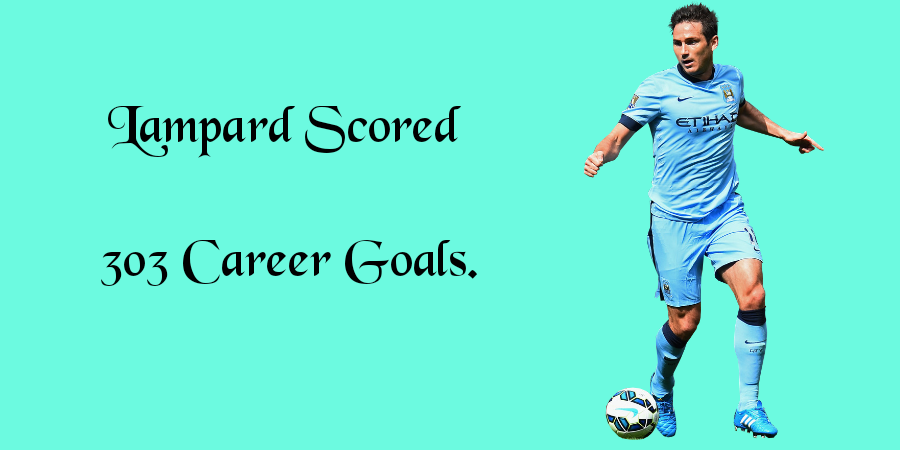 Consider Reading: The Most Common Last Names in Football
Frank Lampard, known for his intelligence on the pitch and his ability to find himself in the right place at the right time, won the Blues several crucial encounters.
Lampard's ability to turn the game on its head for his side earned him a place in Chelsea's starting lineup for over a decade.
The former West Ham United trainee scored at least twenty times in five consecutive seasons, and his 27 international strikes are just one shy of breaking into the top 10 England scorers of all time. 
Lampard hit his peak under Jose Mourinho and formed formidable partnerships with Michael Ballack, Didier Drogba, and the likes.
Lampard's career tally of 303 goals is imposing, and there is no wonder why he is one of the Highest Goal Scoring Midfielders Of All Time.
Related Article: Best Premier League Midfielders of All Time
7. Socrates – 258 goals 
You've got to be a bit special to be named after a Greek philosopher.
Sócrates Brasileiro Sampaio de Souza Vieira de Oliveira, simply known as Sócrates, was a Brazilian footballer.
The skipper of the most incredible side never to win a World Cup was one of his generation's best players and belonged to an era before sports science and pass completion percentages became this popular in the game.
The Brazilian midfielder was famous for his intelligence both on and off the pitch. His cerebral and pedantic personality earned him the moniker "Doctor Socrates".
Socrates' presence of mind translated into highly effective decision-making skills on the pitch.
And the midfielder's positioning skills and understanding game bought him plenty of goals throughout his career.
The central midfielder ended his career with 258 official goals and is a bonafide Brazilian legend.
In essence, Socrates is one of the Highest Goal Scoring Midfielders Of All Time, without any doubt.
Consider Reading: The Definitive Review of VAR in Football
8. Ricardo Kaka – 237 goals
Ricardo Izecson dos Santos Leite, commonly known as Kaka, was born on 22 April 1982. The Brazilian professional footballer played as an attacking midfielder. 
His goal against Manchester United that led Darren Fletcher and Gabriel Heinze to tumble over each other in the 2007 UEFA Champions League Semi-Final Clash was a sight to behold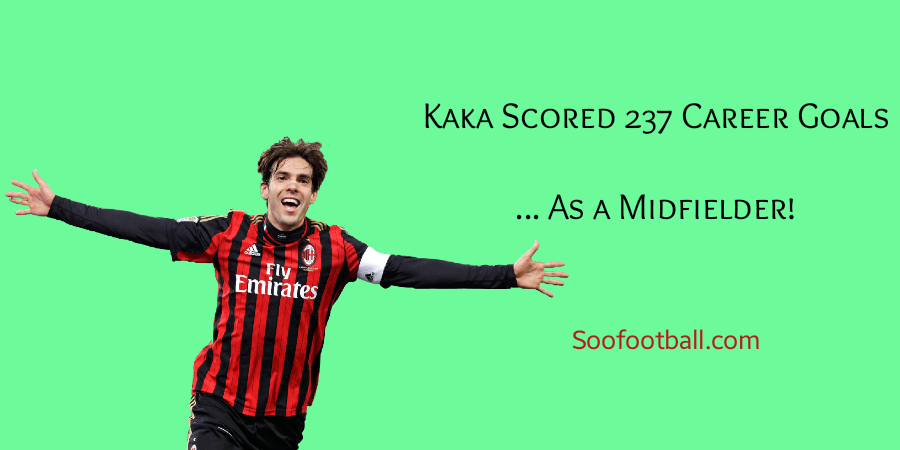 The former AC Milan midfielder is one of only eight players in history to win the FIFA World Cup, the UEFA Champions League, and the Ballon d'Or.
Kaka finished his career with an impressive 237 goals.
Consider Reading: Unique Soccer Gifts For Soccer Fans and Players
9. Jan Ceulemans – 230 goals
Jan Anna Gumaar Ceulemans, born 28 February 1957, is a Belgian former professional footballer who played as an attacking midfielder.
Ceulemans was a magician with the ball at his feet, and his height and imposing physique did not prevent him from surfing through the Belgian midfield with consummate ease.
Pele named him in his famous list of the '125 greatest living footballers.
The Club Brugge magician kicked the ball for his country 96 times and found the net 22 times. He is undoubtedly one of the greatest players to feature in the Belgium national team.
Ceulemans' 230 goals made him as great a goal scorer as he was a creative force.
Read Also: Best Manchester City Players of All Time
10. Lothar Matthäus – 227 goals
The German accrued a World Cup and European Championship winner's medal, seven Bundesliga titles, one Serie A, two UEFA Cups, three German Cups, three German League Cups, and a European Footballer of the Year gong during a glittering career, and was also a great goal scorer and a scorer of great goals.
Despite starting his playing days in defence, he was an astounding midfield general who regularly found the net.
In addition to the ability to mark the best dribblers out of the game and pick out a brilliant pass with ease, Matthäus ended his career with a stellar tally of 227 official goals.
This outstanding record made him one of the best scoring midfielders of all time.
Consider Reading: The Best International Footballers At Every Position
Conclusion
To remind you; Zico has the highest goal scoring rate amongst all Midfielders. In other words, Zico is the Midfielder with the most goals in football history – 477 career goals in total.
The Midfield position has undergone various changes in recent years. For example, there is a major decline in the value of the No. 10 role.
Nonetheless, we have a list of the highest goal scoring midfielders in football history that football fans will continue to discuss in years to come.
Also, you could watch some of the legendary Midfielders.
Which current midfielder can break into this list in years to come? Share your thoughts in the comment box.
Further Reading: