There are so many Left backs in the World who have played football. However, a few of them stand out not just during their illustrious career but they would be talked about forever as long as football lives. Sure you want to know who the best Left backs of all time are. Never worry, you're in the right place.
However, before going into details let's consider a brief history of the Iconic Left back position in football.
Brief History & Overview of The Left Back Position in Football
The left-back position has transformed across recent years; the term fullback dates to the earliest football formation. The true fullback was born in the late 1920s when Herbert Chapman experimented by pulling a third defender back and pushing two fullbacks wide.
The early 2000s saw a gradual change in the development of this prominent role. Modern Left backs (or wing-backs) now have defensive duties while also being a significant threat in the attacking phase.
Now, let's highlight the best full backs in the world.
Related Articles:
Best Football Defenders of All Time
11 Highest Goal Scoring Defenders in Football History
Best International Footballers of All Time
Best Midfielders of All time
Best Right Backs of All time in Football
List Of The Best 10 Left Backs Of All Time
11. Bixente Lizarazu | France
The French defensive-minded Left back enjoyed a stellar career in France, Spain, and Germany. His outstanding career earned him a spot as one of the Best left backs of all time.
Lizarazu began his professional career with Bordeaux, joining the club's youth setup as a 15-year-old in 1984.
Initially, he played as a winger even though he was told he could not make a career in football due to his frail physicality as a teenager.
The Bordeaux youth product would push on in his career while playing for Athletic Bilbao and Bayern Munich.
Lizarazu spent the bulk of his playing days at Bayern Munich, making 273 appearances in all competitions.
While his main job was to defend, he still chipped in eight goals and 20 assists.
6 Bundesliga titles, 5 DFB-Pokal cups, and 1 Champions League also came Lizarazu's way. He also scored 38 goals in total for club and country.
10. Emlyn Hughes | England
The former England and Liverpool captain, nicknamed "Crazy Horse" for a now-infamous rugby tackle on Newcastle's Albert Bennett. However, Hughes' trophy haul is rather impressive.
He won 4 Premier League titles, 1 FA Cup, 2 UEFA Cups, and 2 European Cups in his twelve years at Anfield. Emlyn later added a League Cup to that list with Wolves.
Hughes was named the FWA Footballer of the Year in 1977 and played for England 62 times, leading them out on 23 occasions.
9. Denis Irwin | Ireland
The great Left back began his career with Leeds United in 1983, making 72 appearances in the Second Division, before moving on to Oldham Athletic on a free transfer in 1986. However, in 1990 Irwin joined Manchester United for £625,000 and eventually became one of the best left backs of all time.
To play for Sir Alex Ferguson's Manchester United for 12 years, you have to be something special. Dennis Irwin was that special during his playing days.
In fact, Irwin was a deadly set-piece taker who rivaled the great David Beckham.
The highlight of his spell at the Red Devils was undoubtedly the 1998/99 season. Irwin played 48 games in all competitions as Man Utd completed a historic treble.
The Irishman ended his career having made 956 career appearances and being the most decorated Irish footballer in history with 19 honors.
Read Also; Are Defenders More Favored For Individual Awards in Football Than Defenders?
8. Jose Antonio Camacho | Spain
Camacho made his debut for Real Madrid, aged just 18, and then made his final appearance for the same club 16 years later.
In all, he played over 400 league matches for Real Madrid, cementing his place as one of the best Left backs in football history.
In his time there, he won 9 La Liga titles and 4 Spanish Cups and appeared in two World Cups and two European Championships for Spain. Overall, he made 81 appearances for the national team.
7. Andreas Brehme | Germany
Andreas Brehme finished third in the 1990 Ballon D'Or voting after scoring Germany's winner against Argentina in the 1990 World Cup.
Though more often a defender, Brehme showed an exceptional knack for getting forward and finding the back of the net throughout his career, possessing a clear and accurate shot with either foot.
One of the reasons why Brehme is regarded as one of the best left backs of all time is that he scored at every club he played for and the German national side.
Brehme is considered one of the greatest free-kick takers and crossers of all time and was known for his ability to strike the ball with power and swerve.
The Great German Left Back also earned the player of the year award for his role in Inter Milan's 1989 Serie A title. He helped Internazionale win the UEFA Cup victory years later in 1991.
6. Antonio Cabrini | Italy
Spending his entire career in Italy, it was at Juventus where Antonio Cabrini enjoyed his best days.
During his 13 years in Turin, Cabrini won, well, absolutely everything – including 6 Serie A titles and 1 European Cup.
As a 20-year-old, Cabrini won the Best Young Player award at the 1978 World Cup. However, in 1982, he eventually won the World Cup with Italy.
5. Ruud Krol | Netherlands
The legendary Dutch defender earned 339 caps at Ajax. A 12-year career saw him clinch 8 Dutch league titles. Ruud Krol earns his place on the best left backs of all time list due to his composure, reading of the game, and brilliant on-the-ball ability.
Known as a tough tackler and tactician, Krol contributed to one of the Greatest Ajax sides of all time. He won the three European Championships in 1971, 1972, and 1973.
Krol also helped Holland to 2 FIFA World Cup runner-up finishes in 1974 and 1978.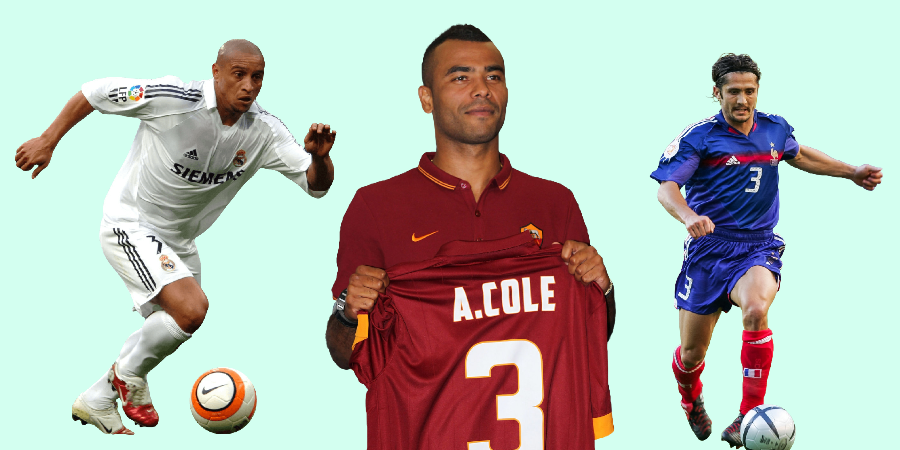 4. Paul Breitner | Germany
Players like Marcelo and Andrew Robertson have dazzled fans with their attacking abilities. But Breitner was on another level. During his 13-year career, the explosive German scored 103 goals in 369 league appearances.
Breitner also brought success everywhere he played. In his nine seasons at Bayern Munich, Breitner won 5 Bundesliga titles, 2 DFB Pokals, and 1 European Cup.
His three-year spell at Real Madrid also drew in silverware. Breitner won La Liga twice and the Copa del Rey once.
The Great German defender brought this success with him to the German National team. He won Euro 1972 as a 21-year-old and then scored in the World Cup final two years later as Die Mannschaft defeated the Netherlands.
3. Ashley Cole | England
Ashley Cole is generally considered by some to be the best left-back in the world during his career at Chelsea.
Cole also won two Premier League titles and four FA Cups as a Gunner.
Following a controversial move to neighbors Chelsea, Cole went from strength to strength. He added a Premier League, four FA Cups, a League Cup, and a Champions League to his trophy cabinet.
Although most of the English 'Golden Generation' failed miserably, Cole was always considered one of those who never let his standards drop for the national side.
The Iconic English Left Back retired from the Three Lions in 2014 as one of just nine players with over 100 caps for England. Cole spent his final years at Roma, LA Galaxy, and Derby County before retiring in 2019.
2. Roberto Carlos | Brazil
Despite starting as a forward, Carlos excelled as a left-back throughout his career and became one of the best left backs of all time.
The left-back was known for his powerful and bending free-kicks known to reach up to 105 mph. Most notable is the rocket he hit against France in a 1997 friendly match.
The Brazilian defender played 527 times for Los Blancos, making his name one of the best left-back in Football history.
Carlos finished his Real career winning 4 domestic league trophies and 3 Champions League crowns.
Roberto Carlos also tasted great success with the Brazilian national team, making 125 appearances and scoring 11 goals. He also won 1 World Cup and 2 Copa America titles.
Read Also: Pele Vs. Maradona: Who Was Better?
1. Marcelo
During his time at Real Madrid, Marcelo won everything with the club including 5 Champions League trophies.
The key fact is that Marcelo was very instrumental in Madrid's triumph almost all five times.
Marcelo made over 500 appearances for Real Madrid and is currently the most decorated Real Madrid player after winning 25 trophies in total.
Furthermore, Marcelo is Real Madrid's 4th top Assist provider of all time.
Given his achievements, most football fans generally regard Marcelo as the best Left back of all time.
Further Reading: