Have you noticed that in Serie A, players wear weird numbers like 99, 88, 70 etc and do you know why it is like that? What's the Serie A squad number rules?
Interestingly, in other Leagues, like the Premier League for example, players do not wear such weird numbers.
It is clear that the majority of these weird numbers exist in the Serie A. What is peculiar about the Serie A squad number rules and why do players have these weird numbers?
The Main Reason Why Serie A Players Wear Weird Numbers
Well, the main reason why Serie A players wear weird number is because there are no restrictions in the League as what jersey number between 1-99 that a player can wear.
In other words, the Serie A squad number rules state that players can wear Jersey numbers from 1 to 99.
In other top leagues in Europe, there are restrictions – a player can only have a jersey number between 1-25 and in some other leagues, it is 1-40.
Other Reasons Why Series Players Wear Weird Jersey Numbers
As mentioned earlier, the Serie A squad number rules do not restrict players from wearing Jersey numbers from 1 to 99.
Bearing that in mind, players still have specific reasons for choosing each weird jersey number they wear.
Let's consider some of these reasons:
Year of Birth
Some Serie A players choose to their squad number based on the year they were born.
Stephan El Shaarawy, for example, chose number 92 because he was born in 1992.
Also, Ronaldinho wore number 80 for AC Milan because he was born in 1980. Same applied to Flamini (84), and many others.
Squad number sums Up To desired number
In some cases, when a player's desired squad number is taken, they take two numbers that add up to that number.
For example, Zamorano wore the number 18 jersey for Inter Milan because 1+8=9.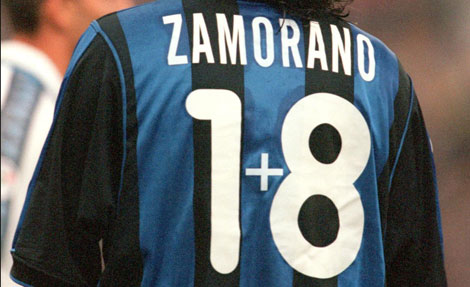 Others choose 74 because 7+4=11 and so on.
Personal Preferences
In some other cases, Serie A players choose their squad numbers based on personal reasons.
Mo Salah, for example, donned the number 74 at Fiorentina because 74 people died in the Port Said Stadium in Egypt.
There are other similar cases like this too that inspire Serie A players to choose their squad number but are not publicly explained.
What's the Squad Number Rule in The Premier League?
For some obvious reasons, the Premier League is generally regarded as the best League in the world.
So, there is a need to explain what the Squad number rules are in the Premier League.
Well, interestingly, the Premier League squad number rules allow players to wear jersey numbers from 1 to 99 too, just like in Serie A.
However, wearing weird numbers is not much of a trend in the Premier League as it is in Serie A.
In 2019, for example, Liverpool's Tom Hill donned the number 99 jersey during the EFL Quarter final match. It was the first time ever in English Football.
On the other hand, in the Premier League, Man City duo – Manu Garcia and Kelechi Iheanacho wore 76 and 72, respectively, when they made their debut.
No other player has worn a higher number than these in the Premier League history thus far.
Final Thought
The Serie A is well known for players who wear weird jersey numbers.
As we have highlighted, the main reason why Serie A players wear weird numbers is because the League allows numbers from 1 to 99.
In some other cases, year of birth or other personal reasons could contribute to it.
All these same, it is clear that Serie A is not the only League where Squad numbers 1-99 are permitted.
However, it is more a trend in the Serie A possibly because older generation players in the League set the precedence.
Meanwhile, in other leagues, there is no such set precedence, hence no trend of such.
Further Reading: