After several months of speculations, Manchester United finally signed Erik Ten Hag. However, before then, Mauricio Pochetino and Erik Ten Hag were the only candidates to take the United hot seat. Now, we'll look into why Manchester United chose Erik Ten Hag over Mauricio Pochettino.
Now, let's consider 5 reasons why Manchester United Chose Erik Ten Hag Over Pochettino.
1. Impression During The Interview
Within a week, Manchester United interview both Pochetino – who was influenced by Bielsa – and Erik Ten Hag. They did not have to do another round of interview to be convinced that Ten Hag was the right man for the job.
How convincing was Ten Hag during the interview?
John Murtough, who is Manchester United's first ever Director of football, said after the first interview:
"In our conversations with Erik leading up to this appointment, we were deeply impressed with his long-term vision for returning Manchester United to the level we want to be competing at, and his drive and determination to achieve that."
Manchester United Technical director, Darren Fletcher and John Murtough were thoroughly impressed by the Dutchman that they had to abandon Pochettino.
Read Also: Jose Mourinho's Performance at Tottenham: The Overview
2. Attacking Football Identity
Obviously, even a 5 year old kid can tell that Manchester United have lost their identity since Sir Alex Ferguson left in 2013. Under SAF, Manchester United played fluid attacking that relied on team strength rather than individual talent.
Erik Ten Hag's Ajax team has the closest blueprint to how United played under SAF. Since his appointment as Ajax Manager in December 2017, Ten Hag's Ajax have scored over 500 goals.
As of today, Erik Ten Hag's Ajax team have scored 85 goals in just 29 matches in all competitions.
Manchester United at the moment can only dream of this kind of numbers.
3. Mean Defense
Ten Hag's men have the meanest defense in the the Dutch League. They've conceded just 15 goals in 29 games.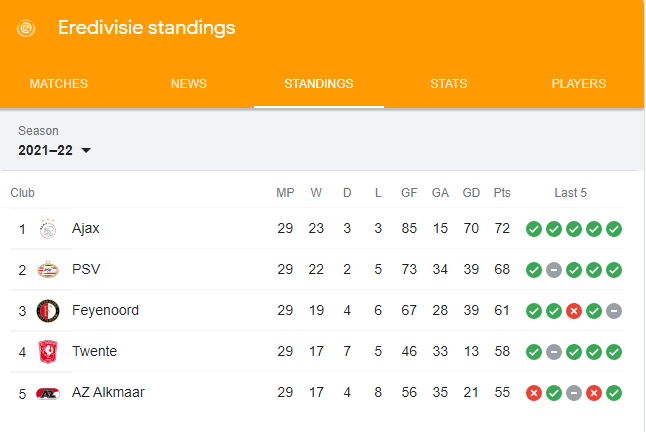 Manchester United, on the other hand have a porous defense. They have conceded 58 goals in the Premier League alone.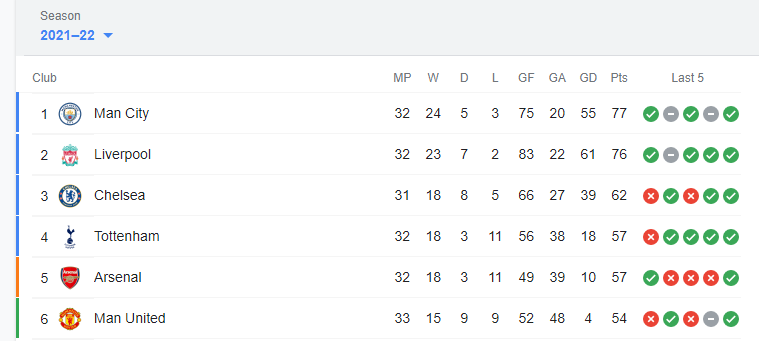 It only makes sense to go for a Manager like Ten Hag to turn around Manchester United leaky defense with dominant attacking prowess.
4. Brilliant Overall Result at Ajax
It is one thing to play attacking football, but winning trophies is another thing. One of the reasons why Manchester United chose Ten Hag is because he won trophies at Ajax.
Ten Hag's Ajax team have won the League (2X), Dutch Cup (2X), and the Dutch Super Cup (1X) as reported by Ajax Daily.

5. Topnotch and Revolutionary Man-management Skills
It is clear that Manchester United need a revolutionary change or clear out. Erik Ten Hag is the ideal candidate for this change.
First, during the process of negotiations, the Dutch manager requested to be part of the decision-making process when it has to do with players.
Most times, the board just sign players that the Manager does not not need. The Dutch manager is trying eliminate this kind of situation during his reign.
Report has it that Ten Hag plans to use just a few players from the current squad. Hence, there will be a mass clear-out in Manchester United in the summer.
Furthermore, the backroom staff will not be spared too. Ten Hag wants some revolution amongst staff.
6. Financial Implication
The financial implication of signing Erik Ten Hag from Ajax is way cheaper than what Pochettino would have costed them.
Manchester United had to settle for just £1.6 million ($2m) in compensation fees for Ajax. Although both Pochettino and Ten Hag's contracts expire in June 2023, PSG would definitely request for more than $2M compensation fee.
Further Reading