Football will never die but some of the ancient ways might. A typical example of the ancient ways is some football slangs nearing its extinction. Perhaps, "the hand of god goal' slang comes to your mind.
Well, let's consider some of the most common Football slangs.
1. 12th man
First, this expression has two different definitions. It sometimes refers to fans who are present at a football stadium, especially when they make a loud noise to provide increased motivation for the team.
The metaphor is that the team numbers 11 active players but the fans become the 12th player because of their active participation.
Second, the term can also be used where a referee is perceived to be biased in favor of one team.
It may also refer to a player that's not usually part of the starting eleven, but comes off the bench most of the matches.
This term is going out of style and fading away with time. These days, you rarely hear pundits use this term.
And then there is the Covid-19 pandemic that has limited lots of spectators from active participation from the stadium.
Read Also: Comprehensive List of Common Footballers Nicknames
2. 4th Place Trophy
The phrase was coined by Arsene Wenger. He saw it as an achievement to qualify for the UEFA Champion's League by finishing in the top four places in EPL.
According to The Guardian then he said that "For me, there are five trophies, the first is to win the Premier League… the third is to qualify for the Champions League,"
3. Midfield Maestro
A maestro is a skillfully gifted player who directs the movement of a team. The Midfield Maestro is someone with amazing technique, passing abilities and dictates the movement of a team.
He is also a deep-lying playmaker who is capable of controlling play and dictating attacks. The midfield maestro sees a picture before anyone else. His vision, creativity, and touch allow him to dictate tempo and speed.
Most spectators watch out for this player because of his unique skill set and ball play.
This term was used in the early 2000s but has changed. We owe this explanation to the evolution in soccer. Faster ball plays are been developed by new and modern players.
A modern term for this is the Midfield engine. The Midfield maestro is slower in pace than the midfield engine.
Examples of Midfield Maestros are Andrea Pirlo, Zinedine Zidane, Xavi Hernández – all of whom are part of the best Midfielders of all time
4. Midfield General
The Midfield general is a defensive midfielder and an old term that was associated with the ancient 4-4-2 formation. In some cases, both central midfielders fall into the holding midfielder category.
A holding midfielder is now a modern-day defensive midfielder. Examples of midfield general are Claude Makelele, Patrick Viera both of whom are part of the best defensive midfielders in football history
5. Vuvuzela
It should be no surprise to find the Vuvuzela as part of the football slangs nearing their extinction.
The Vuvuzela is a plastic horn that produces monotone sounds from blowing into it. It was traditionally used in South Africa at football matches before it caught the media's attention.
It got even more popular in the 2009 FIFA Confederations Cup and also the 2010 FIFA World Cup tournament hosted in South Africa.
If you've ever been to street gatherings or games where they blow this horn you would know why people don't like it anymore.
The stadium is usually noisy and loud and we don't watch the game with our ears. But when this trumpet is blown, it's so loud and uncomfortable to ignore.
The sound it produces is quite deafening at close range and can lead to permanent hearing loss. During the 2010 World cup TV spectators suffered a lot due to its noise pollution subsequently calling in for the device to be banned.
FIFA took up the issue proposing to ban vuvuzelas from stadiums because they were also seen as potential weapons for hooligans.
However, pleadings from popular sports commentator Farayi Muganzi and then FIFA president Sepp Blatter to not Europeanize African football were considered.
The Vuvuzela has gone out of style in football though some people still want to keep it. The opinion about the vuvuzela hasn't changed much since then. Ten years later and we still don't miss it.
6. Maestro of Soccer
A maestro of soccer is not a term easily used as the 'man of the match. It's a term that defines a player's entire football career spanning over decades than just a match or a football season.
This word is so special and used to appreciate legends in football after a long-time achievement. It somewhat explains why it's not so popular.
It is fitting to say that it is used for retired and exceptionally skilled players after they are finally gone.
Maradona was credited as a maestro of soccer just a few hours after he died in November 2020.
Consider Reading: The Best American Soccer Players who Played in the Premier League
7. KTBFFH
The fans of the Stamford Bridge club Chelsea coined the acronym to cheer and salute the blue team.
It's sad to say but this catchphrase of the blue team is close to extinction.
KTBFFH simply means "Keep The Blue Flag Flying High". The phrase implies solidarity through thick and thin.
Perhaps, they are coming up with another one that would blow our minds.
KTBFFH was very much alive during the time of former Chelsea players like Drogba, John Terry, Anelka, and even David Luiz but now it has reached its decline.
8. Box 18
The soccer veteran fans should be able to remember this one. The penalty box in front of the goal area is known as Box 18. The rectangle is 18 yards long, hence, the nickname 'box 18'.
Fans of the new generation might not know this one because of its infrequent use by commentators but the ardent fans still remember it.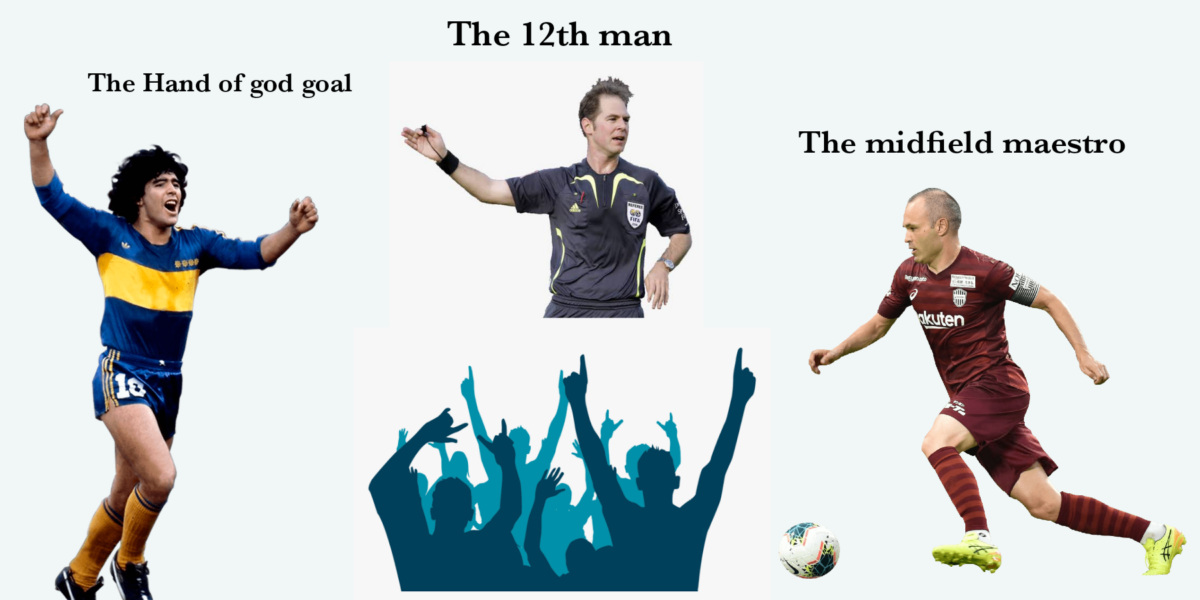 9. The Hand of god Goal
This is another common, yet different from other football slangs. Why? it is embodied in one single player – Diego Maradona.
Every football enthusiast should know what made Maradona a legend. If you don't then you are in luck because you are about to find out.
In the 1986 FIFA World Cup, Diego Maradona of Argentina scored his first goal against England when he pushed the ball into the net with his hand and the referee didn't see it.
The goal later became commonly known as the "hand of god" as Maradona himself named the goal. It was a controversial one, but the goal earned him a lot of haters but also fans as well.
Maradona, who is one of the best Football internationals, died in late November last year but we hope his accomplishments don't die off as well.
There have been controversial goals like this across the years in football but not many to remember as the "hand of god" goal.
Anyway, it'll be harder to score a 'hand of god' type of goal since we now have the VAR – Video Assistant Referee.
By the way, you can read about our review and recommendations on VAR in Football.
10. Goal of the century
Maradona's second goal against England on June 22, 1986, was nothing short of utter perfection.
After scoring the hand of god goal that infuriated most people especially the English players Maradona followed up by scoring another goal by his own effort.
This goal went down in history as the goal of the century, a goal regarded as the greatest in football history.
By the way, it may interest you to know that Maradona is one of the top footballers who did not have a great coaching career success.
Conclusion
There are many Football slangs like the hand of god goal, the 12th man, and many more. If these slangs are going extinct, it simply means that our beloved football is evolving.
A lot of players are retiring and getting replaced by fresher talented new blood with so much to offer. It's clear that the game of football has a promising future ahead. There's still history to be made.
Further Reading: