Racism in football is getting more and more prominent every day. The sad part is that it seems like nothing is being done to sanction offenders.
Weak punishments, poor handling, and a lack of proper action have meant more and more players are experiencing it. Candidly, this Racism of a thing (or Social Abuse) is taking the fun out of Football.
Reoccurrences of racial discrimination make taking the knee (in the Premier League) then look like a joke.
Here we delve deeper into recent occurrences of racial discrimination, how it can be stopped and what our so-called 'beautiful game' would be like without it.
Consider Reading: Yashin Trophy 2021: Why Édouard Mendy Deserves The Award
General Overview
Racism in football increased by more than 20% this year according to statistics from anti-discrimination charity Kick It Out.
Kick It Out also found out that racism in English football rose by 43% in the 2019/20 season. It actually rose from 192 to 274. Further reports from the same organization show that about 39% of people in England must have seen racial discrimination directly in 2020.
A further 51% of fans had also witnessed racism directed at a fan of a different team than theirs on social media.
A lot of people also reported to charities like KICK IT OUT. As you well know, social media apps are ineffective or didn't punish people discriminating online.
Read Also: The Best Midfielders In The Premier League History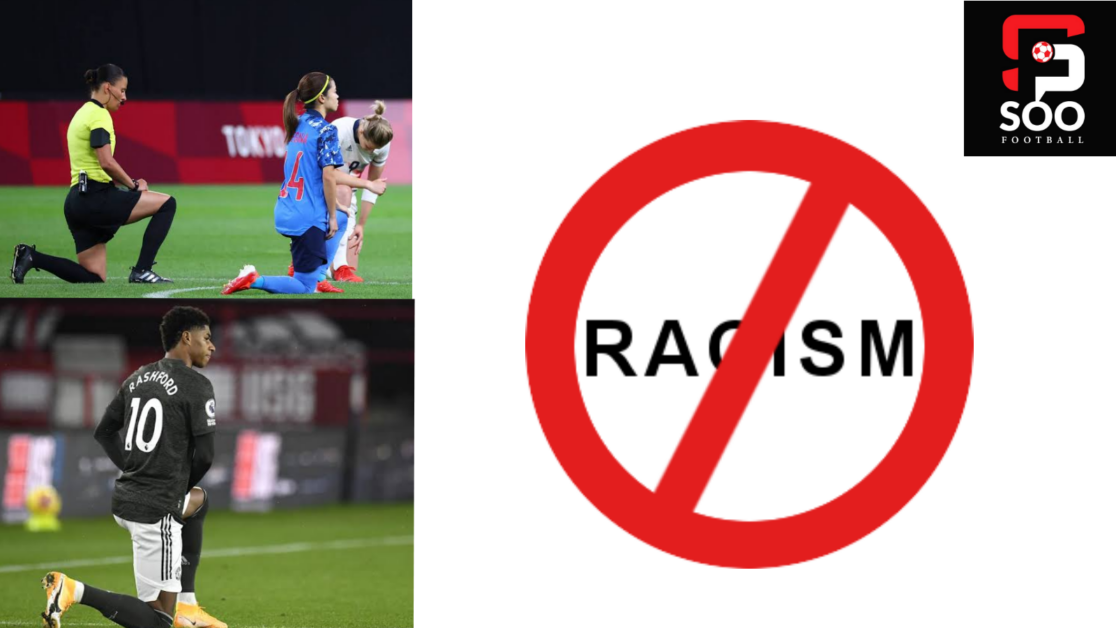 Consider Reading: The Most Unbelievable Football Records Broken in 2021
Common or Recent Examples of Racism
English fans will often be reminded when the national team travels especially to eastern Europe for the world cup Qualifiers. 
Most recently the Hungarian crowd threw banana skins at Raheem Sterling. They also verbally abused him and other black members of the three lions eleven. 
Also, Rashford, Sancho, and Bukayo Saka received hundreds of horrible racist messages online after the penalty shootout defeat to Italy.
Back in the premier league as well in February 2020, Antonio Rudiger was subject to mass racial abuse. This took place at the Tottenham Hotspur stadium. He later came out and said racism was the winner as once again no action was taken by the FA. 
Serie A has had huge problems tackling racist abuse in the stands. Players like Mario Balotelli, Moise Kean, and Romelu Lukaku who was sent a letter by their own fans saying their opposing fans were showing respect. 
With Kean, he was blamed by his manager and teammate for celebrating in Infront of the fans abusing him. Chiellini even said the blame was 50/50. 
Both of these incidents resulted in no further action after review from an independent sports judging panel. Lukaku stated that soccer was going "backwards on racism". Kean stated part of the reason behind his move to Everton was the lack of action in Italy regarding racism. 
The point is already established. There is no doubt that racism exists in football. We cannot mention all the examples of racial discrimination against footballers.
Consider Reading: The New Champions League Format Explained in Details
How Racism in Football Can Be Stopped
Leading on from this, it is obvious that a deciding factor on how much racist abuse players receive is in the hands of governing bodies such as FIFA, UEFA, and the FA. 
In Serie A this season when Fiorentina defender Dalbert Henrique was being racially abused, he told the referee who stopped the game, an announcement was made and the discrimination stopped. 
While this proved the current system in-game can work, more off the field needs to happen after the game. 
Organizations need to hand out BIG fines and punishments to make clubs crackdown on the problem. At the moment the action taken is minimal, or even worse nothing at all. 
This indecisiveness means that the minority of fans who think it's acceptable will carry on. 
This also means that players will be less protected from the idiotic fans out there.
Consider Reading: The Most Common Last Names in Football
How Football Would Look Without Racism
Without a crackdown from major organizations and a greater effort to educate younger people, it is tricky to see how football will ever look without racism. 
But if we can collectively achieve the aim of no discrimination to players to do with the colour of their skin, we could see a vast range of changes. 
There would be a wider variety of people at matches from different cultures and backgrounds and more young black children being inspired by their heroes, not frightened of the barrage of racial prejudice that we see today.
Read Also: Who is The Most Decorated African Footballer Ever?
Final Thought on Racism in Football
As we all know, a mass group effort is needed from top to bottom in football. As a fan, you may feel helpless, but you can do your bit. 
Report any form of racism through this online form to Kick It Out. Make sure you provide as many factual details as possible.
At the top, it can be dealt with on a much bigger scale of cause and these organizations need to show strength and unity against racism. 
Until that day comes around, people need to come together and believe one day we will finally get there. A level playing field for all no matter where you are from.
Further Reading: