Why African teams fail at the world cup is no mystery, as some football fans may think. In this article, you'll understand 5 reasons why they do. But before then, let's understand why the subject is important.
Any African nation has never won the FIFA World Cup. It's a shame that most African teams show a great deal of promise in soccer but miserably fail at the World Cup.
Sadly, African teams are yet to clinch the trophy. The great Pele predicted that they would before the turn of the 20th century.
This is a prediction that is yet to be fulfilled to date. 31 years after, and no African team has reached the semi-final, let alone the final!
Clearly, surpassing the Europeans, South Americans, and even the Asian teams are still proving to be a big challenge.
This is somewhat disconcerting because an Asian country, South Korea, reached the tournament's semifinal in 2002 even though Asia has fewer world cup slots than Africa.
Africa by now ought to be doing significantly better than Asia and North America at the World Cup.
Anyway, let's find answers to why African teams fail at the world cup.
Read Also: 10 Largest Stadiums in Africa
5 Main Reasons Why African Teams Fail At The World Cup
1. Individual Success over National team
There are quite a several African players who have made great accomplishments in football.
Players like George Weah – one of the very few footballers who went into politics, Samuel Eto'o, Didier Drogba – who are some of the most decorated Africans – set a gap between individual and national team successes.
For Pele to predict a World Cup win for Africans, he must have seen a great deal of potential. And I must mention that his prediction is one of Pele's wrong predictions.
However, this potential is limited to only individual development instead of national team development.
Well, this goes down to the Africans' administration of their football teams.
Most African teams enter the tournament thinking they will do well simply because they have some individually talented players.
They are yet to realize that other soccer nations limit the effectiveness of brilliant star players of opposing teams.
These other nations also have sound tactics that bring out the effectiveness of every member of their team.
This makes them unable to dwell solely on the abilities of star players.
Also, most of these African star players play in the European leagues; hence, their skills are quite known.
Sometimes they can heavily be marked by opposing teams who were once former teammates. Making star players lose their effectiveness on the field.
African teams have to rely less on individual brilliance and more on their next World cup tournament tactics.
This explains Why African teams fail at the world cup.
When compared to European and South American world cup sides, most African teams build up their attack slowly. This is easier for the bigger teams to organize their defence.
Read Also: Who Are AFCON Top Scorers of All Time?
2. Age Fraud
This problem is more prominent with the sub-Saharan African Teams than the North African Teams.
Although most of these players are from some of the best football Academies in Africa, getting their ages right can be a challenge.
Today, African soccer is plagued by false age grades. Since the 1980s, African teams have always succeeded in Under 17 or 21 FIFA World Cup or Olympic soccer tournaments.
However, there is a problem with these victories. The problem has been that these tournaments are always won with over-aged players.
This mirage often over-hypes African talents. This creates a great overestimation of player's capabilities, and many African countries are guilty of this.
It also appears that age-grade competitions distract African nations from focusing on developing their senior national teams, unlike their European and South American counterparts.
Another bad effect of age-grade soccer is that it places African talents at the mercy of top European clubs.
When new players, mostly Under-17 stars, are signed, they watch him closely.
To see if he's significantly above the claimed age. If he is, then he must meet and exceed the standard for his suspected real age or be neglected in a corner.
If anything, African teams are more focused on winning junior FIFA competitions than the senior world cup.
It is said that they use over-aged players to perform amazing feats at junior tournaments only to fail at the senior tournament.
They will rise to the challenge if they develop players at the right age and at the right time.
Read Also: Best Africans To Play in The MLS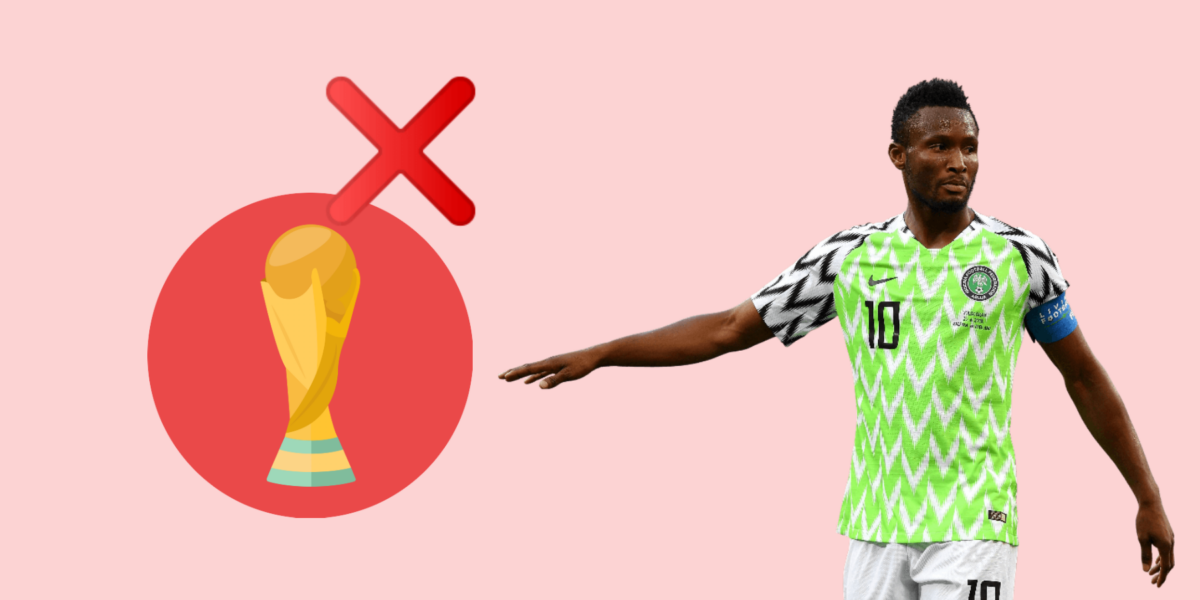 Read Also: The Financial Fair Play Rule Explained
3. Foreign League Players over Domestic Players
African countries cannot produce domestic players of the same quality as Germany, Spain, and Italy.
This is because they do not recognize their home-based players. Largely, this contributes to why African teams fail at the world cup.
They prioritize players who play abroad over those playing local leagues.
Typical African sides at a world cup tournament hardly have up to 5 players playing in that country's domestic league.
Unlike African teams, the most recent World Cup-winning squads are mostly players from their local leagues.
At times domestic players have to fight their way to top domestic clubs.
That is before they can get a good chance of making it into their country's team and then to the world cup.
They have to achieve quite a lot before earning a national team shirt.
This setup is actually bad. By giving automatic entry to players simply because they play in foreign leagues, the team loses its effectiveness.
European and South American playing patterns are different from African styles of play.
Merging this up in a national team will actually bring confusion.
Sometimes, these players miss training sessions only to rely on their individual skills, which are quite unwise.
There is no team spirit. Football is a team game, and why 11 players are needed, not 1. It's not tennis neither is it figure skating.
Read Also: Racism in Football: The Need For A Change
4. Coach Management Level
No country, African or non-African, has ever won the world cup with a foreign manager.
This doesn't mean that foreign managers cannot bring about World Cup successes. It only shows that world-class managers should be raised at home.
Most African teams have foreign managers who introduce foreign playing patterns that players are not conversant with.
On other occasions, there is indiscipline on the part of players and a short tenure for coaches. One World Cup, and they are gone.
They don't stay long enough to perfect a winning system. For them, it's merely a job. Even if they fail, they get their huge salaries and move on to the next post.
The management also tries to skip the years of work to put together a reliable team by selecting the best individual players.
They assemble indigenous players scattered around the world and put them all together just before the World Cup.
Read Also: How The FIFA Ranking of National Teams Work
5. Psychological Barrier/Lack of Confidence
Africa lags in winning a World Cup, and this had created a mentality for players to fear teams who currently dominate the World Cup.
In other words, a perceived lack of confidence is one of the reasons why African teams fail at the World Cup.
By the way, read up on the Psychology of football fans to understand how African fans are passionate about the game.
African countries are usually excited to reach the quarter-finals of a world cup while other countries like Brazil, Italy, etc., consider this achievement a failure.
African teams settle for less, while other teams do not.
Their basic approach to football is mild and docile, while other countries regard the game as war.
They either totally fail or totally win. This group of professional footballers seems to lack confidence playing against their counterparts from club football.
A good example is Ghana's 2010 World Cup campaign, which almost saw them make history.
They would have become the first African team to play in the semi-finals but were knocked out by Uruguay on penalty shootouts.
Another example of a general lack of confidence in the crucial moments of World Cup games was the match between Nigeria and Argentina at the 2018 World Cup in Russia.
The Super Eagles were tied at 1-1 with less than 10 minutes on the clock. The result would have seen them advance to the Round of 16 if they knocked out Argentina.
However, a display of nervousness from the coach and the players cost them the match, and the Argentines scored and progressed.
Read Also: 5 Mistakes That Aspiring African Footballers Make
Conclusion
There are other reasons Why African teams fail at the World Cup. Poor finance, tactics, coaching, etc., could be factors too.
Football Associations in Africa should resort to solving their soccer problems before aspiring for the world cup trophy.
African teams need to start showing good faith in the home-based coaches and players. If not, the 2022 Qatar FIFA World cup might elude them as well.
(Finally, you can find out the total number of World Cup matches and how it is calculated.)
Further Reading: