In the modern-day football world, we understand that football fans around the world need more than football news to keep themselves abreast of their beloved sport. At soofootball, we opted from publishing news content. Why? Almost every football website does that. Instead, we publish evergreen and searchable football content that educates you and can be relevant in years to come. In essence, our football contents are almost timeless, unlike news content.
In a bid to be more creative and innovative in the online football space, we felt it'd be necessary to engage football fans in an interactive way. Hence, we launched our official Quiz Platform.
Why Our Football Quiz Platform is Beneficial To You
Content Diversity
New experience
More fun
Educative
Comes at no cost atll
How the Quiz Platform Works
Simply visit our Quiz Page to see all available categories of football quizzes. Then choose any quiz of your choice.
The interesting thing about our football quiz is that you can start right away. You do not have to create an account or log in to start the quiz. All you have to do is click the "Start" button and you're in.
It is important to mention that you can get hints to some questions by clicking or hovering on the icon at the top left corner (when the quiz begins).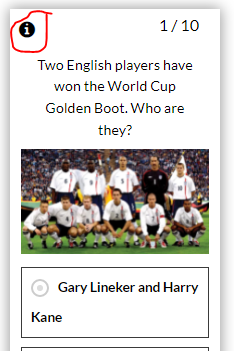 To complete your quiz, select the correct answer then click "next". On the last question, you'll have to click "See Result" instead of "next".
Another interesting thing about our quiz is that you'll see results almost immediately. Furthermore, you'll see the questions you missed have the opportunity to retry the quiz or even share the page on Social media.
Take Action
What are you waiting for? Start any football quiz now!
If you have any preferred type or category of football quiz, feel free to contact us. We made this football platform for you so your feedbacks are actually very valuable to us.
(Read about our official announcement of our newly launched Telegram Group)